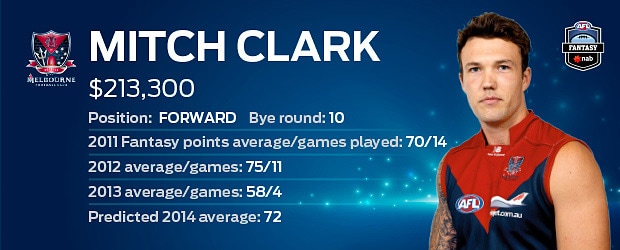 From cheap backline cash cows to premium midfield maestros,
The Traders
are ready to show you the quick path to NAB AFL Fantasy glory. Over the next 30 days, they'll hand pick 30 fit-for-purpose players for your starting AFL Fantasy squad.
Today it's time to forgive a luckless Demon for past sins and bank on Paul Roos to get the best from big Mitch Clark.

WHEN a player is clearly entrenched in a team's best 22 and priced this low, you lock him in (unless his first name is Zac and last name rhymes with Orson).
Not only is Mitch Clark arguably the Demons most important player, he is so under-priced that his selection this year is an easy choice to make if he is fit and ready to go at the start of the season ... you just lock and load.
- Gary Rohan (Sydney Swans)
- Alex Fasolo (Collingwood)
- Patrick Karnezis (Collingwood)
- Lance Franklin (Sydney Swans)
Unfortunately Clark has had a horrible run of injuries the last three years, as opposed to 2009 and 2010 where he played 22 and 19 games for impressive Fantasy averages of 95 and 75 respectively.
While we can't expect his numbers to mirror that of 2009 where he had a break out season for the Brisbane Lions playing predominantly as a ruck, there is a clear pattern of 70's thereafter if we ignore last year's disaster - which included a red vest from only four games.
If Clark wasn't so cheap, it would be hard to justify looking at the Demon forward for your Fantasy team, when realistically, the ball doesn't get down there enough for him to compete with other key forwards of the competition (like Travis Cloke).
Even if he was priced at his season average of 48, he would be worth considering. But the fact he has received a discount for the games he missed last year, leaving him priced at an average of 39, makes Clark a steal.
In fact, Clark has never averaged below 40 in his career, so you are basically guaranteed to make some cash.
Under the guidance of Paul Roos, I think the Demons will show improvement across the board which will not only mean Mitch Clark is at his best, but the delivery and increased frequency of opportunity should ensure a largely improved return from the luckless forward.

LOCKABILITY: 5/5
Providing he gets through the pre-season unscathed and looks set to start the season proper
after the NAB Challenge
, I cannot see why coaches should not start with Clark (on the bench at the very least).
He ticks all boxes as far as I am concerned and if he has some luck with injuries, he may even work his way onto your starting line-up and hang around a bit longer than expected.

Tomorrow, Warnie selects one of his favourite players. He scored 144 points twice last year and is a certified Fantasy gun. Check out #AFL Fantasy on Twitter or follow @RoyDT and the official account @AFLFantasy
The pre-season AFL Record is the complete guide to the new-look NAB AFL Fantasy football competition. AFL Fantasy experts Warnie, Roy and Calvin (aka The Traders) detail everything you need to know about Fantasy football. There are Fantasy prices and profiles of every player. The 124-page pre-season Record is on sale now at newsagents nationally for $9.95.