THERE were holes – and a lot of them – in Melbourne's list when the club's new national recruiting manager Jason Taylor arrived from Collingwood after the 2012 drafts.
The midfield cupboard was "quite bare" behind Nathan Jones, according to Taylor, but it was far from the only issue on a list that "wasn't in great shape".
There were problems on the horizon, too. The introduction of free agency paved the way for two of the club's better performers, Colin Sylvia and James Frawley, to walk out in successive seasons to further dilute the talent pool.
But in adversity comes opportunity. As per free agency rules, the Demons received compensation for Sylvia (pick 23 in 2013) and Frawley (pick three in 2014).
They later became central building blocks in the rebuilding strategy that has Melbourne on the verge of ending the AFL's longest finals drought, which dates back to 2006.
The Sylvia compensation – a second-round selection – was quickly flipped to Adelaide for wantaway star Bernie Vince, while a year later Frawley effectively became Angus Brayshaw.
The Demons have gone into only one draft since 2012 with a second-round pick since selecting eventual co-captain Jack Viney in that bracket through the father-son rule. Even then, it was the last of the round at No.40 (Alex Neal-Bullen) in 2014.
In the ensuing period, those picks – among others – were parlayed into Vince (2013), Sam Frost (2014), Jake Melksham (2015) and Michael Hibberd (2016).
All four were important parts of Melbourne's thrilling last-start triumph over West Coast in Perth, where the club had not won since 2004. The Demons have won four in a row for the first time since stringing together six in 2006, and are only percentage outside the top four.
They are preparing to play their first Friday night match since 2012, at the MCG against last year's grand finalist Sydney in a game that means plenty.
"Bernie Vince came in at the right time for our midfield, because Sylvia goes out and we needed a player of quality who could add some value," Taylor told AFL.com.au.
"When part of your list build is through your top-end kids, they need physical and mental support along the way and Bernie's been able to come in and provide that.
"It's been coincidence (the second-round trend), but sometimes you've got to give something to get something. That's how we've operated and we've been able to maximise some of the (picks in the) 40s and beyond, so it hasn't been too bad in that sense."
Bernie Vince has been a great signing for the Dees. Picture: AFL Photos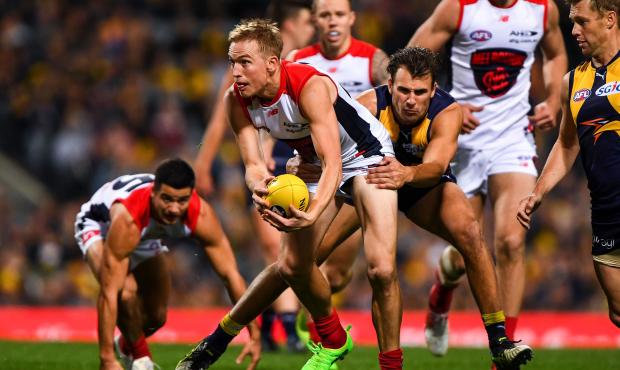 Whether clubs should receive free agency compensation remains a talking point, but ex-Melbourne coach Paul Roos is adamant the Demons are proof of why the system works.
"People saying take away free agency compensation, I think, is ridiculous," Roos said.
"If you lose a Sylvia, at least you get a Bernie Vince, but if a bottom team loses a Frawley and doesn't get anything for them, you're no chance to get better – you will just keep losing players."
The Frawley-Brayshaw scenario is part of what allowed Taylor and the recruiting team, under player personnel manager and ex-champion midfielder Todd Viney's leadership, the freedom to take some risks.
Melbourne swooped on Brayshaw a pick after taking Christian Petracca at No.2. A year earlier, in 2013, the Demons orchestrated the much-discussed trade that saw them give up pick two (Josh Kelly), 20 and 72 for Dom Tyson, No.9 (Christian Salem) and No.57 (Jayden Hunt).
They were even more creative in 2015, devising a plan that delivered them picks three and seven (pushed back to nine after academy bids) and made use of the modern AFL world.
In came late-blossoming midfielder Clayton Oliver and Sam Weideman, an athletic tall forward Melbourne hopes will form a lethal duo with Jesse Hogan in the coming seasons.
Two significant rule changes – future draft pick trading and a descending points draft system to make the academy and father-son process fairer – were enough to get the Demons thinking.
Gold Coast and Greater Western Sydney suddenly needed mass draft picks to rack up enough points to match bids for their academy players. Melbourne saw an opportunity to help and subsequently climb the draft order.
Firstly, the Demons sent picks six and 29 and their 2016 first-rounder to the Suns – who were preparing to welcome academy prospect Jack Bowes a year later – for three, 10 and 43.
They then forwarded 10, 43 and 64 to the Giants for seven and Tom Bugg, who fitted Melbourne's wish for competitive footballers and greater depth.
"If we were serious about building a list that has an abundance of talent, we needed to get going," Taylor said.
"So, we got two (first-round picks in 2014), two (in 2015), then we tried to maximise later picks and get the trades right.
"When you have two new franchises, in particular GWS with all their multiple picks they had access to, to stay in there with them, we needed to get going – and multiple picks were a factor in this."
Melbourne is only now a serious finals contender after flirting with the prospect last year, but one thing is for sure – the holes in the list are much harder to find.
BARGAIN BASEMENT
Some of Jason Taylor's greatest hits
Jayden Hunt (2013, fourth round, No.57 overall)
Alex Neal-Bullen (2014, second round, No.40 overall)
Billy Stretch (2014, third round, No.42 overall)
Oscar McDonald (2014, third round, No.53 overall)
James Harmes (2014 rookie draft, No.2 overall)
Aaron vandenBerg (2015 rookie draft, No.2 overall)
Mitch White (2015 rookie draft, No.20 overall)
Mitch Hannan (2016, third round, No.46 overall)
Josh Wagner (2016 rookie draft, No.6 overall)
Joel Smith (2016 rookie draft, three-year non-registered selection)
Tim Smith (2017 rookie draft, No.25 overall)