LUKE McDonald played in the ruck, ran with the ball and had a raking left foot. Jack Billings and Jack Sinclair swapped from the midfield to half-forward, and Jay Kennedy-Harris stayed close to goal, roving packs at top pace. Hugh Beasley was generally stationed at centre-half back, but could be swung forward when needed.
Even though the Kew Comets didn't win the under-14s premiership in Melbourne's Yarra Junior Football League in 2009, the junior club can look back at its talented team with pride. Few local clubs can lay claim to producing five players presently in the AFL, let alone all five coming from the same team in an age group where dreams of bigger things were only just taking shape.
Road to the Draft: the Under-18 Championships begin
On Sunday, Beasley followed McDonald, Billings, Kennedy-Harris and Sinclair – in chronological order – by making his AFL debut, when he gathered nine disposals for the Brisbane Lions in their loss to Greater Western Sydney.
Beasley's dad, Speros, coached the Comets for two years in the under-12s and under-13s (before McDonald invited Kennedy-Harris to join them) and said it had been brilliant to watch each emerge in his own way.
"It's tremendous, and we've shared all the moments with the families," Beasley said. "Everyone's happy and it's terrific the boys are doing well. They'll have their ups and downs, but it's been a quality outcome for good families and good boys. From the start they put their heads down and enjoyed their footy."
McDonald followed the traditional path of a highly touted father-son prospect: he always knew if he was good enough, he would play for North Melbourne, the club where his dad Donald played 155 games. He was a standout junior player who grew more than his teammates at an earlier age and was thrust into the ruck position.
Billings' precise left foot and class near goal saw him nicknamed 'Rolls' (short for Rolls Royce) from the under-12s, and he rose through all the junior ranks to be the No.3 draft pick in 2013, heading to St Kilda.
Billings and McDonald (alongside Sinclair and Beasley) played in the same under-9s team at Kew, went through each representative level together and are two of the brightest young players in the AFL.
Kennedy-Harris arrived at Trinity Grammar in year nine after winning an indigenous scholarship to the prestigious school. He boarded there, and became friendly with classmate McDonald, who suggested he joined the Comets' under-14s team. McDonald's mum Terry would pick up the pair from school and drive them to Kew's training ground, Victoria Park.
A young Jack Billings (left) and Luke McDonald (right) sing the song for the winning Kew Comets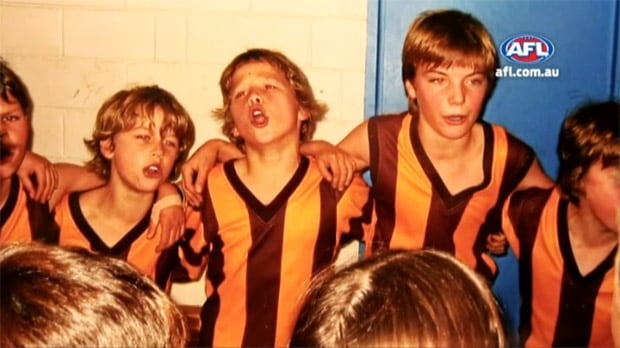 He has played 19 games for Melbourne since being drafted at pick No.40 of the 2013 intake, and shown the same things he did in the brown and gold stripes of Kew: speed, smarts and the intent to throw himself at an opponent and lay a tackle.
Sinclair was a busy midfielder for the Comets, but turned his attention to cricket in his teenage years, excelling for Scotch College. He could have been forgiven for focusing on it full-time after missing out on the 2013 NAB AFL Draft, but he returned to the Oakleigh Chargers last year, played some solid VFL footy for Port Melbourne and was picked No.1 in the rookie draft.
The small forward has played every game of his debut season with the Saints, but will likely need to be pushed back to the rookie list soon as players with long-term injuries return. A more permanent place on the senior list seems probable at the end of the year.
(l-r) Hugh Beasley, Jack Billings, Luke McDonald and Jack Sinclair - Kew Comets' band of brothers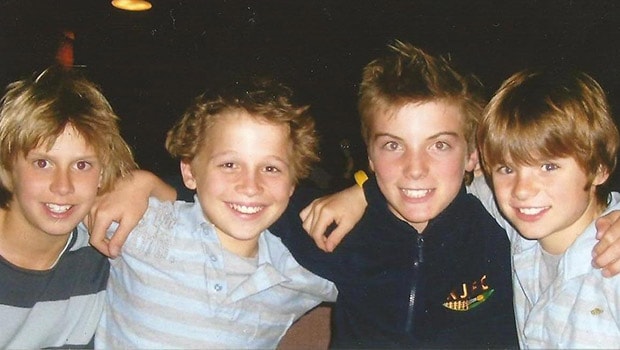 Like Sinclair, Beasley also had to wait until his over-age year to get his chance. The key defender, who also played a high level of hockey growing up, strung together good form in the TAC Cup last season and did enough to impress the Lions as a rookie selection.
The Saints also showed some interest in him before the draft, and Speros laughs at the prospect of three of the Comets (and Oakleigh Chargers) landing at Seaford.
"It would have been funny," Beasley said. "But Hugh was happy to go anywhere. If they had said he needed to go to Ukraine, I think he would have gone there. He's settled in really well at the Lions and they've been really good. They're looking after him, and trying to create something up there."
Last week was a big one for Beasley, who was elevated to the senior list and immediately picked to face the Giants. Speros watched from the Spotless Stadium stands as his son held his own and looked assured under pressure.
"He didn't look out of water, he didn't shirk any issues, he threw himself at it and it was a good debut for a bloke who has worked his way through," Speros said.
"I think the club was happy with him, and if they file him away for a while now, at least he got a taste."