THE OPENING game of the season is hours away and the next couple of days are utterly important for AFL Fantasy coaches as they get their squads set for 2019.
It has been a long pre-season, starting back in October when the NAB AFL Trade Period saw some players' Fantasy stocks rise and November when we saw our next batch of cash cows drafted. Price were revealed throughout December and January with bargains being highlighted and plenty of tinkering has happened throughout the JLT Community Series.
All of that is behind us, it is now time to lock our teams in.
Find The Traders' pre-season advice in the Fantasy Hub
Lockout information
Thursday night's Carlton v Richmond match at the MCG will see the partial lockout commence at 7.20pm AEDT. At this point the all Blues and Tigers players will be locked. If you have them in your squad of 30, they will be locked in place (including with captaincy, vice-captaincy or emergency set) and all Carlton and Richmond players are unable to be moved in or out of your team.
Coaches can continue to edit their side with unlimited trades right up until the start of the next game.
The full lockout will commence on Friday at 7.50pm AEDT as the ball bounces for the Collingwood v Geelong game.
Listen to the AFL Fantasy Podcast with The Traders at Apple Podcasts, Spotify and Google Podcasts.
Team selection
Although former winners of Fantasy Classic agree that the game is won by the trades, your initial squad of 30 players will help set you up for success.
Aim to have everyone in your team playing.
Teams for Carlton v Richmond have been announced and to the delight of Fantasy coaches, a few potential cash cows will be lining up ready to score points and make some money.
Appearing in 60 per cent of teams, Sam Walsh (MID, $270,000) is the second most selected player in Fantasy Classic and should be a lock for your midfield. Will Setterfield (MID/FWD, $251,000) is the third most selected player overall.
Carlton's Michael Gibbons (MID, $170,000) and Richmond's Noah Balta (FWD, $170,000) with both debut. Coaches shouldn't expect too much from the pair, however, as bench options, at least we know they are in their respective 22s for round one.
Any final changes are made public 90 minutes before the first bounce. Check out AFL.com.au for any news – such as a late out – that could be crucial for your team selection.
Teams for the remaining eight games will be announced at 6.20pm AEDT. Scanning these lists is important to make sure all of your squad, especially those borderline newbies, have been named.
Sunday teams will have a squad of 25 named, however you will see their final 22s at 5pm AEDT on Friday; almost three hours before the full lockout.
Last-minute study
The must-have selections
2019 appears to be one of the most open seasons for selection in recent history. A range of players appear to have upside, making it hard to nail down selections.
Only one man is a must-have; Patrick Dangerfield (MID/FWD, $771,000).
The dual-position Cat is likely to spend the majority of his time in the midfield and looks set to improve on his 106.2 average from last season. Many pundits are tipping him to be closer to the 120 average he managed in his first two years after being traded to Geelong.
Building squads around players with prices at the lower end of the scale is a tactic employed by many coaches.
Port Adelaide confirmed that Willem Drew (MID/FWD, $170,000), Xavier Duursma (DEF/MID, $236,000), Zak Butters (MID, $248,000) and Connor Rozee (DEF, $262,000) will make their debut on Saturday. Drew and Duursma are popular options to start on field in Fantasy Classic teams.
Mature age recruit Chris Burgess (DEF/FWD, $170,000) will play his first game for the Suns on Sunday and should be a sound bench option either as a defender or forward.
Team structure is an interesting conversation among the Fantasy community. This year there are plenty of mid-priced options, including under-priced premiums, who are tickling the fancy of many coaches.
Brad Crouch (MID, $542,000), Brodie Smith (DEF, $439,000), Zac Williams (DEF, $421,000) and Tom Liberatore (MID, $392,000) appear in more than 30 per cent of teams.
Below is a team made up of some of the most popular selections this pre-season and follows a typical structure some are employing.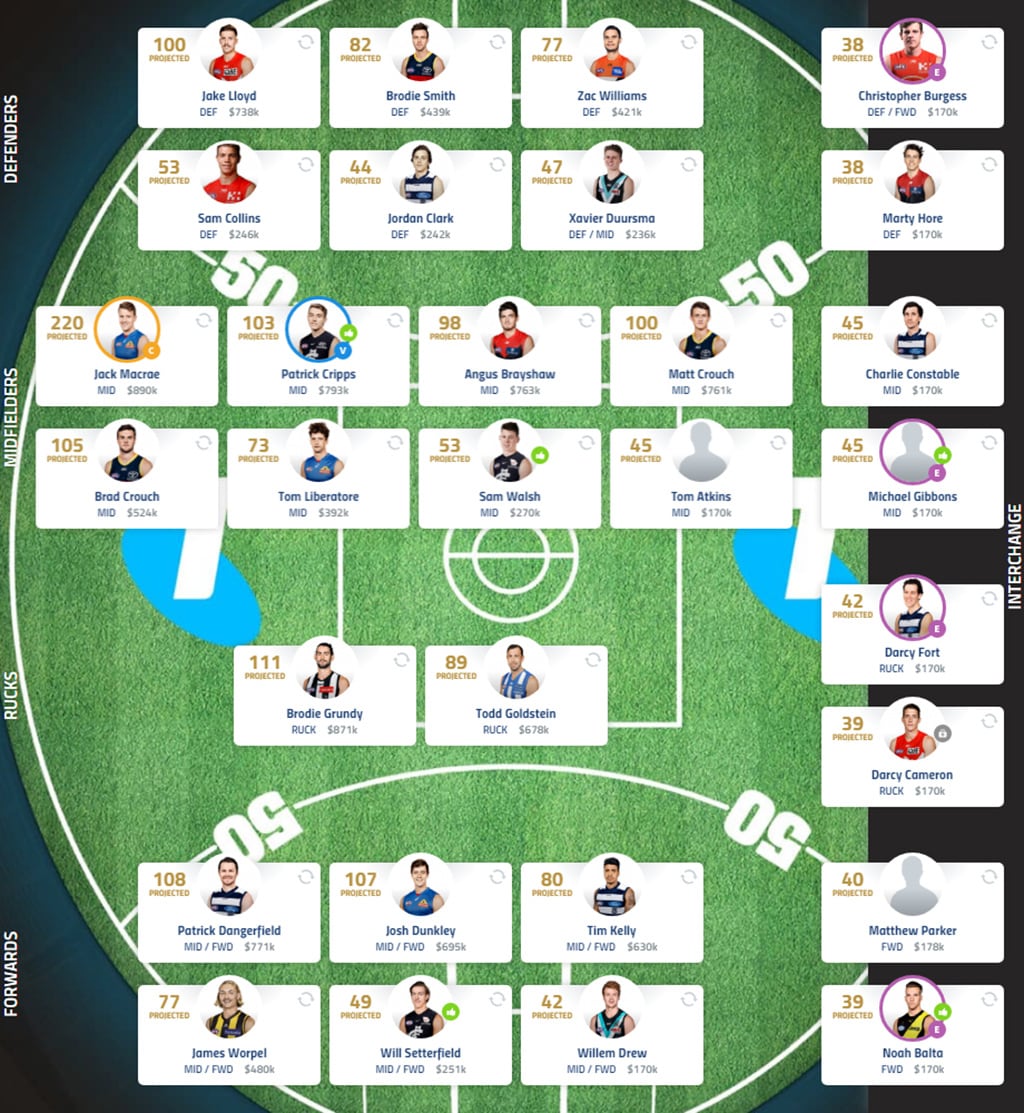 Final advice
Once you've settled on your 30, be sure to appoint a captain for double points, a vice-captain in case your skipper doesn't play and four emergencies. It is preferable to have one per line as if you have two emergencies named in a position, the lowest scorer will come on in the event of a late withdrawal.
Once full lockout is in effect on Friday, you can put your feet up and follow every stat on the website or via the AFL Live app as the games play out.
Then next week, use your two trades to fix up any of those initial selections you regret before round two.
Good luck!
Join The Traders streaming live on Facebook from 6pm AEDT as the round one teams drop. They will be providing commentary around team selections and answering your last-minute questions.