IT'S February next year.
One of Robbie Gray, Dylan Shiel, Chad Wingard, Steven May or Stephen Coniglio – or another of the players with free agent status in 2019 – walks into a media conference, sits behind the microphones and looks toward the dozen cameras pointing his way.
He starts talking.
"It is with both deep regret yet unbridled excitement that I announce to you today that I will be exercising my right as a free agent at the end of this season," the player says.
"Regret, because (insert club name here) has been all I have known as an AFL player, and it is as much a part of my life as my family, and I will forever cherish what it has done for me as a footballer and equally as a person.
"Excitement, because after (insert how many seasons player has been in AFL system here) I just know that it is the right time for me and my family to finish my career elsewhere.
"In being open with you all today, I will not be living the lie that many AFL free agents before me have felt compelled to live because of the rules being the way they are. I say that not to criticise those players, only to tell you that I would rather be true to myself and open with you.
"I am aware my decision will disappoint a lot of people, and I respect those who have such views. But I hope we can be adults about this, and that at some stage you can respect my decision, as well as appreciate how difficult it has been to reach, and publicly reveal, it.
"I promise all of you who are disappointed that I will not deviate in 2019 from the 100 per cent commitment I have always given (insert club name here). That is my commitment, as it always has been."
Tom Lynch would be lauded if he became a trailblazer for free agents. Picture: AFL Photos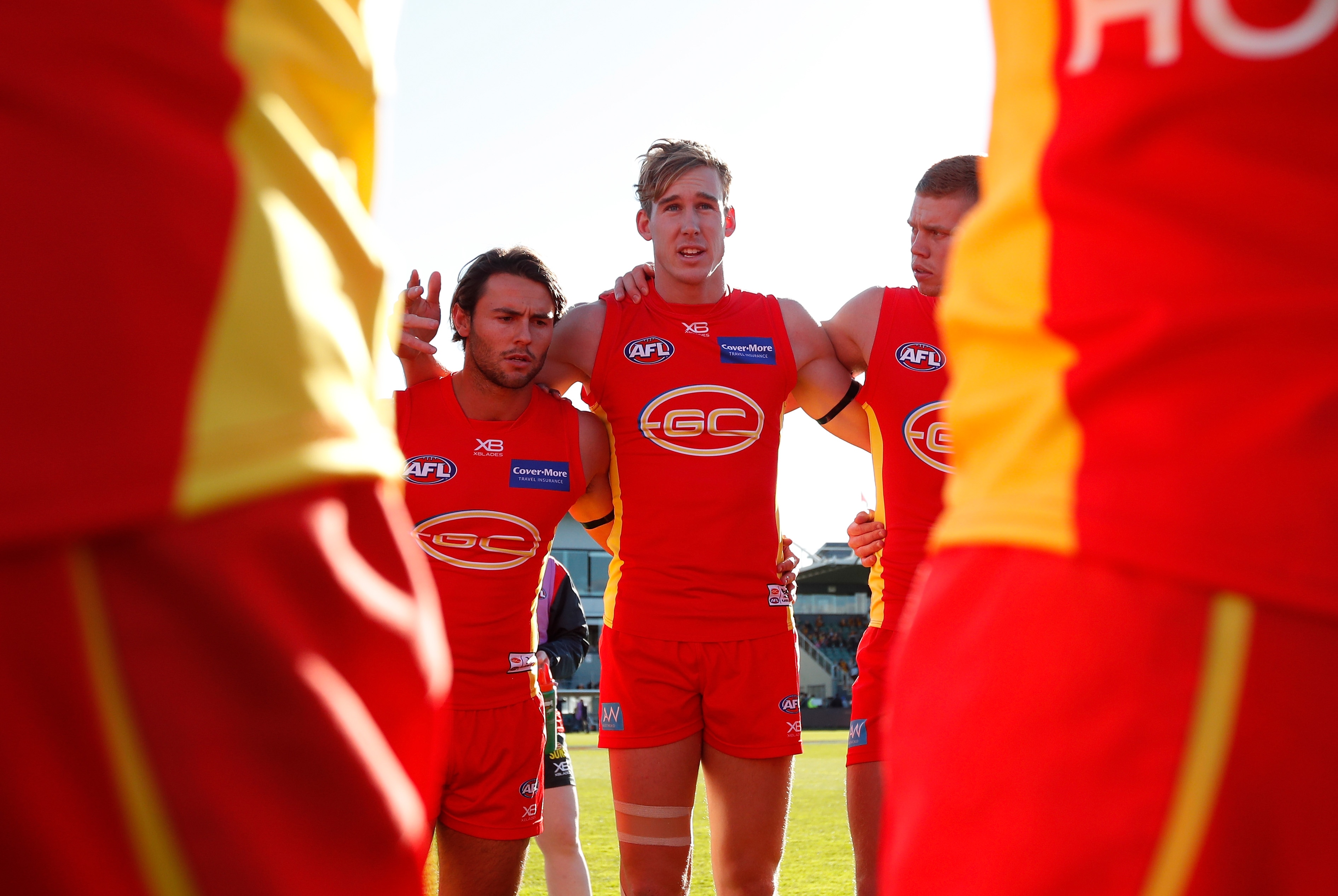 Obviously, it would be up to the individual and him alone, should he choose to address his free agency in such a manner, and inevitably there would be a media circus for 24 hours.
But the upside would override the negatives by 10 to one. No more lying, for starters, and the psychological freedom that comes with it. With the player genuinely on the market, a real auction for his services could then be held.
AFL players' contracts don't expire until October 31 every year, and the AFL industry isn't equipped, as other sports around the world are, to have open, truthful, real conversations in real time about free agents.
The player movement industry is set up in a way where it is better to lie than be truthful. It is virtually legislated. The first big-name free agent to buck that ideology would be celebrated, and would almost certainly lead the way to the practice becoming common.
It's actually July 2018, and Gold Coast's free agent and co-captain Tom Lynch would benefit from speaking openly and publicly about the decision he is about to make, and we believe his management when it says Lynch has not made up his mind.
But after eight seasons, and with his season finished with yet another knee injury, we reckon that deep, deep, deep down, Lynch knows which state he will be living in next year.
Maybe he should be the trailblazer later this week. His current club wants to know as much as his prospective ones, and it won't be waiting much longer before calling him out anyway.
Twitter: @barrettdamian