SYDNEY will lose arguably its most prized recruit when the club closes its doors for this year's Christmas break, as long-time chief executive Andrew Ireland begins his well-deserved retirement.
Ireland, one of the game's most respected footy administrators, will walk away from his highly successful career knowing he's been part of premiership-winning eras at both Brisbane and the Swans, and played a key role in shaping the competition in the northern states.
CLUB LISTS COMPARED Oldest? Youngest? Most experienced?
The man who played 110 games for Collingwood until he retired prematurely to take up a role at the QAFL really found his calling when he joined the then Brisbane Bears football department in 1990.
He had risen to the title of chief executive by the time the Lions had risen from perennial disappointments to win the first of three historic premierships in 2001, before he moved to the Swans and oversaw a drought-breaking flag in 2005 as head of footy, and another in 2012 when he'd taken over the chief executive post in Sydney.
Andrew Ireland during his time as CEO of the Brisbane Bears. Picture: AFL Photos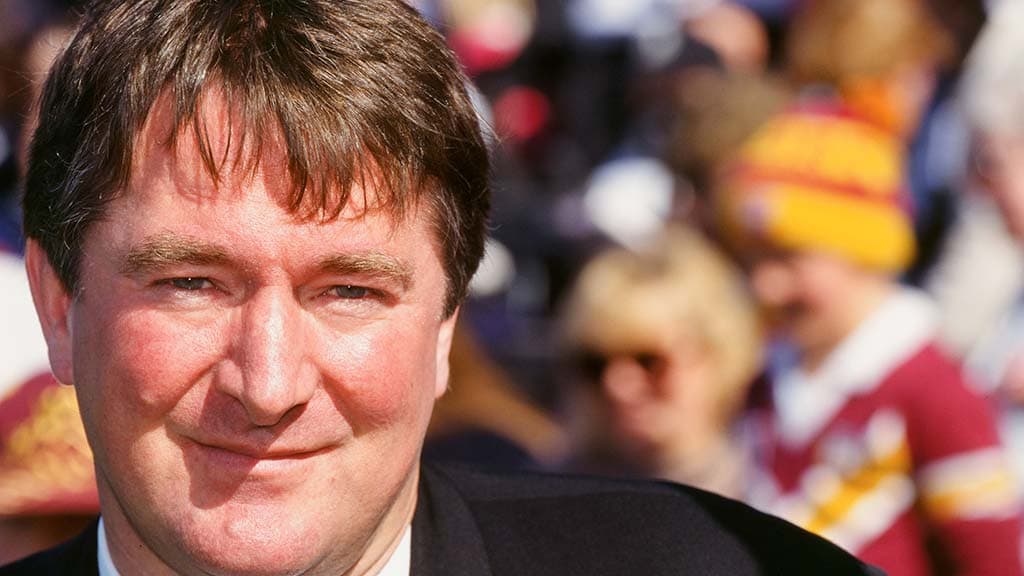 During his time at clubland, he attracted the legendary Leigh Matthews out of retirement to coach the Lions, and lured superstar forward Lance Franklin to the Swans with a mega-deal in one of the biggest recruiting moves of all-time, showing just how influential he's been in the top job at both clubs.
Players and coaches are often asked in retirement about their career highlights, and premierships – if they're lucky enough to have been a part of one or more – are always top of the list.
FUTURE PICKS Who you should barrack against in 2019
Ireland isn't much different, but he told AFL.com.au that his favourite memories of his time in footy, especially at the Swans, cover many different aspects of the code.
"I'm proud to have been involved with two clubs in really tough markets, that are now part of a truly national competition, and I'm happy to have contributed to that," he said.
"Winning the Brisbane premiership and two premierships at Sydney, plus making three other Grand Finals with the Swans was a highlight.
"It would have been nice to have won three as opposed to two, but that's footy.
"As a CEO you're running a business which relies on the performance of the players.
"The consistency the team has been able to display has been really pleasing under Paul Roos and John Longmire, and the players have been able to continually deliver at a high level.
"Our members and supporters no doubt wanted us to be financially secure and make profits as a club, but their biggest rewards was seeing how the team performs."
Ireland has had some fierce battles with AFL hierarchy over the treatment of the Swans, most notably their controversial trade ban after Kurt Tippett and Franklin were recruited in consecutive seasons in 2012-13.
Andrew Ireland was central to recruiting superstar Lance Franklin to the Swans . Picture: AFL Photos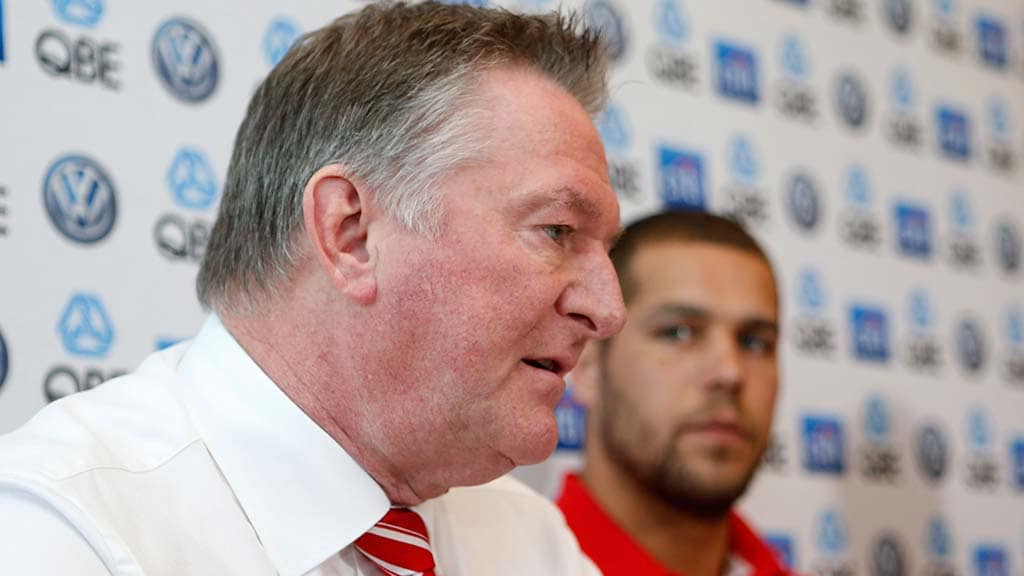 He also had to fight hard to establish the club's Academy system in Sydney, which has not only been a benefit to the Swans, but Greater Western Sydney, the Lions and Gold Coast.
"I'm really proud of the Academy," he said.
"It took us the best part of 10 years to convince the AFL that it was the right thing to do, but it's so important for the northern markets."
WHO'S LEAVING YOUR CLUB? All the latest retirements and delistings
Ireland leaves the game and Sydney bound for Brisbane where he and his wife Kelly will spend more time with their daughter and her young family.
He goes north well satisfied that the Swans are well positioned to maintain their success both on and off the field.
The club is in the process of developing a new training ground outside the SCG, and a state-of-the-art facility that will see the club's off-field hub moved a drop punt down the road to the Royal Hall of Industries building in Moore Park.
"We think we've got a pretty good club that is well respected (around the competition)," Ireland said.
"That really hit me when I recently spoke to (Brownlow medallists) Bobby Skilton and Peter Bedford, who had great individual careers with South Melbourne, but the team was seen as one of the easy beats.
"They both spoke to me about how proud they are to be part of this club and to be Sydney Swans people."
With Ireland's time up on a full-time basis, former head of football and dual Geelong premiership captain Tom Harley will step up to guide the club through the beginning of a new era.
Harley has spent the past 18 months working closely with Ireland and told AFL.com.au that he believes his now former boss has been a colossal influence on the club.
"His imprint on the Swans is as significant as any individual has had in the club's history, certainly the Sydney component of it," he said.
"His on-field success has been well told and over the last couple of years, his involvement in securing the long-term future of the club's new home was huge.
"The club is certainly in a far better place now than when he arrived, and that hasn't been lost on anyone around here.
"If you're talking about a well-rounded footy resume, his is as impressive as anyone in the game - Tom Harley on Andrew Ireland
Ireland made sure Harley prioritised his role with the football department until the 2018 season – including this season's trade and draft periods - were over, but since then the pair have locked down on making the transition a smooth one.
Harley said that with Ireland remaining on the Sydney board next year and regularly visiting the harbour city with his other business and sporting interests, his influence on the Swans will continue.
"We've spent quite a few hours going over some things that you 'only know if you know' and that's been incredibly helpful," he said.
"Some people might not want to move into this role with the predecessor as close as what Andrew is going to be, but while I'll be looking to find my own way going forward, I see having him still on the board as a really significant positive for myself and the club.
"He knows the game and the club inside out and the role he's played in my development can't be understated.
"This club has built a good reputation over a long period of time and that is intrinsically linked to its culture and its people, and its performance on the field.
"Those sorts of things should never be taken for granted so they have to be right at the top of the list of key priorities for me."