DEAN Robinson considered committing suicide in the wake of the Essendon supplements scandal.
Breaking his silence in a paid interview with the Seven Network, Essendon's former high performance manager said he had been made a scapegoat.
He also admitted he considered taking his own life with a knife as the stress mounted.
"It makes me angry. It makes be sad. It makes me depressed in times, and there are times yeah, it made me suicidal," he said.
"The only thing that pulled me up was seeing my little girl, looking at her.
"I'd chosen the knife, I knew how I was going to do it. The only thing that stopped me was my little girl. That's how close I was.
"I just thought I can't go there because I've got four kids relying on me, and I can't let them down."
Robinson claimed on February 5 this year, when Essendon self-reported to the AFL, he was thrown out of the club's headquarters and no one from the Bombers had spoken to him since.
"(General manager of football) Danny Corcoran basically marched me to my office, basically kicked me out onto the street and I had to get my wife to come and pick me up," he said.
"They haven't spoken to me since I left."
Robinson's wife Tori revealed she had been hospitalised twice for periods of two to three weeks since her husband was "frog marched" out of the football club.
"I just woke up, could not function, was just staring at the walls. The kids were needing me, they were crying and I just was so numb I couldn't feel a thing," she said.
"It absolutely breaks my heart because I've sacrificed everything for him to follow his career. So I can't help but take it personally when people make those attacks on his character."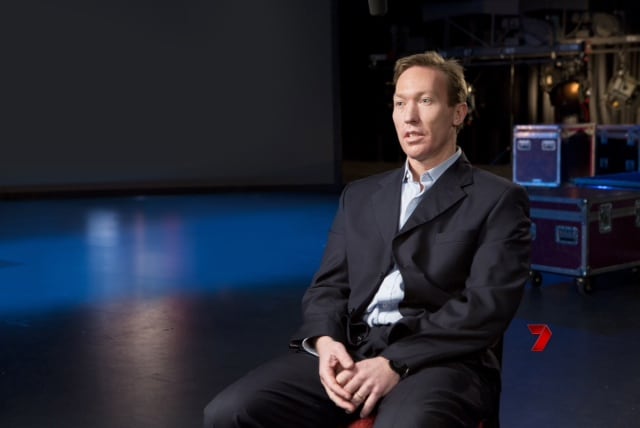 Dean Robinson speaks during his interview with Channel Seven on Wednesday night. Picture: Channel 7
The father of four has been forced to sell his house and intends to sue Essendon.
"We've had to liquidate every asset that we have. The legal fees alone, we've had to employ the very best legal advisers that we possibly can," Mrs Robinson said.
"If that's what it takes to clear Dean's name I don't care, we're going for it."
If you, or someone you know, is experiencing personal issues you can contact Lifeline on 13 11 14.
Matt Thompson is a reporter for AFL Media. Follow him on Twitter @MattThompsonAFL