DEAN Cox will retire at the end of the season, saying the grind of AFL football had finally taken its toll.
The veteran ruckman's decision ends months of speculation about whether he would he would continue on in 2015.
Cox, who turns 33 in August, will be available for the Eagles' final six home and away matches this season.
His impeccably high standards and his trademark durability and consistency played a part in his decision to call it quits.
"I've built a career where I thought I could have real impact in games, where I was at a level consistently doing that," Cox said.
"It got to a stage this year where I thought it probably wavered away from that.
"If I was to continue next year, I was probably doing an injustice to myself on what I've established throughout my career."
Cox also said he was feeling the grind in games a lot earlier than he used to.
"I've been in grinds throughout seasons for a particular game here or there," Cox said.
"But when it happens early in the first quarter, and you are just trying to really get through the game, you're thinking 'maybe it might have just gone past me a little bit'."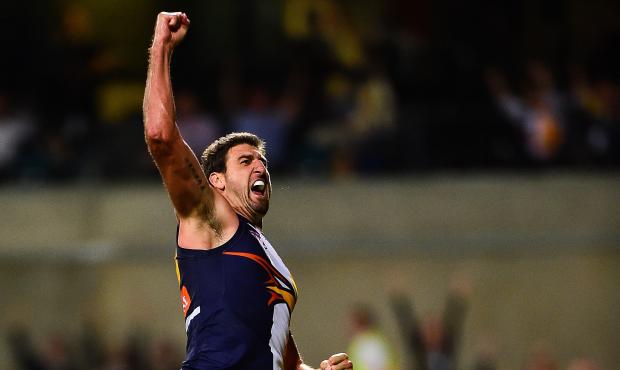 Dean Cox will retire as one of West Coast's all-time greats. Picture: AFL Media.

The decision draws to a close one of the most glittering West Coast careers. Cox will leave the game as a six-time All Australian. He won the Eagles' best and fairest in 2008 and finished in the top-three on four other occasions.
Cox also played a pivotal role in the Eagles' 2006 premiership.
He also holds the games record for West Coast, having broken Glen Jakovich's previous mark of 276 matches in round four against Geelong.
Cox is also the games record holder for players who started on a rookie list, surpassing Stephen Milne's 275 games for St Kilda. Cox was plucked from Dampier in north-west WA with pick No. 28 in the 2000 rookie draft.
He will ultimately fall short of becoming the first Eagles player to reach 300 AFL games - his current tally stands at 286.
The veteran said the milestone was never a factor.
"I think milestones, number of games, haven't ever really been a factor for me," Cox said.
"It's been 'can I play the footy I want to be able to play?' Next year I thought if I went on, I probably might not be able to do that."
Cox made the decision while on holiday with his family last week. After informing coach Adam Simpson on Sunday, Cox announced his retirement to the players on Monday.
"To tell the playing group just before was probably the hardest thing I've done," Cox said.
"I think you can speak generically about a lot of things about a football club until you get to the players, and that's when you choke up.
"You spend so long with a lot of players, and gone through ups and downs with them - they mean so much to you. That was the toughest part."