NORTH Melbourne veteran Brent Harvey has told AFL investigators he lost count of how many times Fremantle tagger Ryan Crowley pinched him in Sunday's clash at Patersons Stadium.
Giving evidence at the Tribunal on Tuesday night, he said it happened "about 300 times".
Crowley was fined $1200 after his misconduct charge was upheld by the Tribunal, though he will be free to face Geelong at Simonds Stadium on Saturday night.
While he insisted he "got as good as he copped" and did not pinch Harvey "at any stage", he was found guilty of misconduct based on the former North Melbourne skipper's evidence.
After becoming frustrated at the line of questioning from Crowley's counsel, Seamus Rafferty, Harvey told the Tribunal, "It didn't happen once, it happened about 300 times".
The only video evidence used during Tuesday night's case was footage of Harvey lifting his jumper at quarter time and asking umpire Brett Rosebury to put an end to the pinching.
Harvey and Crowley shook hands at the end of the match, but the North Melbourne veteran told his opponent then that he wasn't happy with what had happened through the game.
Crowley told the Tribunal he hadn't heard Harvey complaining to the umpires about pinching and he felt the pair had been under constant scrutiny from the emergency umpire throughout the game.
When it was put to the run-with specialist that his claim to have not pinched Harvey was not truthful, he said, "I dispute that".
Tribunal chairman David Jones said the case turned on Harvey's evidence and the jury of Wayne Henwood, David Pittman and Wayne Schimmelbusch needed to consider the credibility of both players.
The jury took 19 minutes to uphold the misconduct charge.
Below: Ryan Crowley and Brent Harvey tangle during the clash at Patersons. Picture: AFL Media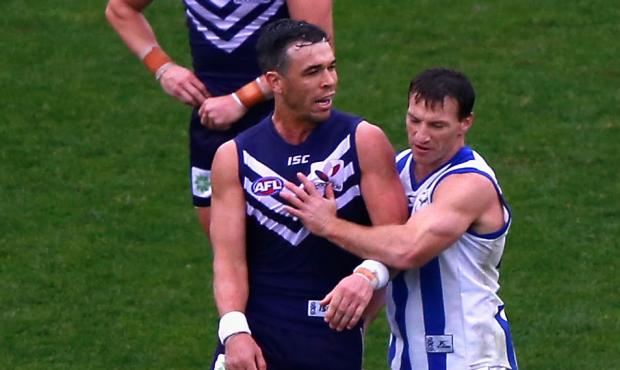 Nathan Schmook is a reporter for AFL Media. Follow him on Twitter: @AFL_Nathan