HAWTHORN has landed star midfielder Jaeger O'Meara within the final half an hour of the NAB AFL Trade Period after a tortuous negotiation with Gold Coast.
O'Meara, 22, requested a trade to the Hawks on September 13 but the deal was completed just nine minutes before the deadline after Carlton came to the rescue with a last-minute pick swap.
With 90 minutes remaining, Hawthorn began to negotiate a future second-round selection from Carlton after giving the Blues picks 48, 66 and 70 in this year's NAB AFL Draft.
This allowed Hawthorn to send its own 2017 second-round pick to Gold Coast, along with pick No.10 for Jaeger O'Meara.
See O'Meara's first media conference as a Hawk
Given the Hawks had already traded away their 2017 first-round selection to secure this year's pick 10, they weren't allowed to trade away another future pick without bringing one in.
Relieved Hawthorn list manager Graham Wright was rapt to get O'Meara through the trade period rather than having to secure him through the draft.
He said there were several times he suspected the deal may not get done but the Suns were within their rights to put a different value on O'Meara, who has not played a senior game since 2014. 
"He was their player so they had every right to ask for what they believe is a fair trade," Wright told NAB AFL Trade Radio.
"It was difficult, we didn't quite value it at that level and we were really keen to secure him."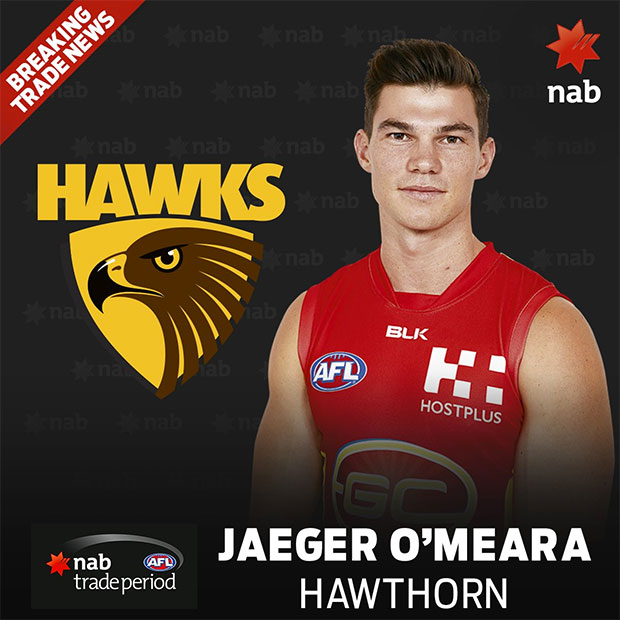 Gold Coast football manager Marcus Ashcroft said although the negotiations were tough the Suns got the outcome from the trade period they were after, with multiple early draft picks, three mature, seasoned players and some future selections.
The Suns chairman Tony Cochrane had been outspoken in declaring the club would not accept an unreasonable deal and Ashcroft said club officials were united behind him in taking that position.
O'Meara's manager Colin Young admitted that after arriving to final day talks confident of a deal being done, his confidence began to erode as the deadline neared.
"[It was] an emotional roller coaster the last few hours," Young said.
Wright said O'Meara would not train for the first month of pre-season but the medical staff was confident they could get O'Meara fit and ready to reach his potential.
He said securing pick No.10 from St Kilda in a widely criticised trade that happened on Friday had put them in a good position to get O'Meara.
Young said he had spoken to an excited O'Meara.
"He's pretty up and about," Young said.
• Check out every confirmed move on the Trade Tracker
• Indicative draft order: What picks will your club take to the draft?