BROTHERLY battles between Rhyce and Heath Shaw have always been fiercely competitive, but the latter admits Sunday's contest in Hobart will be particularly weird.
Rhyce Shaw, seeking to improve his unbeaten record as caretaker coach of North Melbourne to 3-0 with victory over Greater Western Sydney, is now plotting the downfall of Giants defender and younger brother Heath.
"It's great. Obviously a pretty good start to his coaching career ... hopefully that honeymoon period is over this week," Heath Shaw told reporters on Tuesday.
THINGS WE LEARNED Tigers won't win the flag
"There will be a lot of stuff talked about during the week but when we get into it, it'll be two very competitive beasts both wanting to get the win.
"Rhyce has already called me a couple of times, which he doesn't usually do. Trying to get a bit of inside info."
Heath offered one piece of team news, suggesting teammate Toby Greene should return from a knee injury.
The latest chapter in the Shaw sibling rivalry, which started with the most uncompromising of backyard cricket showdowns, shapes as a fascinating subplot as GWS attempts to shore up a top-four spot after a loss to Adelaide.
BARRETT Don't let North test Horse's loyalty, Swans
The brothers were teammates at Collingwood, then opponents, with Rhyce joining Sydney in 2008 then Heath shifting to the same city in 2013 but becoming a Giant.
"It's going to be interesting ... it was weird when I first played against Rhyce after he moved," Heath said.
"But I got used to that.
"This is a pretty unique situation ... it makes it even more weird.
"I think we'll stay away from each other during the game."
Heath helps Rhyce celebrate Sydney's premiership victory in 2012. Picture: AFL Photos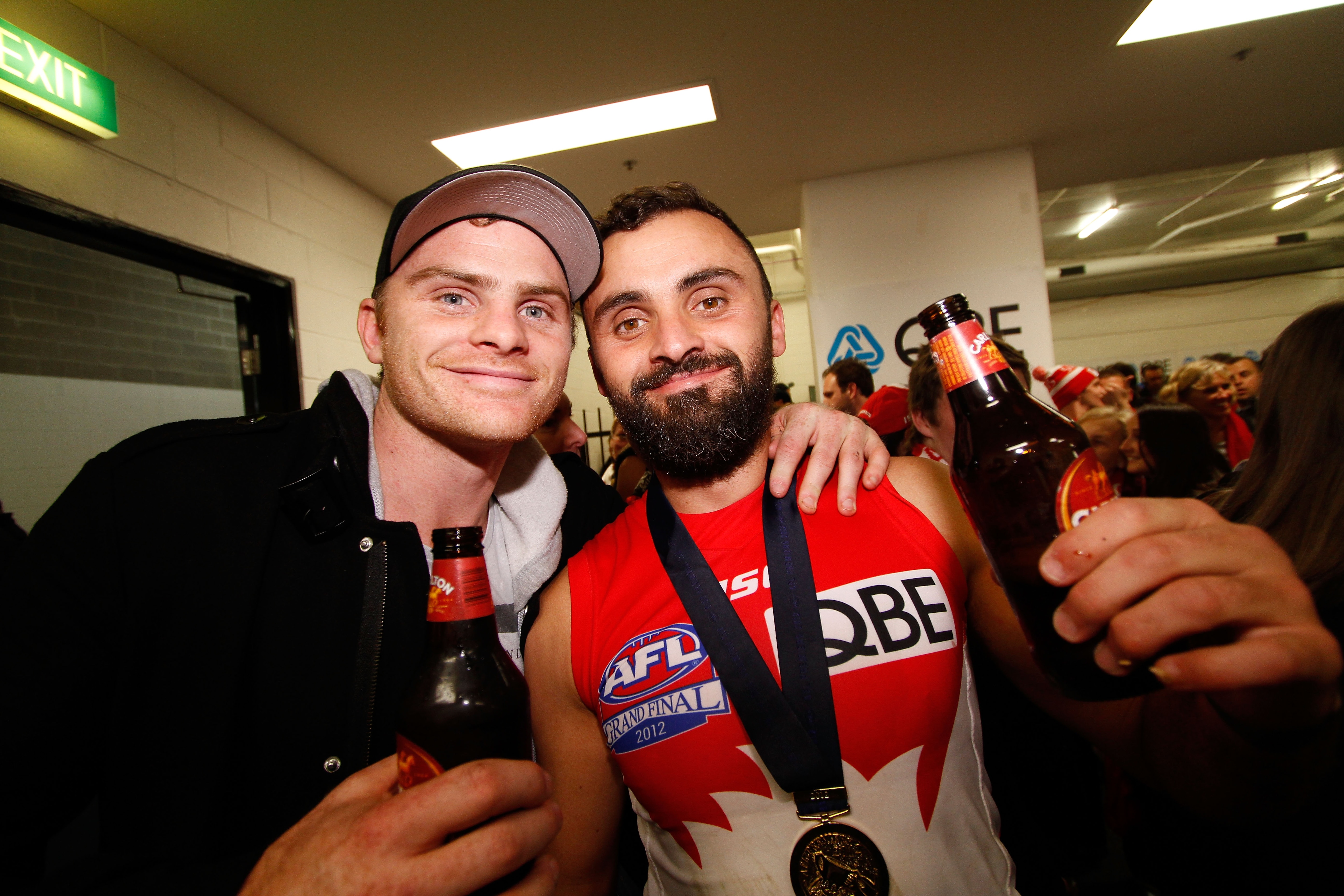 The Shaw clan had already locked in a trip to Tasmania for round 13 prior to Rhyce's appointment, with Heath joking that father Ray will be in the winning team's rooms after the match.
"Which he used to do when we were playing," he quipped.
The brothers have been close since the day dot.
Heath regards moving to Sydney as one of the best decisions he's ever made and Rhyce strongly encouraged that change.
Find AFL Exchange on Apple Podcasts, Google Podcasts and Spotify.
The pair spoke every day during the week leading up to Rhyce's first game in charge, a remarkable upset win over Richmond.
"He was getting a little bit of advice and seeing what I thought about some different things. I'm not shy of giving my opinion," Heath said.
WHO MAKES FINALS? Do the 2019 Ladder Predictor
"I just said to him 'you've got to this position from what you've done, being yourself, and the boys obviously love you ... be yourself and stick to what you know and you're good at, back yourself'.
"He's done that and held himself really well but hopefully this weekend it's not all rosy for him."