AS THE clock ticked inevitably towards West Coast's season-ending loss to Geelong, Chris Masten's mind started wandering.
Without a contract offer on the table, the 30-year-old couldn't help thinking he might be wearing an Eagles guernsey for the last time.
What Masten didn't expect was his outpouring of emotion as the final siren sounded on the semi-final defeat at the MCG.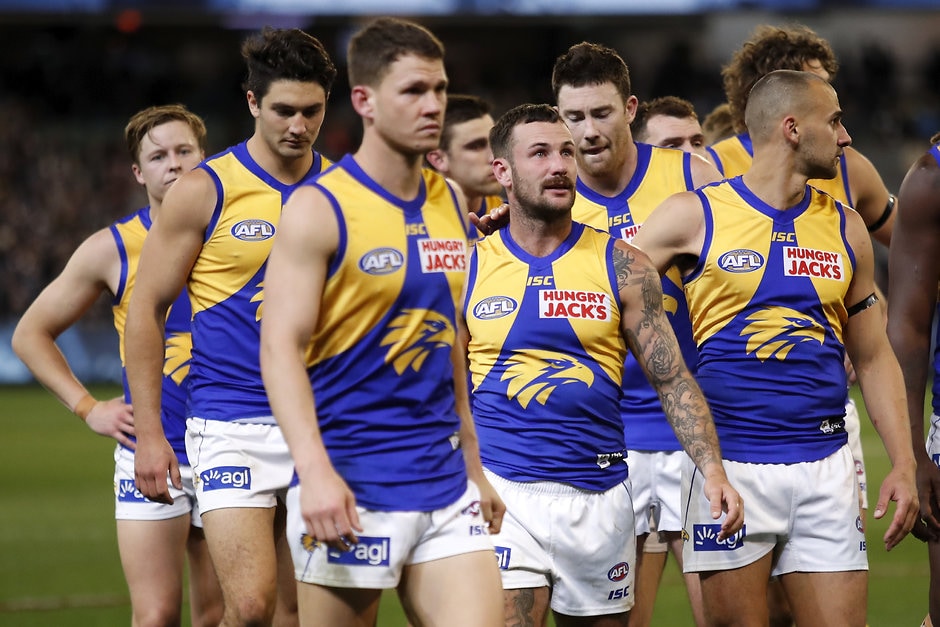 "I'm an emotional dude, a sensitive dude, but I'm not one to do it in front of people," Masten told AFL.com.au.
"I tried to hold it back but it just hit me this could be the last time I wear this jumper and walk off the 'G with my boys.
"So I couldn't help but feel a little bit emotional, because I had that in the back of my head probably in the last quarter when it seemed like we weren't going to get there.
"It was a sad night, but it is what it is."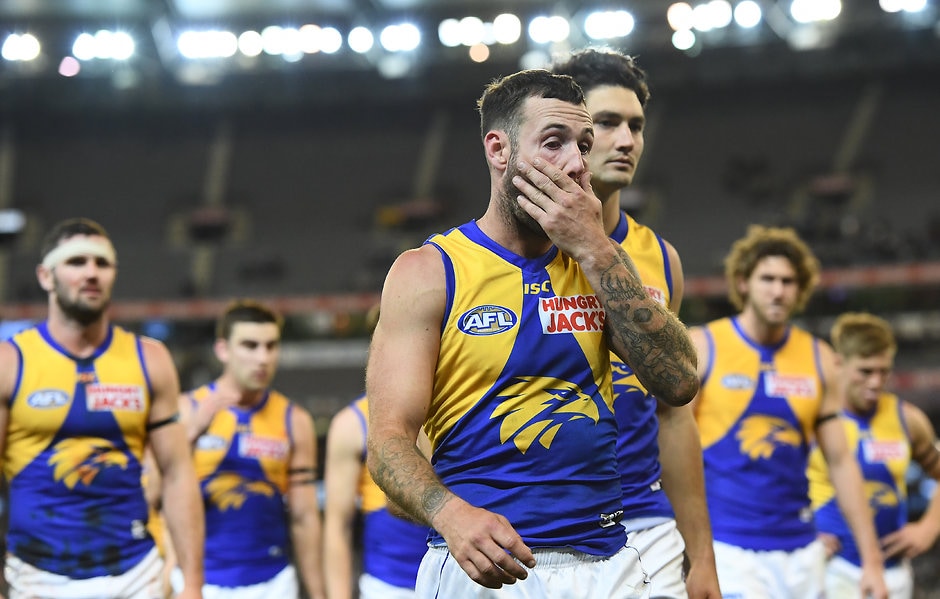 In a surprisingly swift exit, just four days later it was confirmed that Masten's time was up after 215 games across 12 seasons.
Coach Adam Simpson had delivered the news in person, arriving at Masten's home with a bottle of red wine in hand.
WHO'S HANGING UP THE BOOTS? Your club's retirements and delistings
"It was super classy by him. I think if you're going to go out any way it's probably the best way. My missus (Emmi) was there, Tex was there, my son, just giving him big evils with his eyes," Masten said with a laugh.
"But it was classy by Simmo.
"It was all a bit of a blur. A lot of emotions.
"I'd had a few conversations and I suppose that's where it's at, we're a pretty old list and we've got to get some midfielders in as well, so unfortunately it was just my time."
Masten celebrates a goal in the semi-final against the Cats.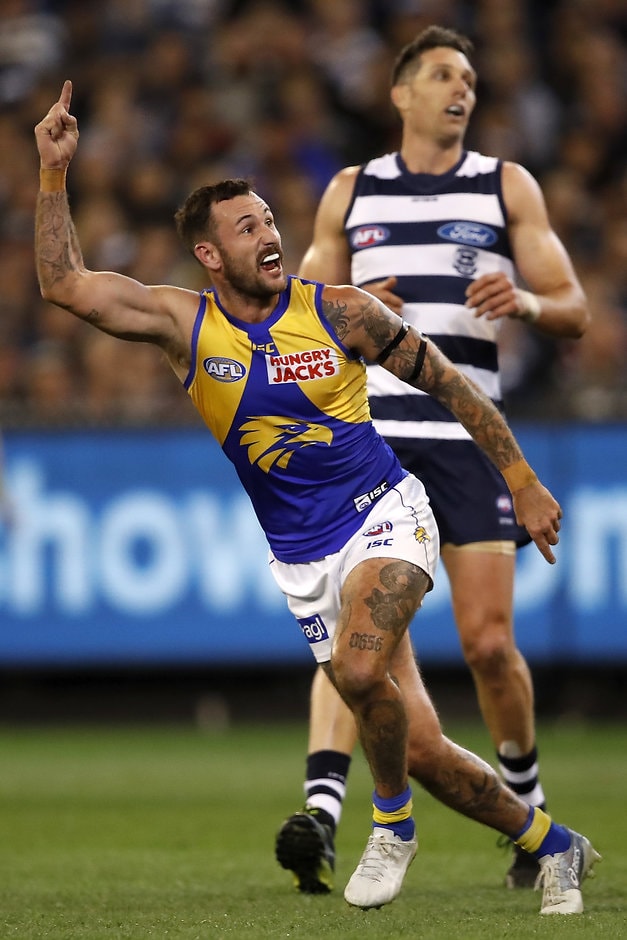 Never the flashiest footballer, Masten's workrate, willingness to sacrifice his game and love for West Coast were undeniable.
After working at the team store while at school, he became a heralded recruit after being taken with pick No.3 in 2007, one of the selections secured in the blockbuster Chris Judd trade.
The self-confessed "ratbag" readily admits he had some growing up to do, and not everything came easily.
Masten in action for the Eagles in early 2008. Picture: AFL Photos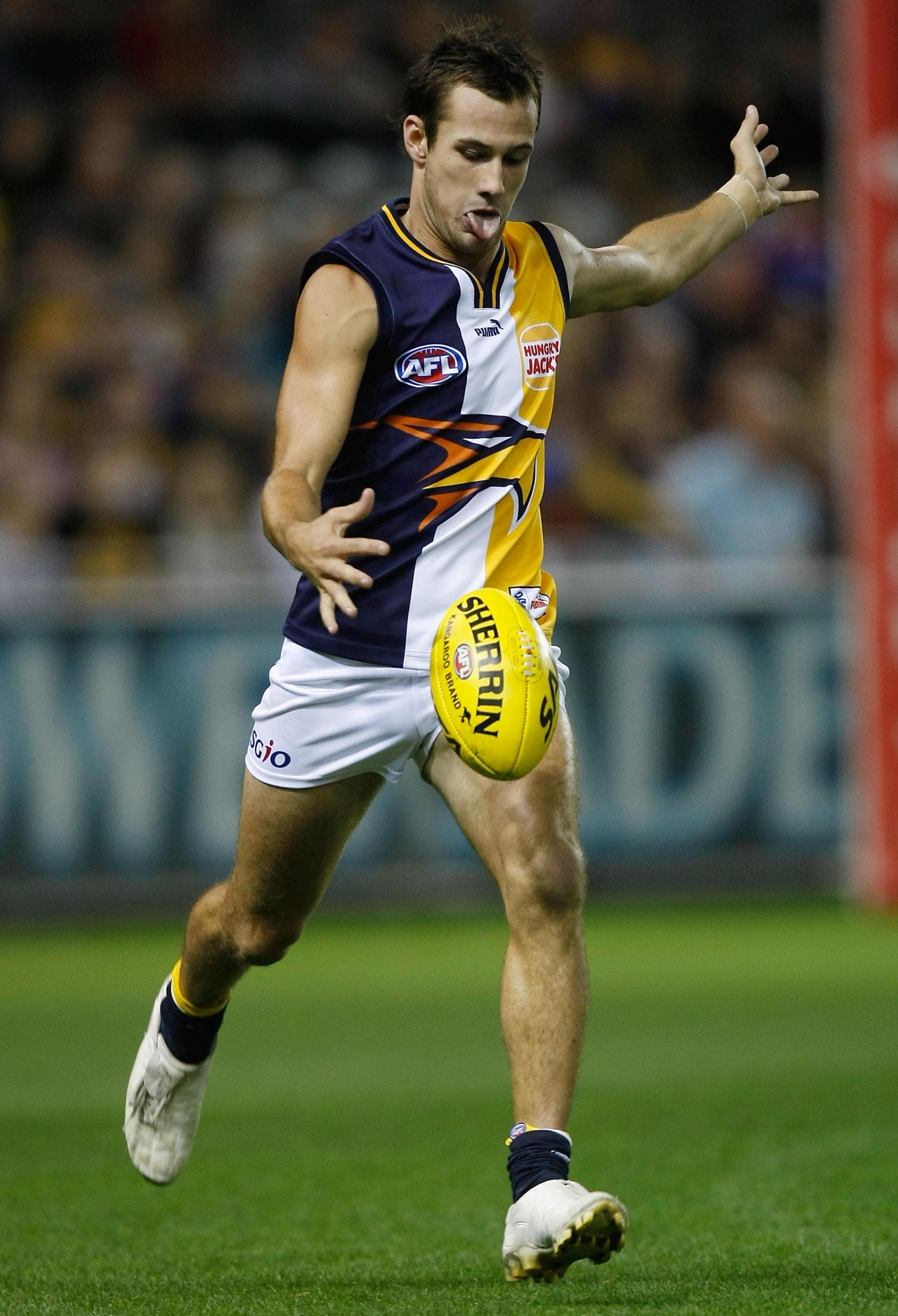 As recently as 2017 he was at the crossroads after being repeatedly dropped to the WAFL, and aged 28 it looked as though his playing days were numbered.
But Tex's arrival gave his life perspective and Optus Stadium's expanses opened up opportunity for the hard-running wingman to flourish, culminating in him becoming a premiership player last year.
While Masten polarised some fans, there was never any doubt about the always upbeat and vibrant midfielder's popularity within the club.
During Friday night's John Worsfold Medal presentation, winner Luke Shuey, football manager Craig Vozzo and Simpson were among those to pay emotional tributes.
"He was a little bit loose when I first arrived, but to see him grow, to see his family, to see the values and morals which he portrays himself, I'm so proud of you, mate," Simpson told the packed room.
"Your football, a lot of people don't see what Masto does for us. It's off the ball, it's selfless, he's got so much energy for our club, he loves our club, he's been a lifelong supporter.
"Congratulations, mate, you're a 200-game player, you're a premiership player and I love you for everything you've done for us, thank you so much."
With West Coast's last official function over, many of Masten's teammates will now go on end-of-season holidays overseas before returning to training, but he is in limbo.
Still keen to play on, his manager Colin Young is speaking to clubs in the hope of finding a suitor.
"I'm pretty much training and living like I'm going to be playing football next year," Masten said.
"I think that's the way I have to have it in my mind at the moment. If I don't, then I can go play WAFL or whatever else, but that's what I'm focusing on at the moment.
"I've got two kids at home now (daughter Stevie was born last month) so I don't really have time to dwell on anything, I've just got to get on with it."
Masten is preparing to play AFL again in 2020 despite his uncertain future. Picture: AFL Photos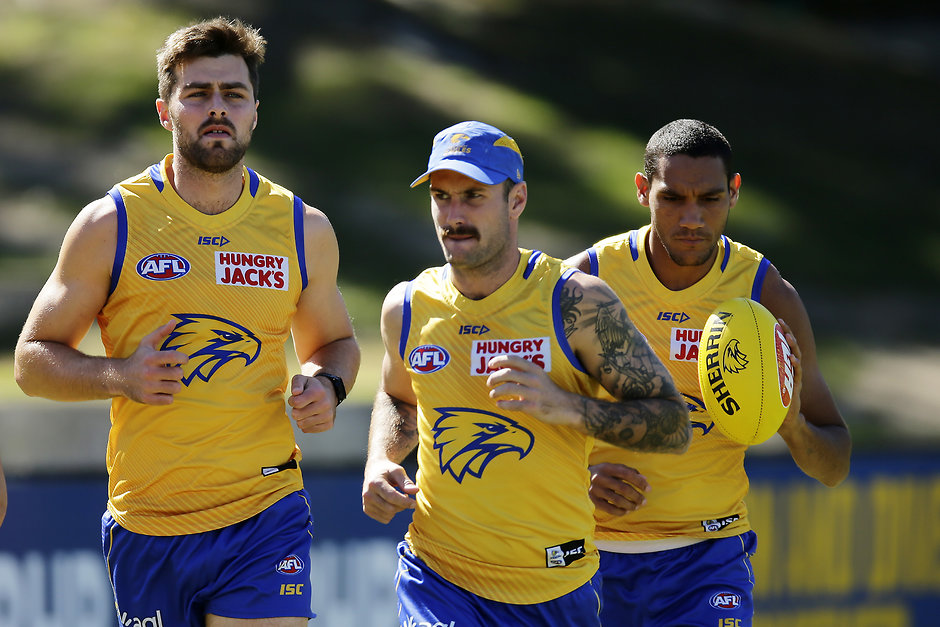 Back running and cycling since last Monday, Masten is determined to prove he has plenty more left in the tank.
"I did my second-best ever two (kilometre time trial) this year," he said.
"I had more sprint in more game than I ever have, so I've been able to churn out the k's but do it at higher speed, which is what we needed in that role because it was getting harder and harder to break free.
"I feel physically good. I've been pretty good my whole career with injuries.
"I think if the opportunity is there I would love to prove to myself more than anyone that I can still do it."
Intriguingly, Fremantle could be on the lookout for experienced wingmen with Bradley Hill and Ed Langdon likely to depart, and recently appointed ex-Eagles assistant Justin Longmuir as coach.
There is no suggestion at this stage the Dockers are looking at Masten, but he would be open to playing for West Coast's bitter rivals.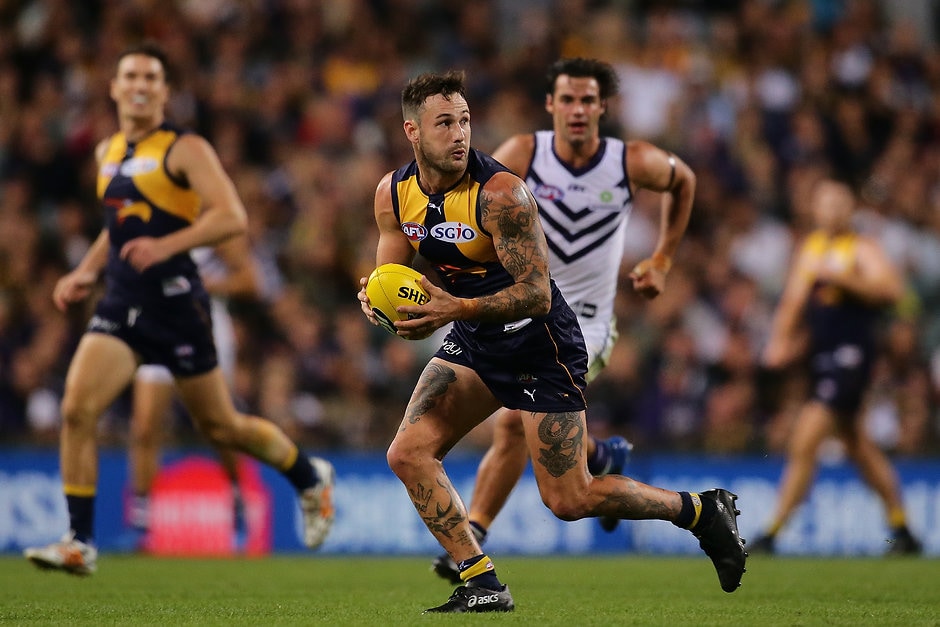 "That'd be great. Wouldn't have to leave and move interstate. If the opportunity is there, if someone's got a job for me to do, I'll die trying and I don't really care who it is," he said.
"Freo, with Longy there now, I think he's going to be a really good coach for a long time, so I think they've made a great choice there and we'll see what happens.
"If I have to go interstate I would definitely look at doing that. With a young family it would be a pretty hard move, but you've got to do what you've got to do for your dream, really.
"I got to live my dream for most of the last 12 years, so if I can prolong it for any longer I'll be pumped, but if not, I've had a fairly good career."
And as for how Masten would feel lining up for another club against the Eagles?
"It would be so weird. WA already don't like me enough," he laughed.
"Early days probably the biggest sprays I've had were from West Coast supporters, so that's not great, but I think it definitely changed the last couple of years, thank God."