CALLAN Ward's former teammates and coaches knew he was destined for a long career, but the Greater Western Sydney co-captain still finds it hard to believe he's preparing for his 200th game this weekend.
Ward, who came to the Western Bulldogs while he was still a schoolboy in 2007 and completed his year 12 studies while managing six games in his debut season, admits his milestone isn't something he saw in his future.
The shy teenager was lightly built, and his frame certainly didn't square with his ferocious attack on the footy in those days.
But now 28 years old and a star of the competition in his 11th season, Ward will reach the double century against West Coast at Spotless Stadium on Saturday.
ROAD TO THE DRAFT PODCAST Magpie recruiter spills the beans
"I still remember my first game. It's a long time ago now, but I remember it pretty clearly," he said on Wednesday.
"I think Bob Murphy was interviewed by Bruce McAvaney after the game and Bob said that he thought I'd go on to play 200 games.
"I remember listening to that and thinking, 'There's no way I'll play 200 games', but it's actually come true.
"It's pretty crazy to think that I've got my 200th this weekend."
Ward made quite an impression on everyone at the Bulldogs in his four seasons and 60 games with the club and many saw him as a future captain, which made his decision to leave for a lucrative deal to become an inaugural Giant even tougher to deal with.
History will show that the Dogs beat Ward's GWS in the preliminary final before capturing a famous flag in 2016, one that Ward would no doubt have played a major role in if he'd stayed at the Kennel.
The gun onballer said the Bulldogs' premiership isn't something that weighs heavily on his mind.
"I think about it every now and then, but the move (to GWS) isn't something I regret," he said.
"It was tough (to leave), and I was really keen to stay at the Dogs at the time, but I knew the opportunity here was a good one.
Callan Ward in the circle after his first win as a Bulldog in 2008. Picture: AFL Photos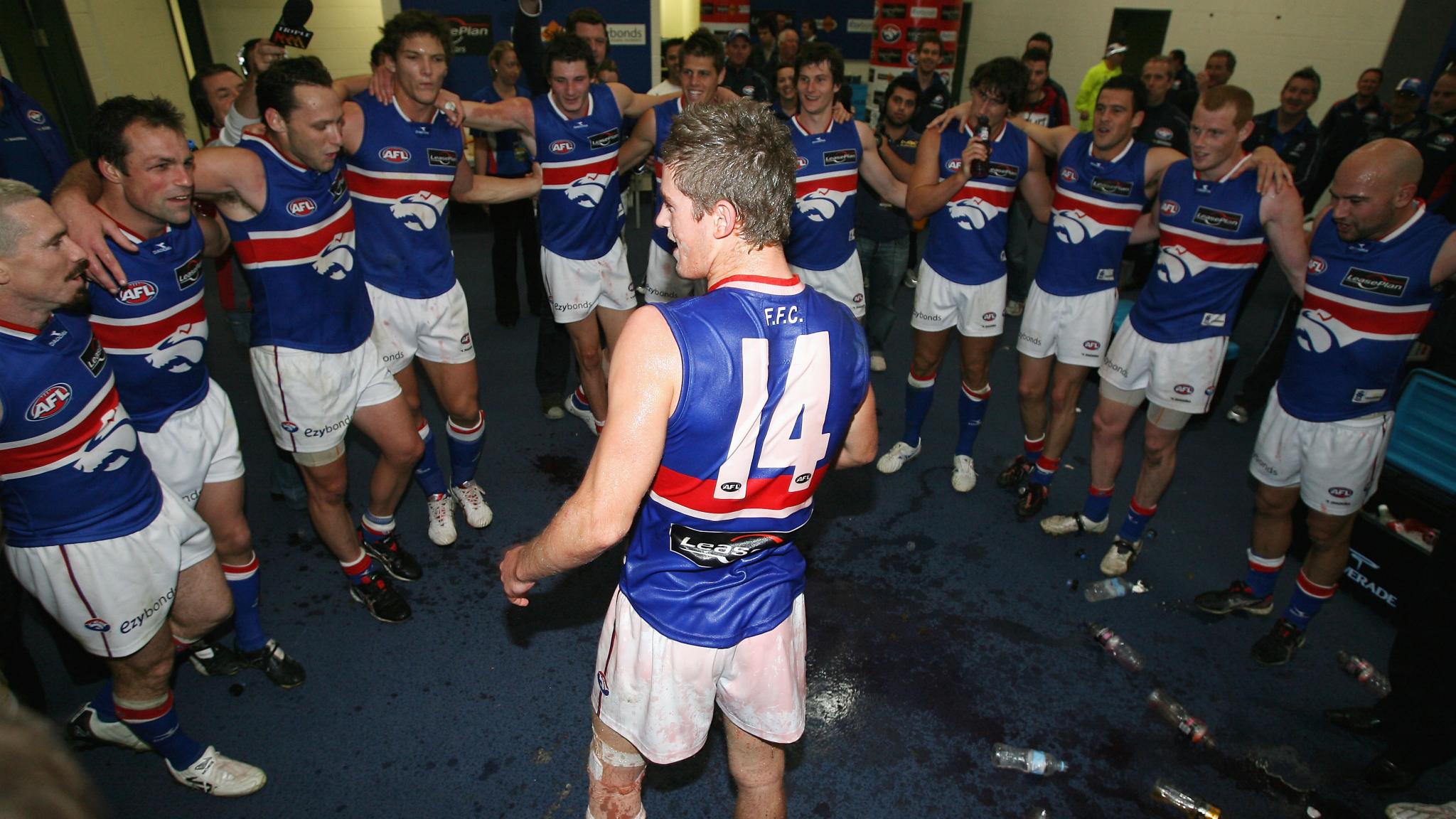 "I took the opportunity to start something new and start a life in Sydney.
"I guess I played in two (losing) prelims at the Dogs and I've played in two (losing) prelims here, so it's about taking that next step."
The Giants' disappointing loss to Geelong last Friday night has brought the club plenty of criticism, but while Ward admitted the players had some honest discussions after the game, they were no more intense than any other week.
"It's not a crisis at all and I've got no concerns about where we're headed," he said.
"You have concerns when you're not playing well as a player and as a club.
"But I think we're still in a very good space, we're fifth on the ladder, and we can really attack the season from here.
"We're really eager to improve and understand that there's plenty of areas in our game that we're not getting right at the moment.
"We just need to tinker with a few things and pretty much just turn up on the weekend, because last weekend we didn't really do that.
"I think Saturday is a really good opportunity for us to bounce back against a really good powerhouse side."
AFL Exchange podcast
Demon Angus Brayshaw joins the crew to discuss if Nic Nat should be whacked, whether Hogan was staging and who is the coach of the year so far: