OUTGOING midfielder Dan Hannebery is no safe bet according to Sydney fans, who have voted the veteran their side's biggest flop of 2018.
Hannebery, 27, seems destined to land at St Kilda after the Swans accepted the triple All Australian's request for a trade back to his home state of Victoria.
Giving their verdict on the Swans in an AFL.com.au survey, 44 per cent of fans named Hannebery as Sydney's most disappointing player after he averaged 19 disposals through his 15 games.
DAMNING The stats behind Hannebery's shock demise
Dan Hannebery has played 208 games for the Swans. Picture: AFL Photos

Alex Johnson's rollercoaster fortnight was frequently cited as Swans fans named their moments to remember and forget.
Johnson's stirring return after a six-year absence was one of the year's great stories, until the heartbreaking injury to his 'good' knee only one game later which finally ended his Swans career.
Despite the Swans being thumped in their elimination final against Greater Western Sydney, fans remain confident in coach John Longmire.
The club is yet to miss the finals under Longmire.
Here are the full survey results, plus a selection of Sydney fans' highs and lows.
Luke Parker topped the voting for Sydney's player of the season. Picture: AFL Photos

What was the moment you'll remember?
The win against Collingwood was perfect – Alex Johnson coming back from injury and finals chances kept alive.
- Isaac Jeffery, Adelaide SA
Nothing was better than the first game of the season at a brand new stadium when Franklin kicked a bag of eight.
- Ben Norris, Wembley WA
Ben Ronke carving up our nemesis Hawthorn.
- James Anthony, Orbost Vic
BEN RONKE The Bomber who got away
Ben Ronke lit up the season with eight goals against the Hawks. Picture: AFL Photos

Luke Parker's insane goal against the Eagles in Perth.
- Josiah Aldred, Launceston Tas
Tom McCartin's goal trickling over the line against Collingwood and the roar at the SCG!
- Matthew Armstrong, Burwood NSW
What was the moment you'd rather forget?
Alex Johnson's knee injury. Heartbreaking, cruel and unfair.
- Brendan Ellwood, Surrey Hills Vic
The celebration of Alex Johnson's return was cruelly ended only one week later. Picture: AFL Photos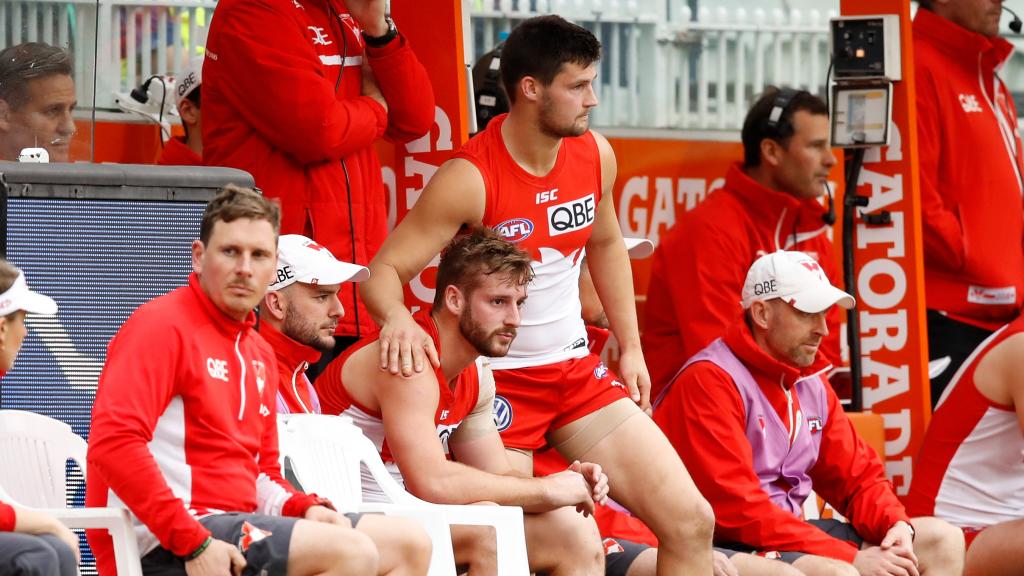 Losing the first final in the manner we did.
- Tom Baines, Toorak Vic
Our loss to Gold Coast. Embarrassing to go goalless for two quarters.
- Daniel Saunders, Sydney NSW
Sam Reid's failure to get on the park.
- Mick Townsend, Morisset NSW
Swans fans' season rating
5.8/10
Read more
NOT ALL GLOOM Sydney season review
THE WASH-UP More season reviews