PORT Adelaide coach Ken Hinkley has urged the football public not to "hang" rising star Xavier Duursma for his bow-and-arrow celebration but will speak to him about it.
Duursma celebrated in trademark style in the third quarter of the Power's 38-point loss to Richmond on Saturday after elevating for an excellent mark then slotting an equally good goal.
That accurate set shot cut the Tigers' lead to 16 points, but the replay of Duursma's reaction on the MCG scoreboard was met with boos from the Richmond faithful.
SHOOT THAT POISON ARROW TO MY HEART! #AFLTigersPower pic.twitter.com/j3dbsis2dS

— AFL (@AFL) July 20, 2019
This was far from the first time the young gun, who had 24 possessions, has rolled out his imaginary bow and arrow in his maiden AFL season.
"He's young, he's such a fantastic, humble boy, and if you know the boy, you know it's not about him – it's about energy he's trying to create for his teammates," Hinkley told reporters.
TIGERS TURN OFF POWER Full match coverage and stats
"I don't think we should view it as anything too much over the top, but there's a time and a place in footy … and Xavier will come to terms with that at the right time.
"But let's be really clear – this kid is a really humble kid, and he's doing some stuff he thinks helps his teammates, excites his teammates and it's part of the younger generation. They like it.
"We don't want to shut everyone down and be boring and playing like me, but we do need an understanding of what it looks like."
Ken Hinkley will speak to Xavier Duursma about picking the right time for his bow-and-arrow goal celebration, but stressed he's a "humble" kid. We really love quashing personality in this game. I reckon celebrations like Duursma's are bloody great!#AFLTigersPort

— Marc McGowan (@ByMarcMcGowan) July 20, 2019
Hinkley's comments followed him offering rich praise of Port Adelaide's three first-year players, Duursma, Connor Rozee and Zak Butters.
"Our three boys we've brought in; could we be more pleased? No, we couldn't. I'm not going to hide from that," he said.

"I think they've been outstanding and a great success for us as a football club, and we look forward to some really exciting stuff from them going forward and there's so much upside."
WATCH Ken Hinkley's full post-match media conference
The Duursma fuss overshadowed the Power's third loss in the past month, which leaves them a game and percentage outside the top eight.
Hinkley's men never seriously challenged Richmond after conceding the opening three goals of the game, but they briefly threatened to in the second and third terms.
"At times in the game, we were there to challenge and we hurt ourselves, and Richmond were really good," he said.
"Let's not get too confused. They played at a level that was above us, with the way they used the ball and moved the ball.
"But at times, we got within a couple of goals … then we'd have a really poor turnover, and they make the most of that.
"They sweat on that, they play that way, and they beat us with what we know, they beat us with their game, and they were too strong."
Find In the Game on Apple Podcasts, Google Podcasts or Spotify
Hinkley blamed most of the turnovers – which resulted in 11 of the Tigers' 15 goals – on a lack of composure, saying poor execution rather than the wrong option was often the reason.
Co-captain Ollie Wines (broken thumb) is unlikely to return next week to face Greater Western Sydney despite initially wanting to play against Richmond and could miss three more games.
Hinkley didn't rule out making a selection statement, but was thrilled with the return of veteran Matthew Broadbent, as well as the continued impressive form of Karl Amon.
Karl Amon collides with Shane Edwards during the loss to the Tigers. Picture: AFL Photos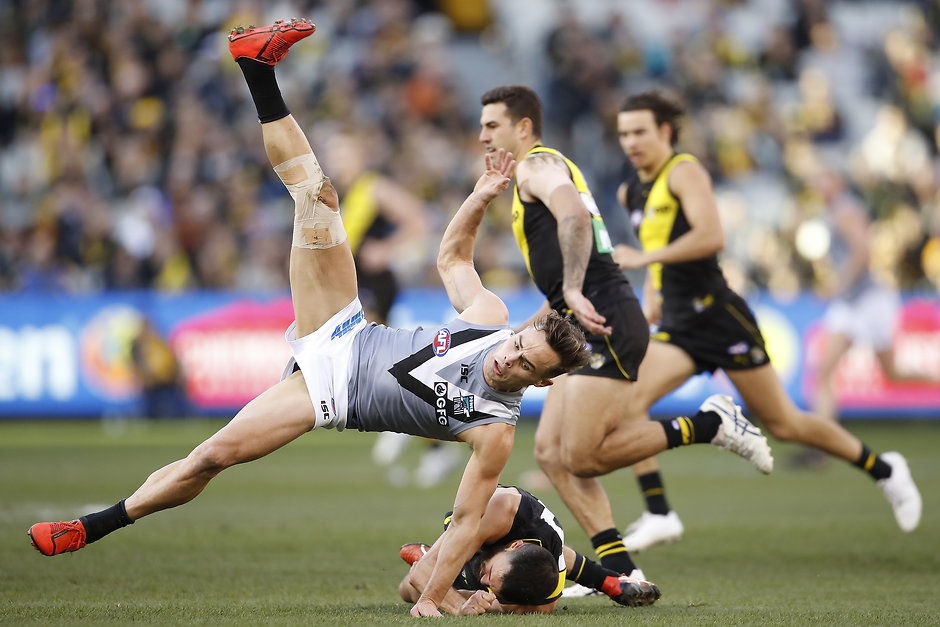 "He's had an outstanding season, Karl, and he's one of the real delights from a coach point of view," the coach said.
"He's had some significant growth as a player who was unsure of his own position and his own identity, perhaps, and what he wanted and how he wanted it.
"But he's had a fantastic season thus far, and I hope he continues to have that season and finish really strongly."
FULL INJURY LIST Who's ruled out and who's a test?
Hinkley also wasn't surprised at the 50m penalty paid against Justin Westhoff late in the first quarter for fisting the ball away slightly after it crossed the boundary line on the full.
"I thought it was pretty poor, and I mean poor by 'Westy', because I think he had another couple of options," he said.
"He could have either tried to mark the ball or let the ball go.
"In the end, he's probably more disappointed he punched the ball, probably knowing the ball was going out of bounds."