MITCH Clark's path to recovery after being diagnosed with clinical depression will not involve football at Melbourne.
That is sad on one hand because his talent was obvious to anyone who saw him play the game.
On the other hand, his decision demonstrates remarkable personal courage.
To simultaneously put his health first and be open with a professional football club about what is troubling him is brave.
He did what many find so hard to do and sought help.
Mitch Clark announces his retirement
To its credit, Melbourne helped him as best it could.
Last year Clark confided in those he trusted that he was battling with his mental health.
At the time he was trying to overcome a serious foot injury that he suffered in round 13, 2012 as well as deal with those issues.
Occasionally during the year he returned to Perth, having a break from the constant grind of rehabilitation and questions about his return, many of which must have been running constantly through his own mind.
And then, after such breaks, he would voluntarily resume the battle to return to physical health.
He worked hard, boxing and running and focusing on being fit and ready to resume in 2014, coming into the club every day – apart from his allocated day off – in the hope of returning.
In the last session before the last game of 2013 he trained with the main group, his rehabilitation from the foot injury basically complete.
He began the pre-season with high hopes.
Then just before Christmas, a hamstring went, then a calf and the hamstring again.
Any AFL footballer that has suffered injury after injury would empathise with how disheartening that must have been for Clark, but accompanying his physical problems was depression.
Suddenly, Clark's football career rightfully took a back seat.
Incoming senior coach Paul Roos backed Clark as his health issues became known more widely. The 26-year-old was placed on the long-term injury list and he was given time to contemplate his next steps.
Melbourne football manager Josh Mahoney conceded on Tuesday, when announcing Clark's decision to retire, that many of his peers had struggled to understand why Clark was finding returning to football difficult.
They wanted to help but they did not know exactly how to go about it.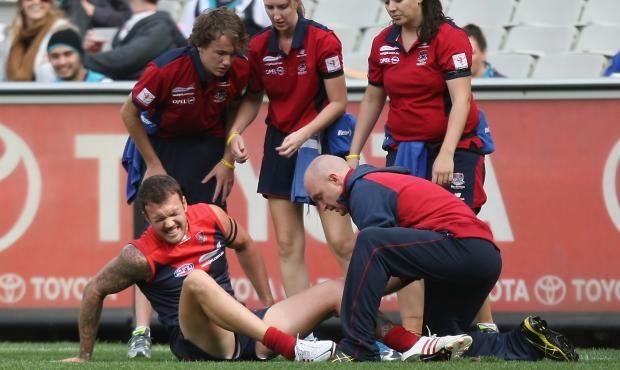 Mitch Clark is treated after injuring his ankle in round one of last season. Picture: AFL Media
Mahoney acknowledged clubs need support to deal with this issue.

On Monday, Roos had made his position on Clark clear: "Our concern is for him and his health and that is getting better. If that involves football, fantastic, if it doesn't, well I'm supportive of that as well."

On Tuesday his teammates were told he would not be playing football again and he sent them a message of support and gratitude for what they had offered him.

His coach during his time on the field at Melbourne, Mark Neeld, told AFL.com.au it was a tragedy for Clark and his family that he won't be playing football but the decision to retire was the best thing for Mitch.

"Clearly [football] pales into insignificance when talking about his long-term health but me, like everybody else, wishes him well on the road to recovery," Neeld said.

Neeld, who played a huge part in enticing Clark from the Brisbane Lions to Melbourne when he seemed destined for Fremantle, was glowing in his praise for what Clark brought to the club.

"Everybody who came into contact with him really enjoyed spending time with him," Neeld told AFL.com.au.

"He was just an outstanding person and that strikes you the first time you get to meet him, and then in terms of football attributes, Mitch was voted into the leadership group. He was a good football character who demonstrated it in the manner in which he prepared himself to play. [He was an] outstanding trainer and good leader of men."

He became Melbourne's beacon during a tough period in 2012, a brave leader who threw himself at marking contests and kicked straight when the team desperately needed him to.

Under all sorts of pressure, he was tough.

However the mantle of being the shining light never seemed to sit well with him. He'd told AFL.com.au before the season started he did not want his name in lights.

"I don't see myself as the big recruit. I just see myself as another guy who is trying to help this club go forward," Clark said.

During his first season with Melbourne he kicked 29 goals in 11 games wearing the jumper number made famous by the late Jim Stynes, who had handed it to him shortly before he died.

After round 13, Clark sat equal fifth on the goalkicking table, the key forward in a team that created few opportunities and sat second last on the ladder having kicked just 119 goals in the first 13 games.

But first and foremost he was a teammate.

When the Demons were struggling early under Neeld and controversy dogged the club it was Clark who organised bonding experiences such as games of golf. He spoke in post-match meetings that were about restoring confidence.

He was laid-back in conversation but became most animated when talking about teammates.

When Chris Dawes arrived to play in 2013, Clark was rapt. The two struck up a great friendship. Sadly the two never played a game together but they remain friends.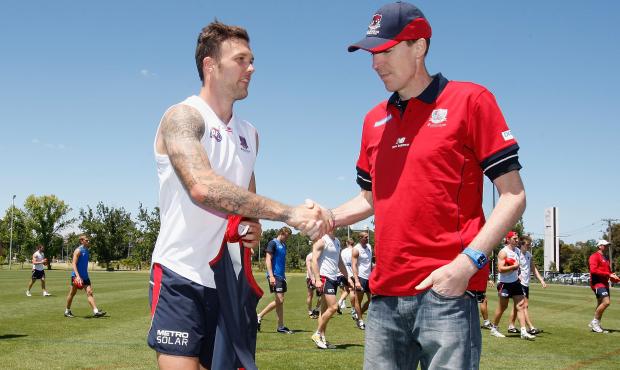 Jim Stynes presented Clark with his Melbourne jumper shortly before he died. Picture: AFL Media
Supporters didn't see Clark play alongside Jesse Hogan either, the talented youngster who moved in with Clark when he first arrived from Perth as a 17-year-old, still yet to make his debut.

The Lisfranc injury Clark had suffered in 2012 was serious, complicated and not easily overcome. He made a comeback in round one of 2013 but his season finished after just four games when he had surgery to remove a pin from his foot.

But this battle seems much harder. There is no easy answer, but Clark has more support than he could imagine.

Away from the game his talent for taking a photo is obvious. That is a pursuit many hope he continues. He has a daughter and a partner, brothers and parents, and friends and teammates.

He will remain on Melbourne's list until the end of 2014, and talks on a financial settlement – Clark's contract runs until the end of 2015 – will continue in the coming weeks.

His AFL career is locked on 97 games and 97 goals (with a best and fairest placing at the Lions and two leading goalkicker awards) but he is moving forward in life.

It might be hard to see now but Clark's experience and response to the illness is likely to act as a guiding tale for many others in similar positions.

Former North Melbourne and Sydney Swans player Wayne Schwass, who suffered depression during his 282-game career, said he admired Clark for having the courage to make the call to put his health first.

"There is a lot of support out there. He might not know it right now but his decision today will have a profound impact on many people within the community that he might never come across or ever know," Schwass told AFL.com.au.

For now discussions about football can wait.

A footballer has made a strong life decision.