MADE POSSIBLE BY

IT WAS a top-of-the-table clash no one had seen coming at the start of 1993.
North Melbourne had endured a tumultuous pre-season, sacking their coach Wayne Schimmelbusch just three weeks before round one following a catastrophic 147-point pre-season loss to Adelaide.
Essendon looked to have entered a rebuilding phase after missing the finals in 1992, but youngsters such as James Hird, Gavin Wanganeen, Mark Mercuri, Joe Misiti and Steven Alessio had quickly taken flight at AFL level and helped lift the 'Baby Bombers' to second place on the ladder after the opening 14 rounds.
Under new coach Denis Pagan, North had opened the season even more impressively.
With Wayne Carey emerging as one of the competition's best players, and Wayne Schwass, John Longmire, Mick Martyn, Anthony Stevens and Glenn Archer all thriving under their former under-19s mentor, the Kangaroos sat on top of the ladder.
Carey (second from right) soaks in another victory with 1993's flying Kangaroos. Picture: AFL Photos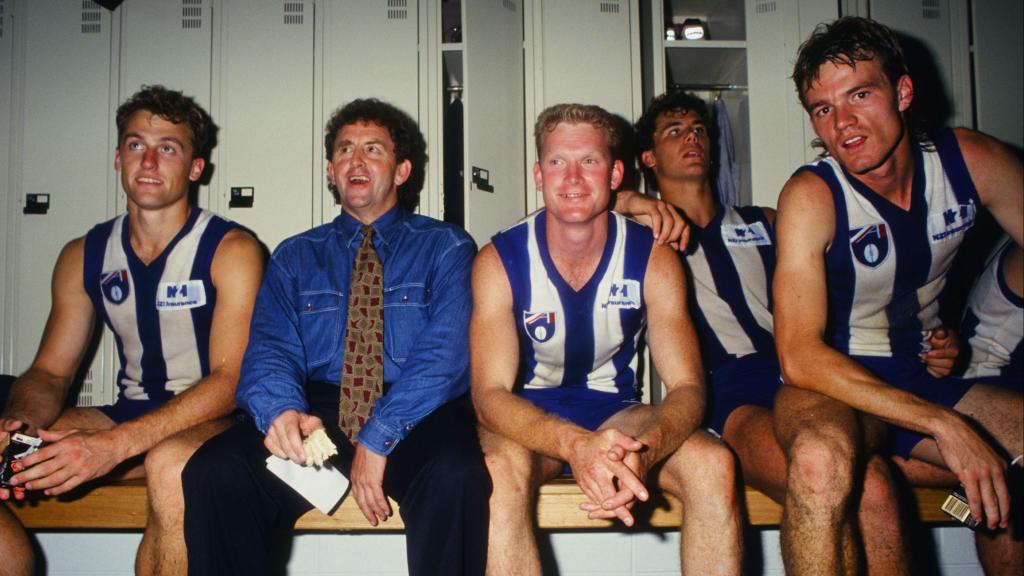 How they billed it
As round 15's AFL Record pointed out, North Melbourne's 9-4 record included four narrow losses.
Two had been by a single point, including a comeback defeat the previous round by lowly Fitzroy. It had left the Roos smarting.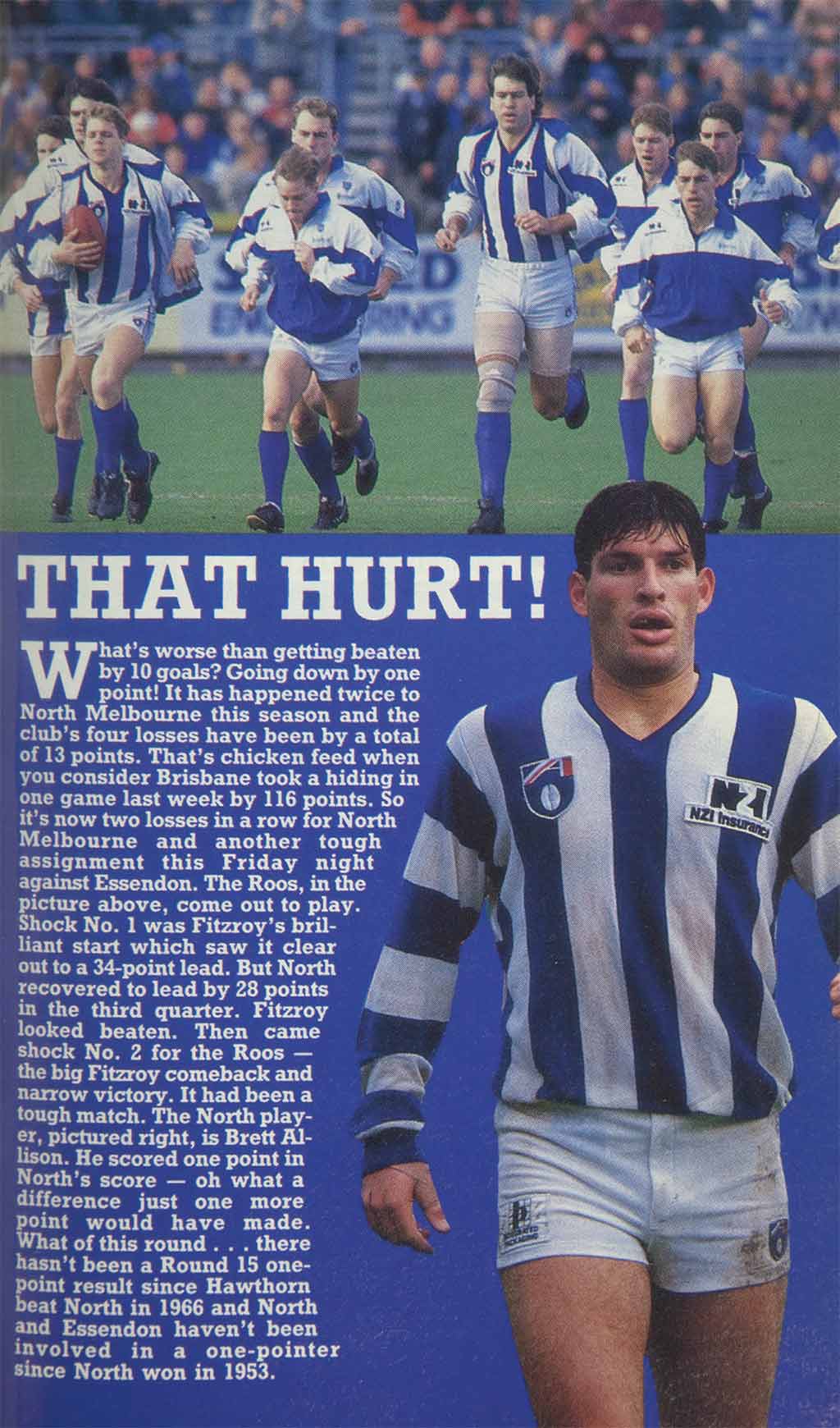 The opening rounds
With Carey, Longmire and Adrian McAdam on song in attack, the Roos piled on seven goals in the opening term to take a 19-point lead into the first break.
The Bombers hit back over the next two quarters, riding dominant performances from Paul Salmon, Michael Long and Mark Thompson to build a 10-point advantage by the final break.
Going into the last quarter, Kevin Sheedy's men appeared to have all the momentum.
The moment
North opened the final quarter with a four-goal-to-one run that put it four points up halfway through the term.
Carey then took it upon himself to kill off any fight remaining in Essendon.
As Schwass pumped a long ball inside the Roos' forward 50, Carey launched himself on to Tim Watson's back and marked at full stretch, as Derek Kickett tried in vain to spoil from behind.
'The King' had taken a brilliant pack mark two minutes earlier but missed his set shot. This time, he made no mistake from just inside 50m.
Carey's goal seemed to suck the life out of the Bombers. Over the next 10 minutes, the Kangaroos ran rampant, piling on another four unanswered goals to win by 38 points, a margin that belied what had been a fiercely waged contest.
Rampant: Denis Pagan's 1993 Kangaroos. Picture: AFL Photos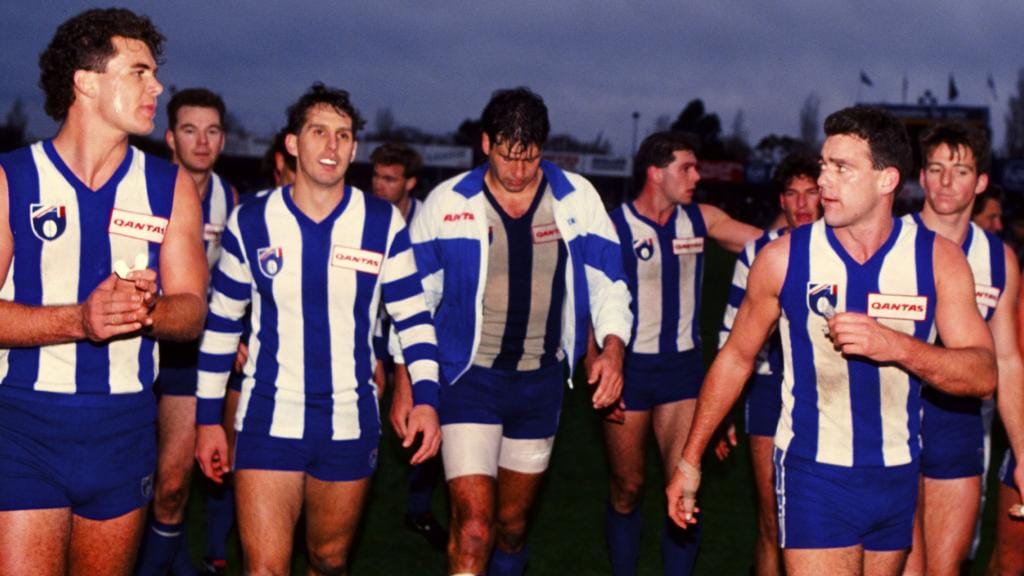 The heroes
Carey was a colossus, especially in the last quarter where his dominance of Watson in the air turned the contest. The Roos skipper finished with 20 possessions, 13 marks, 4.1, three Brownlow votes and the AFL Record's Man of the Week award.
But he had plenty of support. Longmire was too strong for young Dons full-back Fletcher, plucking 10 marks and kicking 6.4, while Martyn was almost impassable in defence and earned one Brownlow vote.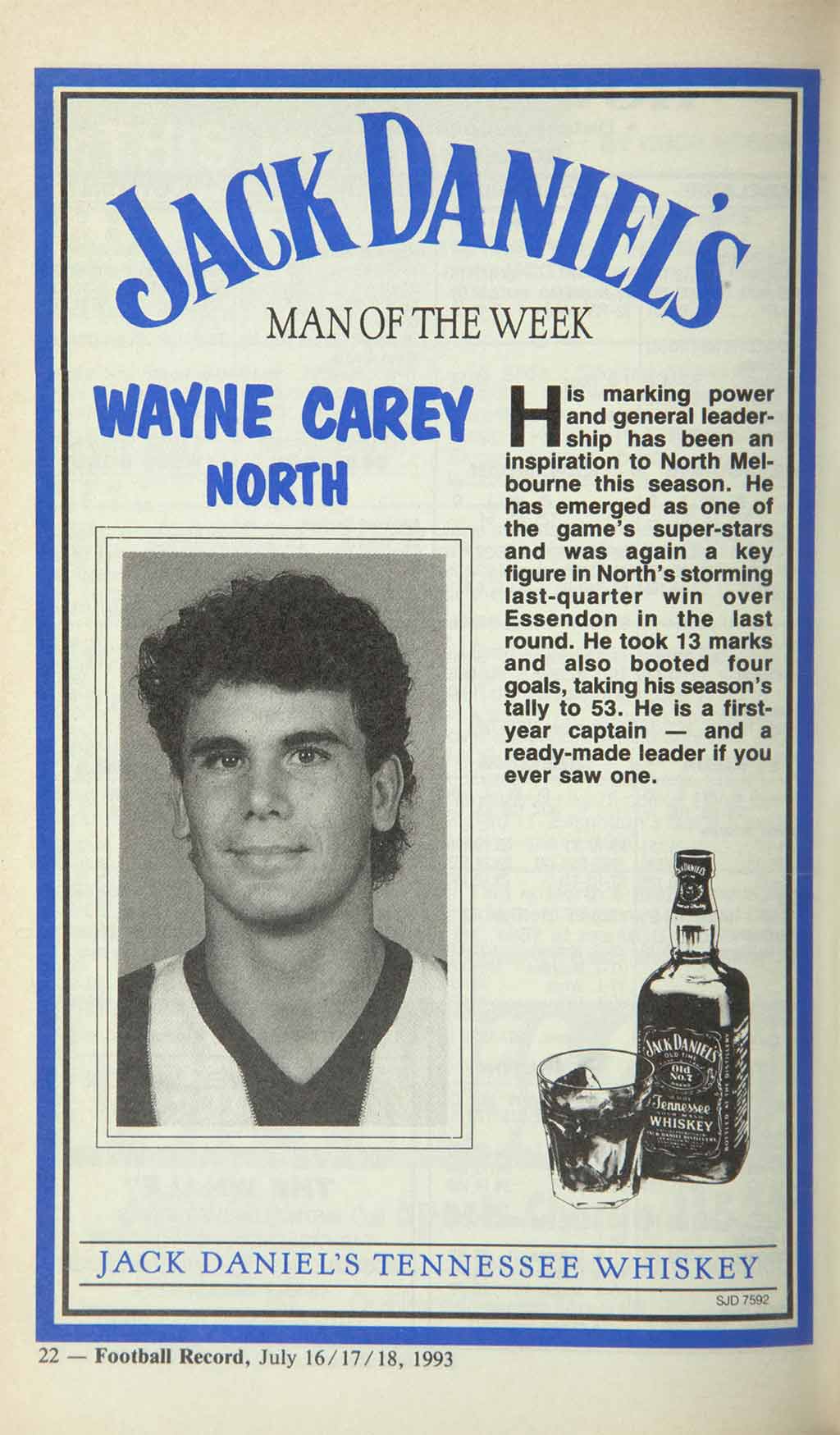 Valiant in defeat
The Bombers threw everything at the Kangaroos and were close to breaking them in the third term. No Don gave the Roos more headaches than Salmon, who finished with 21 disposals, 14 marks, 18 hit-outs and two goals to deservedly receive two Brownlow votes.
The moment they don't replay but should
Mark Roberts had been quiet until the final quarter, but the North utility helped power his team's irresistible surge to victory with several line-breaking runs.
The best of them came with 12 minutes remaining on the clock, when he beat David Grenvold to a loose ball inside the Roos' defensive 50m arc and took off.
Charging straight through the corridor, he took three bounces, burning off Chris Daniher and Sean Denham before baulking Salmon and launching a long bomb deep into attack, which Carey marked brilliantly.
The Roos skipper missed his set shot from 35m, but that's no excuse to forget Roberts' inspirational play.
Mark Roberts (l) savours the Roos' 1996 flag with Kangaroo teammate David King. Pictures: AFL Photos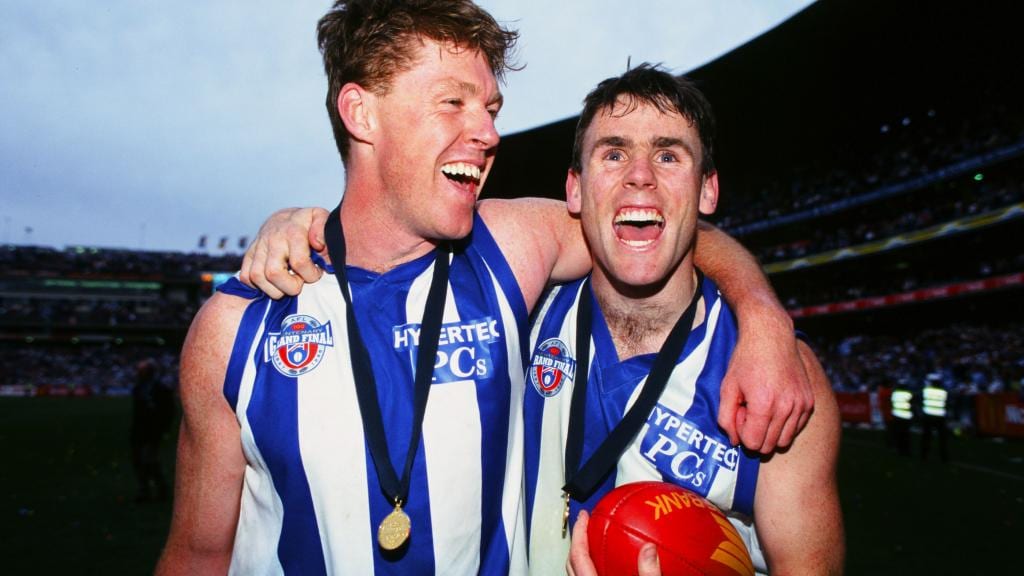 What happened next?
The Kangaroos won the battle, but the Bombers ultimately won that year's war.
Rebounding from their round 15 loss to clinch the minor premiership, the Dons then overcame a qualifying final loss to Carlton and a 42-point half-time deficit to Adelaide in the preliminary final to clinch the club's 15th premiership.
The 'Baby Bombers' had delivered well ahead of schedule, but Pagan's young North team ran out of gas, losing three of its remaining six home and away games before bowing out of the finals via a week one thrashing from West Coast.
It was premiership glory for the Baby Bombers ...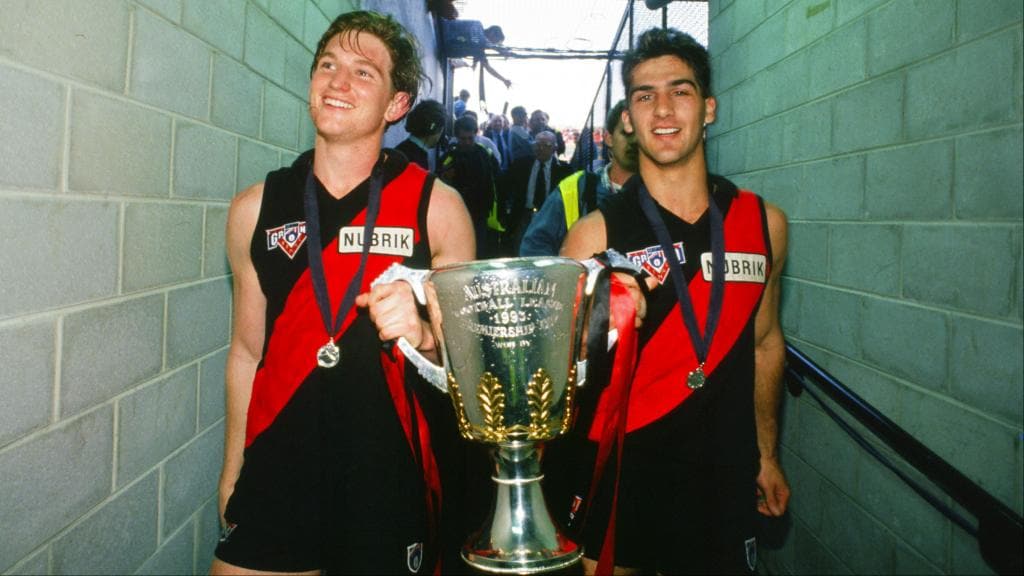 ... but elimination final heartbreak for the Roos. Pictures: AFL Photos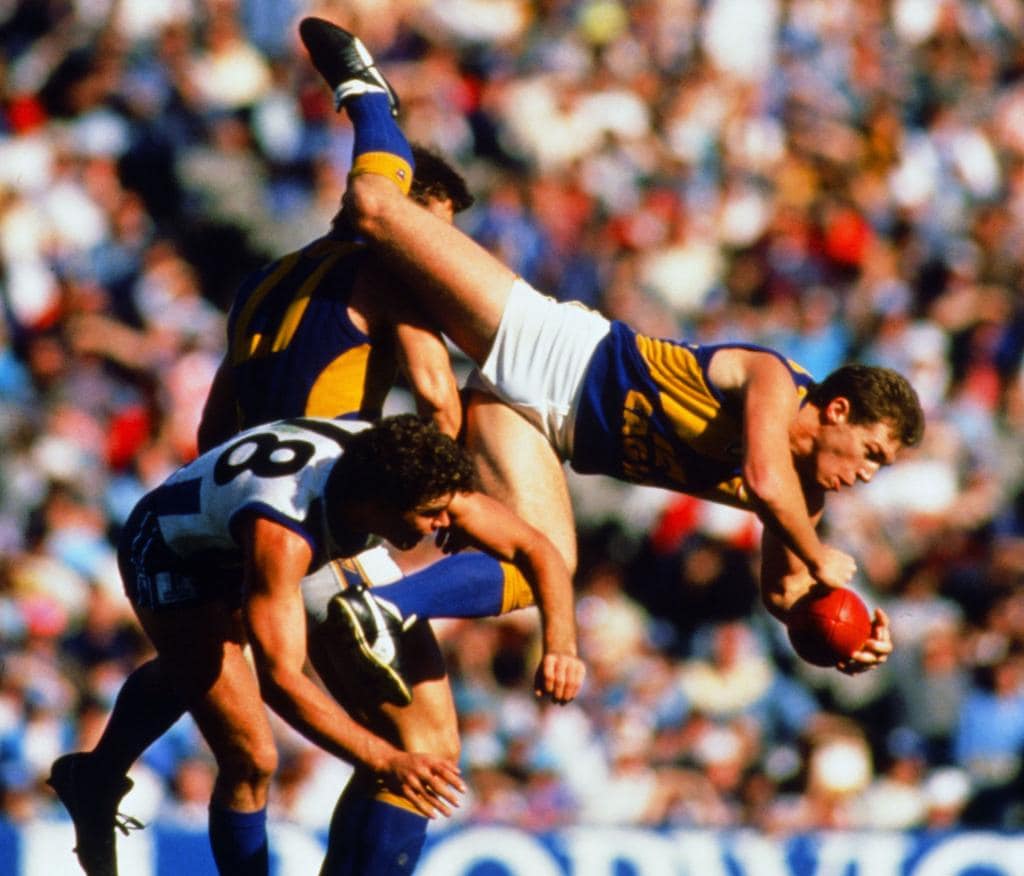 Sugar and spice: the Marshmallow Wars are born
Talk to any North fan who savoured so many successes in the 1990s, and that final quarter onslaught would rank among the most exhilarating half hours of footy in memory. That it was over the club's fiercest rival made it that much sweeter.
This pulsating clash sparked the most compelling rivalry of the next decade, with North gaining the upper hand initially, winning six of eight games from 1993-98.
Towards the end of that stretch, Sheedy told his players North thought they were soft, then publicly questioned whether North officials Greg Miller and Mark Dawson had soft underbellies.
"He'd be a pink marshmallow, Dawson," Sheedy said. "Miller would be a white marshmallow. That's about where I see those two softies."
It was a brilliant media stunt that drew bumper crowds, and saw Sheedy being pelted with marshmallows after the Roos' 1998 Qualifying Final triumph.
MARSHMALLOWS TO MARTIANS Nine ways Kevin Sheedy changed the game
Sheedy would later claim the marshmallow line was a stunt to help North draw a crowd. Picture: AFL Photos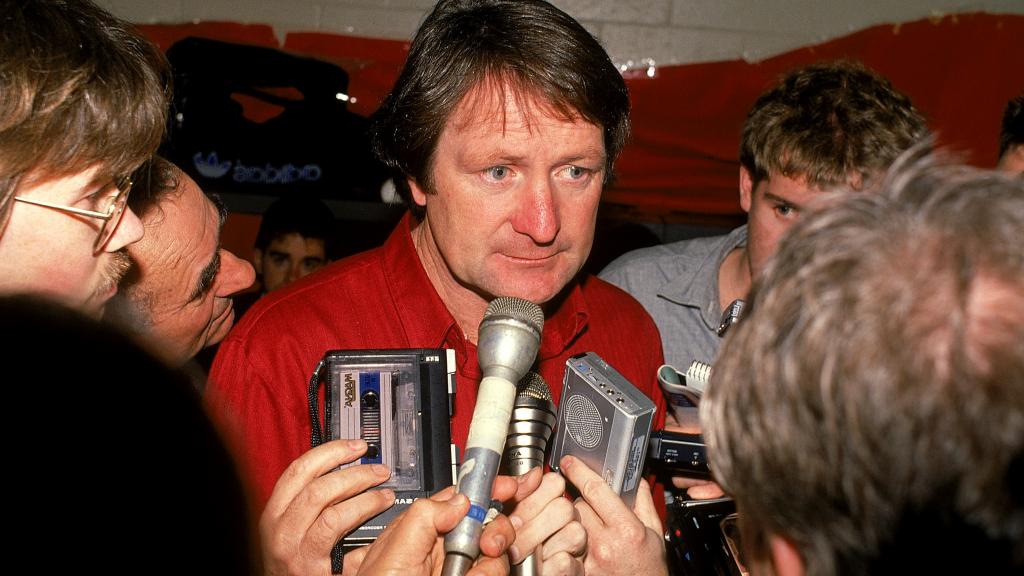 The Bombers emphatically put paid to any continued talk of softness, winning the teams' next six clashes while memorably dishing out the Roos' greatest ever finals loss in the 2000 first qualifying final (125 points) and staging the greatest ever comeback (69 points) in round 16 the following year.
Each team won two premierships in this era but unfortunately never squared off on Grand Final day, the Bombers' two one-point preliminary finals losses in '96 and '99 denying fans a grand final befitting one of the AFL's great rivalries.

MATCH PREVIEW Essendon v North Melbourne
BATTLE ROYALE The heroes and villains of 1970's Grand Final
WHEN MICKY O WENT WILD The story behind one of footy's most iconic images