IT IS an honour that has only been bestowed upon two before him. Being crowned a 'Pig' is not at all derogatory, it is a term of endearment from Fantasy coaches for players who go above and beyond. Those who greedily feast to bring their owners huge scores.
Hawthorn's Tom Mitchell joins Dane Swan and Tom Rockliff in the sty, a section of the Hall of Fame that houses those who produce incredible Fantasy feats.
The two current Pigs, Swan and Rockliff, have been household names in the community and coaches have been rewarded with monstrous scores whenever they have played.
Tom Mitchell's Fantasy scores this year
128 - round one v Essendon
125 - round two v Adelaide
115 - round three v Gold Coast
125 - round four v Geelong
122 - round five v West Coast
125 - round six v St Kilda
136 - round seven v Melbourne
132 - round eight v Brisbane Lions
177 - round nine v Collingwood
Swan has legend status as a pig. His 2012 season where he averaged 133.5, backing up from 120.9 the previous year was phenomenal.
Rockliff is the king pig. He holds the record for the highest season average of 134.7 posted back in 2014. This year, he was going at 129.2 before dislocating his shoulder.
Coming off his 50 disposals and 177 Fantasy points, it was time to crown Mitchell as an official pig.
We have been tracking his progress, even before being drafted, as he has all the traits to be one of the best ball-winners we've seen.
On debut, Mitchell donned the substitute vest. When he got the chance to get into the game in the second quarter, he went on to score 98 points. The following week, free from that green clothing, he played a full game collecting 31 disposals and 10 tackles for 144 points.
It was the start of something special.
Although there were some ups and downs due to stints in the NEAFL and having to play some roles that weren't conducive to big Fantasy scores, Mitchell has been the man we had hoped he would as a Hawk.
In each of his nine games at his new club, Mitchell has scored 115 or more for an average of 131.7. This is the best start to a Fantasy season ever recorded as the midfielder's 1185 points knocks off Brent Stanton's record of 1164 scored in the opening nine rounds of 2012.
The Traders chat to Tom on the week's episode of the Official AFL Fantasy Podcast to induct him into the Sty.
Click here to play AFL Fantasy
Also in this week's podcast:
Fantasy news including injuries, suspensions, 'Magoos news' and more
What to do with the fattened cash cows
Which Gold Coast and Port Adelaide players are the best to pick up this week
Social media questions answered
Calvin's captain form guide
Click here to subscribe on iTunes.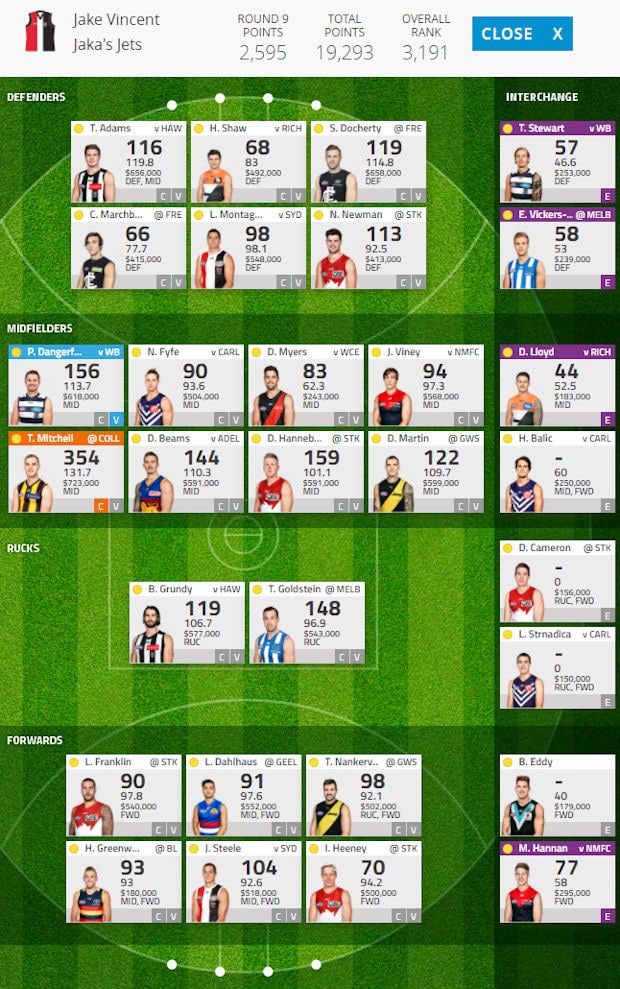 Get expert advice from The Traders in the Fantasy Hub. Follow AFL Fantasy on Twitter and 'like' the Facebook page to join in the conversation.