WHY ARE AFL clubs lining up to offer a still-developing key defender from Adelaide a lucrative contract comparable to deals given to some of the game's very best?
An analysis of Jake Lever's 2017 numbers underline why the out-of-contract Crow is being pursued so heavily by opposition teams.
Lever, who hails from Romsey, 60km north of Melbourne, could command up to $800,000 per season from opposition clubs trying to pry him away from West Lakes.
According to industry sources, the Crows may have to fork out north of $600,000 to retain Lever – an extraordinary figure for a player with fewer than 50 games of experience and who only turned 21 in March.
Essentially, any team looking to negotiate a trade for Lever will need plenty of salary cap space and be willing to pay a sufficiently high price in a trade, as a deal for Lever could change the whole defensive dynamic of a club.
Pay deal done, Crows look to tie up stars
The 195cm defender has taken the most intercept marks (36) of any player in the competition since round three, placing him ahead of pre-eminent interceptors Alex Rance (Richmond), Jeremy Howe (Collingwood) and Michael Hurley (Essendon).
Lever has conceded just three goals in nine games – the best return of any key defender who has played six or more games in 2017.

Lever's ability to read and latch on to opposition kicks and then provide counterattack from inside defensive 50 fits are key characteristics for the prototypical modern defender. He has a fine leap, provides dash and, importantly, is the right age for a club looking for a long-term investment.
In summary, Lever looms as the heir apparent to Rance, once his reign as the AFL's best tall defender comes to an end, hence the intense interest and the likely sizeable pay packet.
It is understood Lever, selected with pick 14 in the 2014 NAB AFL Draft, had decided to wait until the collective bargaining agreement was finalised before resuming contract talks with the Crows.
The AFL and the AFL Players' Association officially agreed to a new CBA on Tuesday, meaning negotiations between Lever's manager Ned Guy and the Crows are likely to start up again soon.
Adelaide is confident of keeping Lever, but that has not stopped nearly every rival club from at least asking the question, 'What would it take to get him?'
Lever goes on a rebounding run against Essendon. Picture: AFL Photos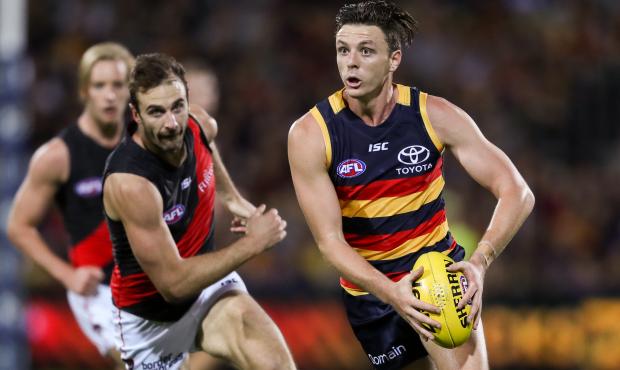 Based on conversations with key industry personnel, it would appear Melbourne, Collingwood and Carlton are best-placed to lure Lever home to Victoria via a trade.
And the Blues – building nicely but still in the market for A-graders of Lever's ilk – might have some leverage when it comes to finalising a deal.
In-form midfielder Bryce Gibbs expressed a desire to return to his home state of Adelaide, for family reasons, in last year's trade period. However, the two clubs could not reach a suitable deal and Gibbs remains contracted to the Blues until 2019.
Should Gibbs again request a move at the end of this season, sources suggest Carlton could send the star midfielder and a third-round draft pick to Adelaide in exchange for Lever.
Lever would further aid the Demons' push to a premiership and would fit nicely within the club's aggressive defensive scheme, while the Magpies could build their backline around him, particularly with doubts around Ben Reid's longevity.
"It's Lever's positioning and his ability to sum up whether his opponent is dangerous or not that sets him apart," one assistant coach told AFL.com.au.
Lever excels in getting his starting points right – he places himself in positions where he has a direct line of sight on the footy, often playing 5-10 metres off his direct opponent, which allows him to precisely time his impact on the contest.
Like any good defender, Lever does his work early by moving quickly to the drop of the ball, enabling him to arrive with speed and power as packs begin to form.
Although green – he has just 45 AFL games to his name – Lever is not afraid to make mistakes. When he does make one (and they are rare) he doesn't allow himself to slip into playing "safe" footy.
Once he makes a snap decision, he goes with it and doesn't second-guess himself.
Lever's ability to impact aerial contests is one of his most valuable traits. Picture: AFL Photos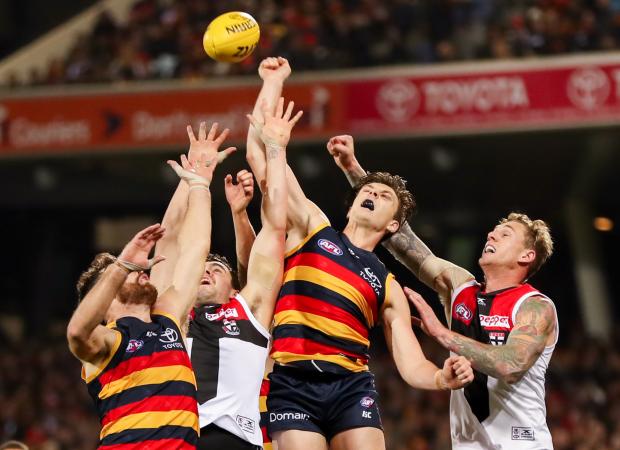 Lever is averaging a career-high 16.9 disposals this season and is thriving in Adelaide's defensive set-up. He is given a licence to leave his opponent and influence contests as the third man in, flying for a mark or attempting to spoil while one of his teammates is engaging an opponent.
Lever, who many clubs considered to be a top-five pick in 2014 before he ruptured the anterior cruciate ligament in his left knee as a 17-year-old, is assured in his ability to produce at a high level and the Crows back him in to make the right decisions at the right times.
"He has a lot of confidence," the assistant coach said.
"For someone so young it says a fair bit about him and the system at Adelaide that allows him to do what he does."
Lever is also as courageous as they come. It might seem simple, and not always easy to do, but he ensures he fixes his eyes on the footy and doesn't let them waver.
In marking contests, he keeps his head up, even as the pressure around him intensifies, he times his leap – a key trait of his game – and keeps his arms outstretched to take the ball at the highest point of his leap.
"His best attributes are reading the play early and summing up the situation. Because he's quick to react, he doesn't often put himself in potentially harmful situations," the assistant coach said.
Importantly, Lever has also been proven durable, missing just three matches in the past two seasons.
Former Adelaide defender and ex-Collingwood assistant coach Ben Hart believes opposition teams are becoming more aware of the impact Lever can have.
"I don't think it will be long before a team puts some time into him and tries to keep him out of the play, because he's pretty damaging," Hart said.
Hart counts the young defender and fellow unsigned key position player Mitch McGovern as the two priority signings for the Crows.
"Clubs would be silly not to go after him. Because he's only young you know you're going to get at least another 10 years out of him, and by all reports his leadership is strong," Hart said.
Top five intercept marks since round three
J. Lever - 36
J. Howe - 35
D. Astbury - 33
A. Rance - 32
J. Hamling - 31
Top five intercept players (2017 averages)
J. Lever - 9.7
A. Rance - 9.2
J. Howe - 8.5
E. Yeo - 8.2
M. Hurley - 8.1
Top five key defenders in Schick AFL Player Ratings
A. Rance - 15.2
J. Lever - 13.1
S. May -12.9
J. McGovern - 12.3
T. McDonald - 11.4
Stats supplied by Champion Data