AS WE approach tonight's draft on the Gold Coast, it is interesting to consider what the teams may do – based both on history and their relative needs in 2014.
Chris Pelchen's draft mythbusters
Different clubs and different recruiting managers have reputations for subtle quirks in the selection of their players which can sometimes provide a guide as to a team's draft preparations.
Draft night LIVE. Don't miss a pick
Let's look at what each of the clubs' needs and plans might be:
Draft selections: 14, 35, 43, 58.
Needs: Key forward, key defender and outside speed.


The Crows have traditionally been a club who like drafting utility players – capable of playing multiple positions. The limited recruitment of key position players over the past three years lends itself to them going taller in this year's draft/rookie period – with possibly
Sam Durdin
,
Jake Lever
or
Caleb Marchbank
in the mix. But if
Jayden Laverde
or
Kyle Langford
are still available at their first pick, don't be surprised if emerging recruiting manager,
Hamish Ogilvie's keen eye for tall utilities continues in 2014
.
Brisbane Lions
Draft selections:
44 (committed to academy selection
Liam Dawson
), 61 (committed to academy selection
Harris Andrews
), 65, 81, 86 (committed to father-son selection
Josh Clayton
).
Needs:
Key forward, midfielders and outside speed.
Brisbane has attacked the draft aggressively in recent years – partly because they've been rebuilding and partly because they have lost several talented youngsters back to their original homes. But the outstanding trade results delivered by Peter Schwab and Stephen Conole have positioned them well for the future – both in AFL experienced players such as Dayne Beams and Allen Christensen plus the recruitment of pre-draft academy selections, especially
Liam Dawson
. As they won't pick until late in the 2014 draft, it is anticipated that they will simply select the best available player remaining at pick 65.
Carlton
Draft selections:
19, 28, 60, 63, 71, 82, 87.
Needs:
Midfielders, tall utilities and outside speed.

While Carlton has been desperately seeking key position players to support Lachie Henderson and Michael Jamison, the continued development of Sam Rowe and Levi Casboult combined with the recruitment of Kristian Jaksch and Liam Jones will partly offset the urgency for talls. But the need for outside speed still exists, especially with the loss of Mitch Robinson and Jeff Garlett. Expect accomplished recruiting manager Shane Rogers to consider Caleb Marchbank, Jarrod Garlett or Connor Menadue with their first selection at No.19.
Speedy Connor Menadue could be on the Blues' radar come draft night. Picture: AFL Media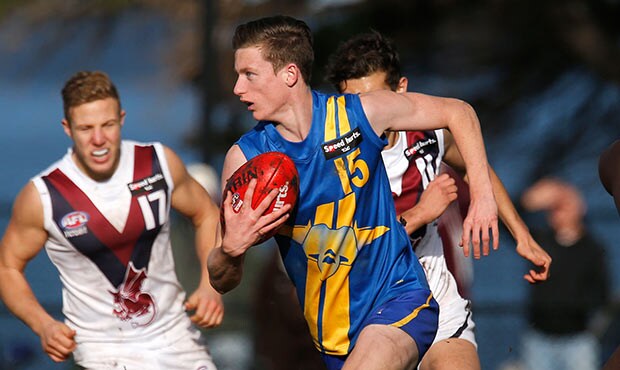 Collingwood
Draft selections:
5, 9 (already committed to father-son selection
Darcy Moore
), 30, 48, 75.
Needs:
Midfielders and tall utilities.
Collingwood has two of the most experienced recruiting staff in the business with Derek Hine and Matt Rendell managing their player list. Both are astute judges and have a like for players who can win their own ball. The Magpies have a genuine need for tall utility players who provide them with greater flexibility (in the mould of Tyson Goldsack) so expect Pick No.5 to be used on either
Jordan De Goey
or
Jayden Laverde
– both outstanding talents. Interest should lie in their later selections too, as they are renowned for recruiting less fancied types with some success.
Essendon
Draft selections:
17, 20.
Needs:
Midfielders, ruck and outside speed.

The loss of Paddy Ryder really hurts. He provided the Bombers with genuine flexibility and unpredictability when combined with Michael Hurley and Jake Carlisle – so their draft plans will be a little different now than only two months ago. But in list manager Adrian Dodoro they have one of the shrewdest operators around, who together with calm and considered recruiting manager Merv Keane puts Essendon in good shape to cover its losses. Players such as Jarrod Garlett, Lachie Weller and Tom Lamb will come under consideration in addition to a young ruckman somewhere in their mix.
Who will pick the long and the short of the draft - Peter Wright and Jarrod Pickett? Picture: AFL Media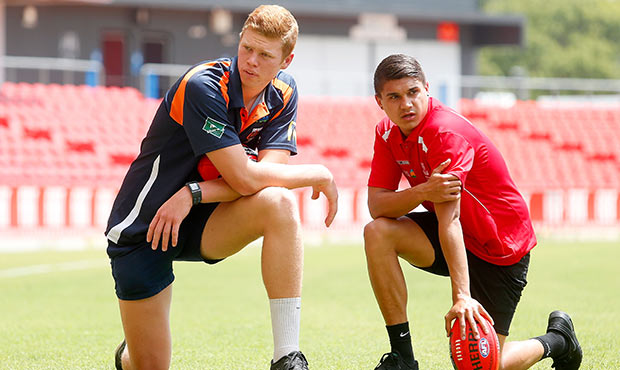 Fremantle
Draft selections:
13, 34, 54, 68.
Needs:
Key forward and key defender.
Fremantle has a mature player list across most positions, which has served them well over recent years. But they are in need of adding youngsters to some areas – most particularly the key forward and key defensive posts. While they have certainly tried to address these needs during the past few drafts, they are still searching for an elite tall player to replace Matthew Pavlich and Luke McPharlin. Expect their talented list manager Brad Lloyd to be considering similar players to Adelaide in this year's draft – namely
Sam Durdin
,
Jake Lever
and
Caleb Marchbank
.
Geelong
Draft selections:
10, 47, 55, 59.
Needs:
Key forward, key defender and outside speed.
Geelong has lost a number of champions over recent seasons so the development of their younger players is more important than at any point over the past decade. The strategic recruiting of Mitch Clark, Rhys Stanley and Sam Blease has already tackled some pressing needs – which provides leading recruiting manager Stephen Wells with the opportunity to take the 'best available' player, something that he and his recruiting staff have done better than anyone else in the competition. Players such as
Sam Durdin
,
Jake Lever
and
Hugh Goddard
will come under their consideration at pick No.10.
Gold Coast
Draft selections:
8, 15, 29, 64, 74.
Needs:
Key defender and tall utilities.

It's difficult to suggest what Gold Coast genuinely needs in this draft. They have so much talent across all lines that whatever they do will simply be complementary to their already burgeoning player list. The Suns have one of the best recruiters in the competition in Scott Clayton who, together with Dom Ambrogio will undoubtedly deliver further talent to the team. Having the luxury of selecting purely on ability rather than critical needs should have them considering Peter Wright, Jayden Laverde or Liam Duggan with Pick No.8 in this year's draft.
Liam Duggan could be another steady hand in the Suns' talented midfield. Picture: AFL Media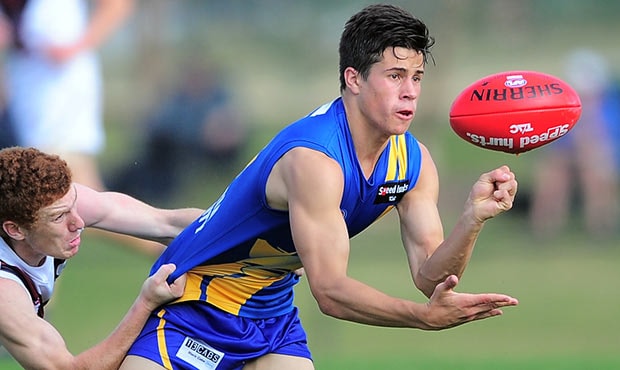 Greater Western Sydney
Draft selections:
4, 6, 7, 23, 24 (committed to academy selection
Jack Steele
), 72, 80, 85 (committed to academy selection
Jeremy Finlayson
).
Needs:
Key defender and tall utilities.
Similar to Gold Coast, GWS is a team filled with outstanding talent. Their positional needs are somewhat limited as they have introduced so many elite youngsters into AFL football. The Giants' bigger challenge is trying to keep the group together as opposition clubs circle like menacing sharks. Outgoing list manager Stephen Silvagni and his recruiting staff will shape the draft in 2014 with three selections inside the first seven picks – with the 'best available' likely to be on the menu again for a club who has feasted on talent in recent years.
Jarrod Pickett, Jordan De Goey
,
Paul Ahern
and
Hugh Goddard
should feature somewhere in their reckoning.
Hawthorn
Draft selections:
31, 49, 50.
Needs:
Midfielders.
Obviously, the 2013 and 2014 premiers have real talent across every position. But the challenges they face to stay at the top are growing as a number of champions such as Shaun Burgoyne, Sam Mitchell, Luke Hodge, Brian Lake, Josh Gibson and David Hale come towards the end of their careers. The Hawks possess one of the best recruiting structures in the competition with Graham Wright, Gary Buckenara and Geoff Morris all playing critical roles in their recent on-field success. Without any glaring weakness in their list for the short term, they can approach a relatively late first selection at pick No.31 on the basis of the 'best available' player – with
Connor Menadue
,
Connor Blakely
and
Lukas Webb
being possible prospects.
Melbourne
Draft selections:
2, 3, 40, 42 (committed to father-son selection
Billy Stretch
), 53.
Needs:
Key defender and midfielders.

Melbourne continues its generational change as it approaches the 2014 draft in a similar vein to the Saints. There is no quick fix to the challenges confronting the Demons as they navigate their way through the draft and trade periods in search of increased player talent. Recent additions to their list have been positive with list manager Todd Viney showing some courage in walking the fine line between attracting mature-age talent and raw youngsters to the club. With picks No.2 and 3 in this year's draft, expect Melbourne to jump on the likes of Christian Petracca, Angus Brayshaw or Paddy McCartin – whichever spills over from the Saints.
The whispers are that Christian Petracca will be lining up in red and blue next year. Picture: AFL Media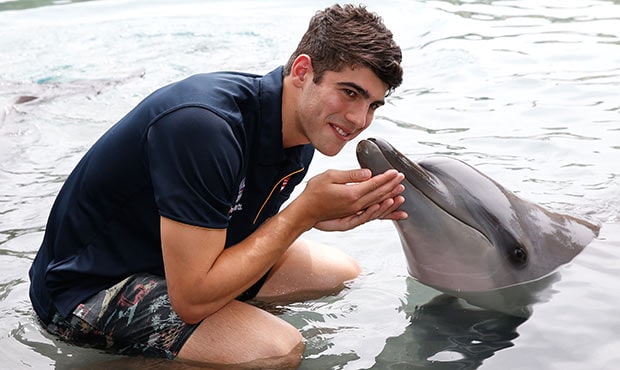 North Melbourne
Draft selections:
16, 25, 36.
Needs:
Key forward, key defender and outside speed.

North Melbourne is a team on the rise. The Kangaroos showed in 2014 that they were coming, and this draft has them well positioned to build on their current stocks. The patient but strategic development of the Kangaroos' player list has been outstanding with deserved credit to list manager Cameron Joyce and recruiting manager Bryce Lewis, who have avoided the quick-fix temptations often enticing clubs. Three selections inside pick No.36 for a team that won two finals this year is a wonderful platform to continue their progress – with Caleb Marchbank, Lachie Weller, Nakia Cockatoo and Kyle Langford in the mix.
Nakia Cockatoo impressed many observers in the Grand Final curtain-raiser this year. Picture: AFL Media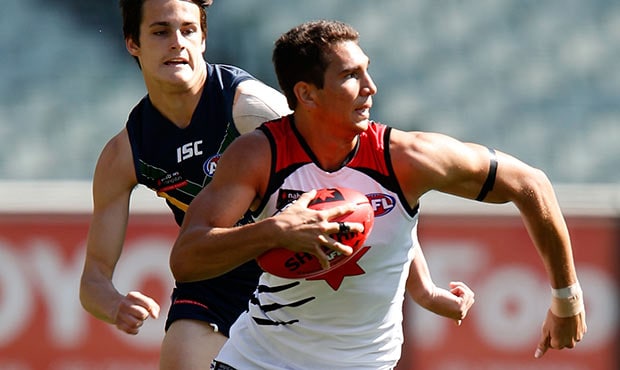 Port Adelaide
Draft selections:
56, 69, 78, 84.
Needs:
Key forward and tall utilities.
With the recruitment of Paddy Ryder during the trade period, Port Adelaide has addressed its most pressing need – a talented player who can effectively rotate between ruck and forward. This should put them in a genuine position to compete for the 2015 premiership – the draft now more an activity of continuing their development than addressing anything of real urgency. The unheralded work of list manager Jason Cripps
and recruiting manager Geoff Parker often goes without attention
but it has been of a very high standard. With only late selections starting at No.56, they are likely to scour their local area for players of which they have more intimate knowledge such as
James Rose
.
Richmond
Draft selections:
12, 33, 52, 67, 77, 83.
Needs:
Midfielders, tall utilities and outside speed.
This will be an important draft for Richmond as it sits on the cusp of becoming a challenger yet straddles the edge of not playing finals. The Tigers' hierarchy has some interesting challenges – does it pursue another young defender to support Alex Rance or a forward to complement Jack Riewoldt, even though they possess developing players at both ends of the ground? There-in lies the answer for their capable list manager Blair Hartley and recruiting manager Francis Jackson – they genuinely need midfielders with speed who can win their own ball together with an elite utility who can play at either end of the ground. While
Corey Ellis
has been linked with their pick No.12, anticipate them considering
Jayden Laverde
and
Liam Duggan
too.
St Kilda
Draft selections:
1, 21, 22, 41.
Needs:
Key forward and midfielders.
St Kilda continues its strategic list transition through a deliberate and aggressive approach towards the draft which will be complemented by trading/free agency in coming years. The Saints had the oldest player list in the competition at the end of 2011 – which together with significant TPP pressures resulted in the need to carefully re-design its whole player recruitment program. The conscientious work of
list manager, Ameet Bains, recruiting manager, Tony Elshaug
and their committed staff has provided the club with genuine reason to approach the future with confidence – starting with the 2014 draft where either
Christian Petracca
or
Paddy McCartin
will add another critical piece to the big picture.
Paddy McCartin's reflexes could be on show in Saints' colours next year. Picture: AFL Media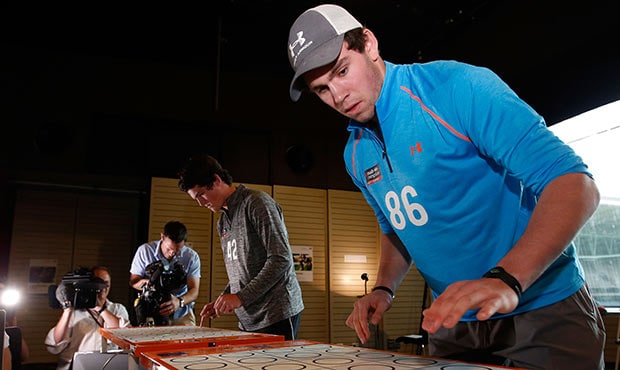 Sydney Swans
Draft selections:
18 (committed to academy selection
Isaac Heeney
), 37, 38 (committed to academy selection
Jack Hiscox
), 57, 70 (committed to academy selection
Abe Davis
), 79.
Needs:
Key defender.
The Swans are the envy of almost every team in the competition entering this week's draft with the addition of three highly talented academy players and three elevated rookies onto the primary list. An embarrassment of riches (not to dismiss some timely management) has seen the Swans acquire the likes of
Isaac Heeney, Jack Hiscox
and
Abe Davis
for somewhat luxurious pre-draft selections while still maintaining a sound position in the order. Veteran recruiting manager Kinnear Beatson has managed their list to perfection – he knows the business as well as anyone and the results show accordingly. With their first live pick at No.37, expect they will choose the 'best available' player.
West Coast
Draft selections:
11, 32, 51, 66, 76 (committed to father-son selection
Alec Waterman
).
Needs:
Midfielders, tall utilities and outside speed.
West Coast faces a critical draft –
no activity in the recent trade period
increases the focus on their draft performance. That's not to say they should have traded more aggressively this year because to trade for trade's sake is a risky proposition and one fraught with danger. But the Eagles' list needs some attention and the addition of developing midfielders, particularly with outside speed, along with a tall utility, is quite apparent. Underrated recruiting manager Rohan O'Brien will have done thorough research on the likes of
Jayden Laverde, Liam Duggan, Lachie Welle
r and
Nakia Cockatoo
– all of which who would provide valuable support to their current position.
Western Bulldogs
Draft selections:
26, 27, 39, 45, 46, 62 (committed to father-son selection
Zaine Cordy
).
Needs:
Midfielders and outside speed.

While the Western Bulldogs pulled-off the biggest sensation of the trade period with the recruitment of Tom Boyd from GWS, they now approach an equally important draft with three selections inside pick No.39. Their list is starting to represent greater balance at both ends of the ground which is a credit to the hard work and persistence of their list manager Jason McCartney and recruiting manager Simon Dalrymple. But the Bulldogs still have some work to do and their ongoing development will depend on making the right calls at the draft table – with players such as Touk Miller and Connor Menadue likely to feature in their 2014 plans.

* * * * * * * * *

The 2014 NAB AFL Draft promises to be another exciting and entertaining event on the football calendar.

Reputations are forged by recruiting staff in their selection of talent at the draft – as it is the most critical foundation of a club's on-field future.
It rarely comes down to just one person making the right selection – but rather the collective input and intelligence of everyone associated with a team's player recruitment program.

The preparations are done…the clubs are ready…the real work is about to start!