AN ENTREPRENEUR who has succeeded in projects with music icons Frank Sinatra and the Rolling Stones, as well as giving Australia's V8 supercars a prominent place in a crowded entertainment market, Tony Cochrane clearly knows a business opportunity when it presents.
Forty years of successful deal-making have given Cochrane rare business nous, a quality that is going to be required in the next three months as another of his interests, Gold Coast, sets about re-positioning itself after eight years of turmoil and big-name exits.
While there isn't the personal financial investment in the Suns as there is with Cochrane's other big projects, the battling AFL club needs to empower him to be ruthless with operations.
The softly-softly approach with key players hasn't worked, the dream of establishing the Suns as a vibrant element of the AFL world barely alive just eight seasons into their life as the 17th AFL club.
SLAUGHTER RULE Suns chairman slams free agency
Morale, energy and hope has been sucked out of the Suns with each passing year, and while last weekend's win against the Sydney Swans was impressive, the fact remains that just four of 17 matches have been won in 2018, that the club has never finished higher than 12th, and that all three players who have captained the team have either departed, or are devising plans to depart.
As he did with the V8s when that sport roared back into prominence, Cochrane needs to re-start the Suns.
If he and the Suns are prepared to be ruthless in the next three months, they could end up with a beautiful set of NAB AFL Draft picks that would re-set and reinvigorate a sputtering operation.
Recruiting a bunch of Richmond-listed players who are AFL-ready yet AFL-starved would work neatly with the plan.
The businessman in Cochrane needs to broker a commitment from the AFL that a priority national draft selection will be granted at the end of this year's first round.
Then, sort out once and for all, co-captain Tom Lynch's future. If Lynch can't say he is staying at this stage of his eighth season as a Suns player, then Cochrane needs to tell him he's no longer wanted anyway.
'DREAM' WIN Victory over Swans a glimpse of Suns' future
Then, he needs to call in the other captain Steven May and put a new long-term contract to him, way beyond the current deal which expires at the end of 2019. If May doesn't want to sign that within a fortnight, that's OK, too, for Cochrane should then tell him he will immediately be personally brokering to get the best deal to move May out at the end of this season.
For May to enter 2019 without giving a commitment to the Suns beyond that season would be yet another year of unknown hell, just as it has been this year with Lynch and the previous two seasons with inaugural captain Gary Ablett, who exited at the end of 2017, after trying to do so the previous year, and never really having his heart in the club to begin with.
Based on Lynch leaving and May being traded out, factoring in the Suns' current ladder position (17th), and also taking into account that if the Suns were to receive a priority draft pick so too would Carlton, then Gold Coast would receive a suite of national draft selections nearly as lucrative as its list-establishment year of 2010.
Last week's win over the Swans was a rare moment of joy for the Suns. Picture: AFL Photos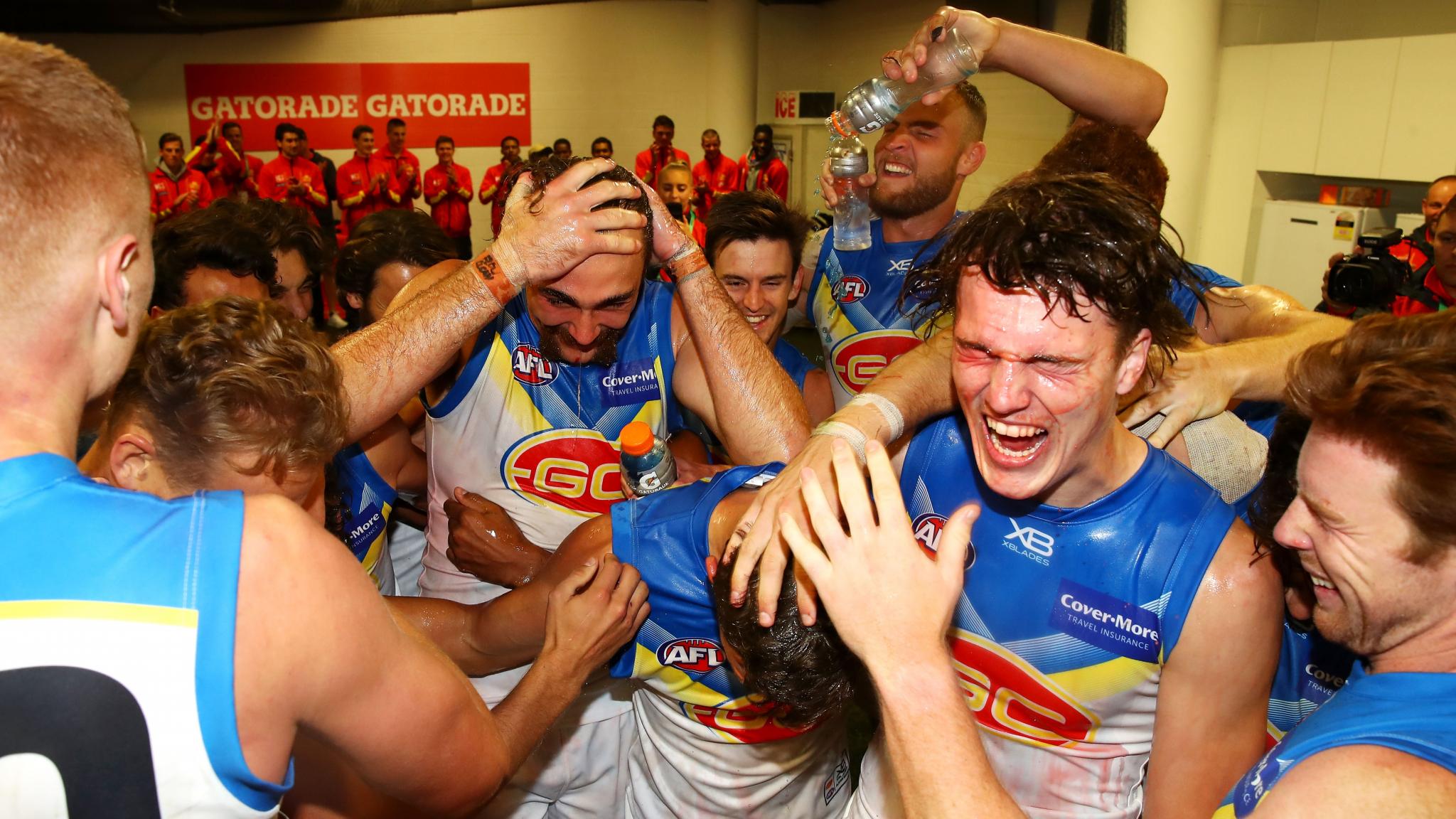 Draft picks two (ladder position), three (compensation for loss of Lynch as a free agent), four or five or six (another club's traded pick in dealings over May), 21 (AFL granted priority pick) and 22 (ladder positioning) would all be headed to the Suns.
And if David Swallow wanted to return to Perth, there would be a strong possibility of another pick in the teens. The likely-to-depart Aaron Hall could see the Suns receive a pick in the late 20s.
Having endured the walk-outs of the high-end quality of Ablett, Dion Prestia, Josh Caddy, Jaeger O'Meara, Harley Bennell and Charlie Dixon since inception, as well as the obvious deliberations of Lynch and May, it is imperative the Suns enter 2019 stocked with players who actually want to be Suns.
Recruiting a bunch of Richmond-listed players who are AFL-ready yet AFL-starved would work neatly with the plan. Shai Bolton, Connor Menadue, Anthony Miles, Sam Lloyd and Corey Ellis would all get regular games for the Suns in 2019, and pursuing them en masse should be given deep consideration.
As reported this week on AFL.com.au, Jake Lloyd from the Swans is already being pursued. He would be a great addition.
After Cochrane personally addresses the Lynch and May situations, he should then call a full playing list meeting and tell everyone that he would personally assist in finding new football homes for any players who wanted to leave.
The Suns have gone about their eight-year AFL life in an AFL way. That is, they've played by the football-industry book. Understandably. But it hasn't worked.
Time for the businessman who runs the club to be given licence to make hard, ruthless business calls.
Twitter: @barrettdamian
Podcast: How on earth wasn't that free kick paid?
Find AFL Exchange on iTunes, Audioboom, Acast, Mixcloud or RSS.