FOOTBALL is now dotted with women in positions of influence.
They feature on the AFL Commission, as club presidents, in senior management roles at both League and club level, as goal umpires and on club coaching and medical staffs.
Yet only one of them can turn heads on a sunny February afternoon while talking football in a Malvern café.
Not for nothing is Caroline Wilson referred to as "football's first lady" every Monday night by host Craig Hutchison on Channel Nine's Footy Classified.
The game is filled with women of influence.
They include commissioners Sam Mostyn and Victoria Governor elect Linda Dessau (who will soon be replaced by Major General Simone Wilkie) and Richmond president, Peggy O'Neal.
Then there are umpires Chelsea Roffey and Rose O'Dea, and St Kilda coaching staff like Peta Searle– all are important and groundbreaking, but Wilson has them covered for profile.
'Caro' as the game has come to know her, is entering her 17th season as chief football writer of The Age. Add her media roles on 3AW, ABC's Offsiders and Footy Classified and her audience is immense and her influence profound.
She is the trailblazer for women in football, not just because of what she is, but how well she does her job. As football media diversifies, not only does she excel in three forms of the media, but she also breaks news and shapes opinion and there aren't too many in the swollen ranks of the AFL media who can do that.
By virtue of her many media platforms, Wilson has been across every AFL story of note since 1999. But the Essendon supplements scandal is the biggest of the lot. She has worked the story relentlessly and has been vociferous in her criticism of many of the central players in the saga, notably the leadership at Essendon and in particular, coach James Hird.
Writing and reporting on a subject without fear or favour can take its toll. Wilson says there has been no personal cost to her reporting and pontificating on the Bombers. She has a great sounding board for her approach to the Essendon story – her husband Brendan Donohoe, Channel Seven Melbourne's state political editor, is as fanatical an Essendon supporter as they come.
"He worried I went too hard early but he supports me," she says. "It's difficult for him – he loves the players and always will – but there are a lot of things about the club he doesn't love.
'It is lucky for Essendon that the players have been so amazing in how they've played through this exercise, but there are people in and around Essendon who don't like me at all and think I've been far too hard on them.
"But I think they should look at themselves; I don't resile from anything I have written."
Wilson would play the Essendon story no other way than to go in hard. "I get annoyed when people tell me as a compliment, 'You're so blokey or so ballsy', but it has definitely been the hardest and toughest story I've covered. It has had the most bloodshed and has been the most difficult one to get to the bottom of.
"But purely as a journalist it has been fascinating, a really great story to cover and I'm really, really proud of our coverage and still am. There have been threats against my career and worse, but I've had strong backing at The Age from my editor and down the chain. They've been really supportive."
The Age was a pioneer in women covering football in 1981 with Corrie Perkin. It is notable that three of the masthead's leading football writers – Emma Quayle, Samantha Lane and Wilson – are women. Chloe Saltau last month became the first woman to be named as sports editor.
"I used to think it was a cliché that every good organisation needs diversity, but it can't be a coincidence that we have a very diverse sports department," she said.
"We're a bunch of eccentrics in some ways and I'm very proud of that."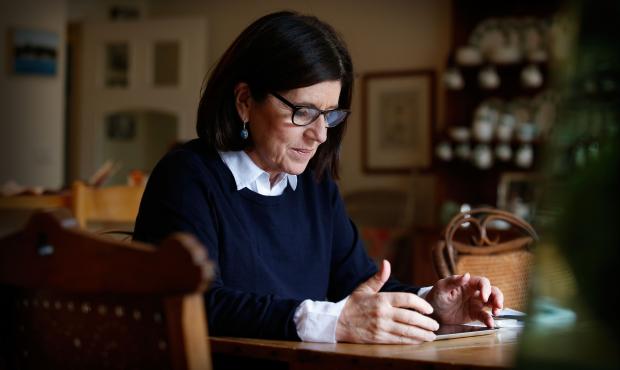 The evolution of football journalism in the last 10 years has meant there are now specialist 'beats' covering different areas of the game. Some focus specifically on what happens on the ground and on tactics and coaching. There are those who concentrate on free agency and trading. Drafting and talent pathways now require a great deal of focus and then there is old-fashioned footy politics.
Wilson can write across several facets of the game, but her bread and butter is the cut and thrust around the AFL Commission and footy club boardrooms.
This is not only because she has the deepest contact book in the game, but she was also born into football politics. Her father Ian Wilson was president of Richmond through much of the 1970s, when the Tigers were at their ruthless best and seemingly never out of the papers. Many of the events that drove a wedge between the VFL and the Tigers in that time were hatched at her kitchen table.
It also makes her a trailblazer in another area when it comes to football media – the commentator-cum-supporter. Her allegiance to the Tigers is plain for all to see, but doesn't distract for a moment from her ability to report and commentate on the game. It has helped pave the way for other football media to declare their allegiance yet still be defined by the quality of their work, not the colour of their footy scarf.
"I can't love Richmond as much as I did when I was a kid. There's a bit more at stake when you have to cover all 18 teams," she says. "And besides, how can you not fall in love with other clubs and their stories?
"How could you not fall in love with Port Adelaide in the last couple of years and what they have achieved? I'm also so impressed with the Sydney Swans and with Hawthorn.
"The key is not to go too easy or too hard on a club, as some people think I sometimes do with the Tigers."
The Essendon story has an end in sight, at least it is hoped. "They (the AFL) have had to be silent for a number of reasons, but I really hope they have the guts to stand up to the Essendon Football Club in the next few months," she said.
That aside, the focus for Wilson in 2015 will be the first full year of Gillon McLachlan as the chief executive of the AFL. She gives him a tick so far for devising a more fan-friendly fixture but remains concerned the game is too closely linked to the betting industry. She also wants the AFL to come up with a clear strategy on Tasmania once and for all.
And there's the perception, still held by some that the AFL is still a boys' club.
"Women who come into the industry in high profile positions have to be very good to get there," she said. "They need more women executives but they've been good with the commissioners and I hope they give them the audience they deserve around the commission table."
Wilson believes of all the major sports in this country, the AFL is the most inclusive and most embracing. "It's the nature of the game because it admits all shapes and sizes, colours, religions," she said.
"If I'm proud of anything it's if women do come to me and they see if I have come this far, then obviously this is a very embracing industry."