OSCAR Allen would love to eventually be regarded as a Mr Fix It.
The exciting West Coast youngster is almost a prototype footballer of the future – an ultra-swingman – given he boasts such versatility that he's capable of playing virtually anywhere: key forward, key back, ruck and even midfield.
The 20-year-old Eagle has so far made his name as a third tall forward option and mobile back-up ruckman after stints in defence, and is hoping his flexibility will help him keep his spot in the strong Eagles' line-up as they press their claims for back-to-back flags.
Courage. #AFLHawksEagles pic.twitter.com/ShdMiq9SLo

— AFL (@AFL) June 29, 2019
"I just want to help the team in any way I can, and in whatever role I'm asked to play. That's always been my mindset," Allen told AFL.com.au on Monday after receiving the round 21 nomination for the NAB AFL Rising Star award for his three-goal effort in the 10-point home win over Adelaide on Sunday.
THE RUN HOME How high can these Dogs go?
"With our key position stocks I knew I'd probably have to be able to play a couple of different roles to get a game, so the more roles I can play the better chance I have.
"Being exposed to different positions has been a good thing for my development because it's allowed me to learn from a number of senior key position players in our side.
"I'm developing that and I've still got a lot of improvement to go."
Oscar Allen has blossomed since his debut against GWS last year. Picture: AFL Photos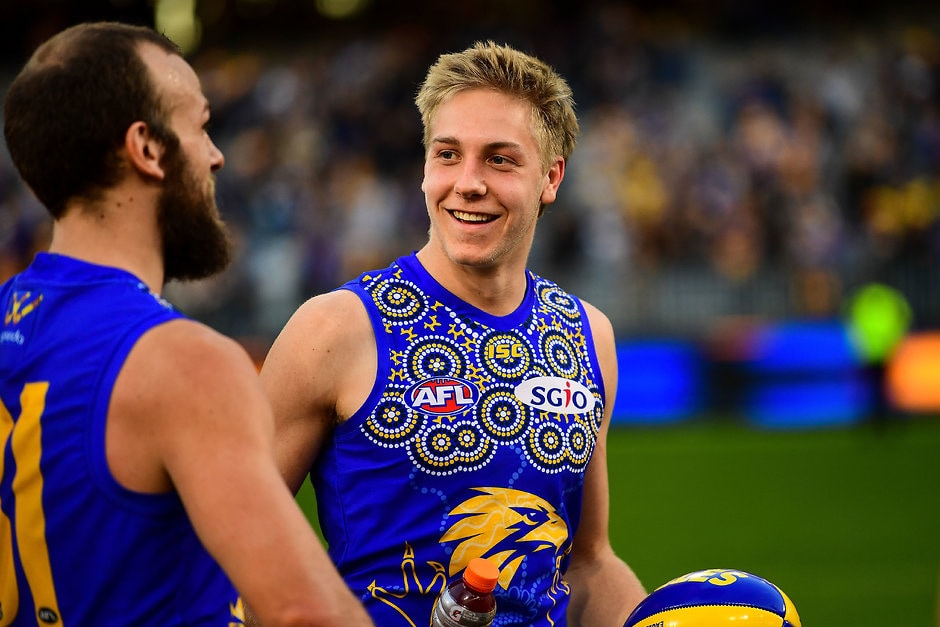 Allen, who played two AFL games last year before playing 19 of 20 this year and tallying 19 goals, has learned enormously while working in tandem with experienced stars Josh Kennedy and Jack Darling.
"It's not only the things they do on game day but the way they prepare and meticulously look at the defender they're playing on. That comes from experience and playing on them before and knowing little things that you can maybe catch them out on," he said.
"Learning little tricks like that has been a big help for me."
ALLEN, ALLEN, ALLEN!

Oscar Allen has put the Eagles in front with under three minutes remaining! #AFLCrowsEagles pic.twitter.com/S19Dg2pyvy

— AFL (@AFL) May 25, 2019
The West Perth product almost played in the Grand Final last year when he was on standby for star defender Jeremy McGovern, only learning at the team breakfast on game day that he wouldn't play. However, that experience has left a considerable imprint.
"It was terrific to be part of the Grand Final squad and obviously 'Gov' got up and played really well. It's something that I really want to experience one day for myself and the team as well," he said.

Contrary to popular belief, Allen wasn't shocked when Eagles coach Adam Simpson told him to work hard on his ruckwork in pre-season.
"I wasn't as taken aback as some people thought," Allen, who is contracted to 2022, said.
"It was actually thrown up as an option in last year's finals series when (ruckman) Scotty Lycett was a bit sore one week.
"I rucked in colts footy (for West Perth) – obviously it's a lot different between the levels but I still had a tiny bit of ruck experience.
"I was never going to be hung out to dry and ruck a whole game; it was always going to be very gradual, and I'm really enjoying it."
Oscar Allen pounces!#AFLSaintsEagles pic.twitter.com/oGpNaMCIAF

— AFL (@AFL) May 11, 2019
Allen, whose dimensions are 192cms and a lean 87kgs, plans to add some bulk over the next couple of years to increase his strength in the contest, but is mindful of not losing his impressive running ability.
"It's a fine balance. It's best to build gradually because if you just chuck all this weight on I think that's when you could lose some mobility," the No.21 pick in the 2017 NAB AFL Draft said.
Find AFL Exchange on Apple Podcasts, Google Podcasts and Spotify.
"(Defender) Tom Barrass is someone who's done it really well from having a similar body size to me when he was drafted to now being one of the bigger and stronger key defenders in the AFL."
Allen has been described as a future captain, and he doesn't shy away from expressing his desire to provide leadership down the track.
"I'm learning a lot from our leaders in Shannon (Hurn), 'JK' (Kennedy) and Luke Shuey, who do a terrific job, and I definitely have aspirations to be a leader of this football club one day," said the third-year business, law and accounting student at the University of Western Australia.