ORAZIO Fantasia is yet to declare that he wants to leave Essendon, but Port Adelaide is watching with great interest to see if the star forward will publicly express an intention to return to his home state.
Fantasia has been linked with a move to South Australia since AFL.com.au revealed in July that it was a possibility. The player has since denied he wants to leave Essendon, and stated he's contracted until the end of 2021.
But speculation continues to rage that Fantasia, 24, won't be in Melbourne next season.
Speaking on Telstra AFL Trade Radio on Wednesday, Power general manager of football Chris Davies said his club certainly had its eyes on Fantasia, who is in the process of finding himself a new manager after parting with agent Anthony McConville last week.
"When a young South Australian player wants to come home at any point then we've got an interest (in him)," he said.
"Orazio hasn't necessarily suggested that that is the case with him yet, but I think you can say across the board that both us and Adelaide would generally be interested.
That's four for Fantasia!#AFLNorthDons pic.twitter.com/jc63AEXLWV

— AFL (@AFL) April 19, 2019
"It's hard (for the South Australian clubs), we obviously lose young players going back to Victoria, so we've got to make sure that when guys want to come home, we're in the market.
AFL TRADE HUB All the latest news
"I haven't spoken to him, but he's in between managers, so I imagine once he's settled on who he is going to go with, then we'll be able to have a conversation with whoever his manager is.
"I know he has relationships with people at our club that pre-date his time at Essendon, but right now he's an Essendon player and he's got some time to think about what he wants to do."
While Davies remained open on plans for Fantasia if he became available when the Telstra AFL Trade Period begins, he dismissed suggestions that co-captain Ollie Wines could be on the move.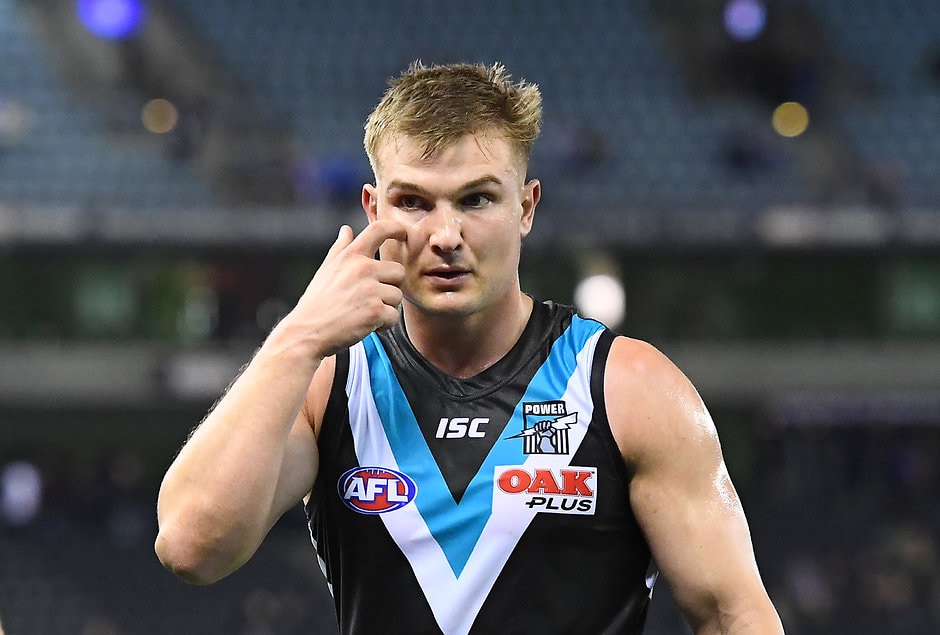 "We don't expect Ollie to go anywhere, he's contracted until 2022, he's captain of our club, and trading him is something you don't entertain," he said.
"His management shut down that talk as soon as it started at the time and we appreciated that because these things can fester if they're not knocked on the head."
Davies said was confident that Port players Sam Powell-Pepper and Dougal Howard would still be with the club in 2020, but he did admit that Howard was looking at his options.
Out-of-contract forward Sam Gray is another Port player assessing his future, with the Western Bulldogs, St Kilda and Carlton among the opposition clubs interested in the 96-game speedster.
"Sam has suggested that he wants to have a look around but where that ends up, I guess that's as much about Sam's next step, as it is ours," Davies said.
"We haven't been told which club or clubs he wants to deal with."