SCRAPPING the pre-season competition could be on the agenda as the AFL looks for ways to reduce injuries occurring before the home and away campaign starts.
AFL football operations manager Steve Hocking said it was unlikely the JLT Community Series would be eliminated but didn't rule it out.
Each club plays two games in the pre-season but several have also organised scratch matches with other sides, on top of any intraclub games they have.
EARLY TWEAKS AFL changes display boards, 6-6-6 clock looms
With several industry events through the summer months, such as induction camps, community camps, AFLX and mandated four-day breaks, the AFL is concerned about players being stretched to the brink, particularly during periods when clubs can't monitor the players as closely.
Hocking spoke after the Competition Committee's first meeting of the year, an affair that lasted four hours.
"That (removing pre-season competition) could be one of the things that's considered," Hocking said.
"The thing that I will say about JLT is it goes into regions. The regional communities are fantastic. They support it heavily. I'm not sure we'll ever get to a place that doesn't happen, because I think that's really important. Not everyone can make it to the city.
"They've also made it available for a lot of their community funding, for facilities and so forth. They've got to have grounds up to a certain standard, so it motivates government around that, so I'm not sure we'll get to a place where there's no games, but we'll wait and see."
JLT FULL FIXTURE Where your team's playing its warm-up games
Hocking is worried about the number of injuries that have occurred during the past month.
"If you have a look at how many players have ended up injured during the February period, that's concerning for the industry," Hocking said.
"We've got to get better at that and make sure that they get the ideal preparation leading into the season."
North recruit Aaron Hall is helped off after suffering a knee injury in JLT1. Picture: AFL Photos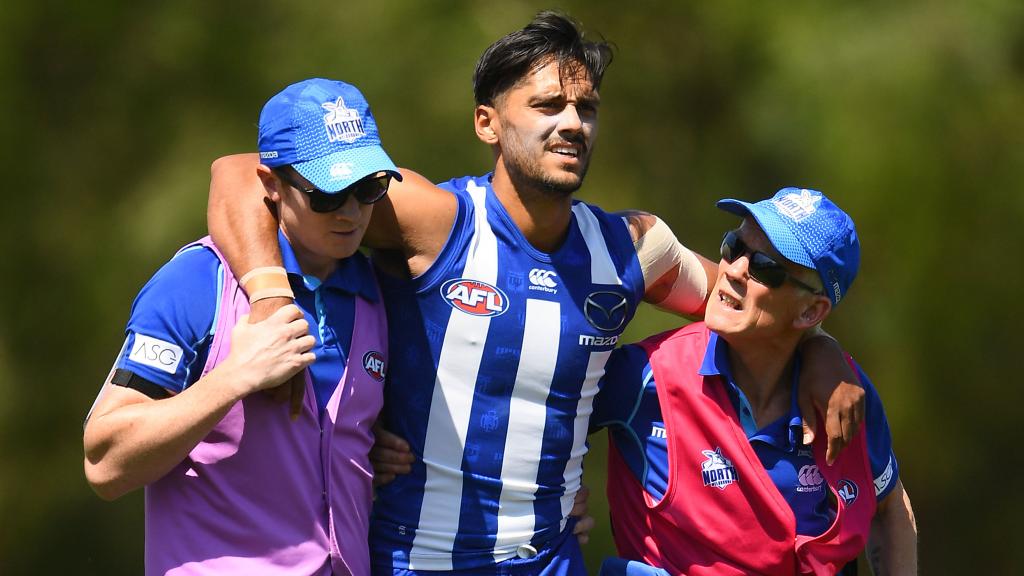 Every club's high performance manager will work in clusters, based on location, and present different models of what the pre-season could look like for the Competition Committee to consider.
Shortening the pre-season is an option.
"There's a possibility around that. In the end, what we need to work out is what is the ideal preparation piece for the players," Hocking said.
LIKED THE LOOK Who impressed for your club in JLT1?
However, Competition Committee member and Brisbane coach Chris Fagan didn't believe injuries had gone up.
"I'm not sure there's increased rates this year of injury. From my perspective, why injuries go up in February is because we start to do more contact work at training, and that's always been the case," Fagan said.
Fagan was unsure about the ideal length of the pre-season competition, pointing out a more experienced team would need only one game whereas a younger team with less certainty about its best side would require more matches.
"I'm pretty positive if the number of JLT games changed, we would also have the opportunity to organise our own games, which we have done this year," Fagan said.
Question for fans: would you prefer your club plays three #JLTSeries games OR two, plus organising its own - either untelevised or live streamed - practice match against another club and/or an intraclub?

— Marc McGowan (@ByMarcMcGowan) March 5, 2019
The AFL is happy with how the new rules played out during the first week of the JLT Community Series.
From about 200 centre bounces, eight free kicks were paid, while players received further clarity about the rules from the AFL on Tuesday.
The LED interchange boards didn't work well at the weekend and clubs are now allowed to use their own.
Brisbane didn't even bother, knowing it would have been futile as the Lions hosted Hawthorn on Sunday afternoon.
"We didn't use the message board on the weekend because we knew that it wouldn't work. It was hard to see in the sun," Fagan said.