YOU WOULDN'T think the Bulldogs had much to be 'crook' about on Saturday night.
But according to coach Luke Beveridge, they were.
Having kicked 21 unanswered goals in an emphatic 104-point victory over Essendon, a tiring Western Bulldogs outfit eventually conceded three in the dying stages of the match.
Lachie Hunter worked tirelessly all night against the Bombers. Picture: AFL Photos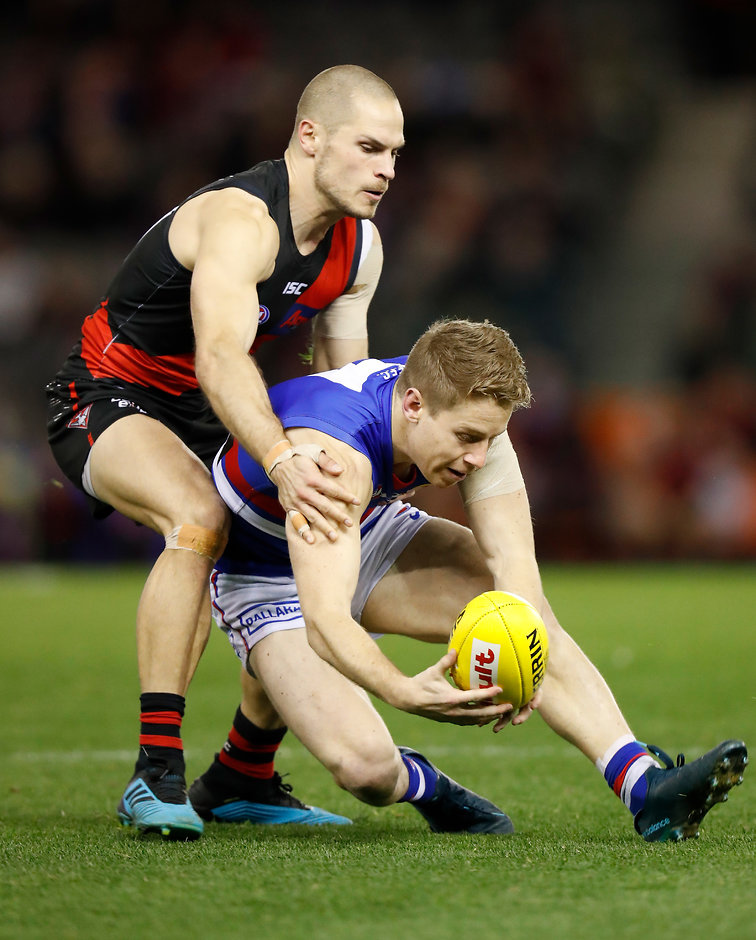 After nearly two hours of holding the Bombers goalless, you could forgive them for eventually allowing a couple through. They might not have forgiven themselves, though.
"You could tell by the end of the night that they were pretty crook on themselves for letting the last three goals through," Beveridge said after the comprehensive win.
"That's a good sign. It's a very difficult thing to be ruthless in any sport. We don't talk about that, but occasionally the word is mentioned.
BULLDOGS CRUSH BOMBERS Full match coverage and stats
"I think West Coast is quite ruthless. They're a very ruthless team, they're a strong team and they set a fine example in all parts of the game. We're aspiring to move up there.
"We kept our eyes on what was important and managed to do it. It was tremendous."
Having conceded the game's first goal in the opening 20 seconds of the match, the Western Bulldogs didn't allow another through until the 22nd minute mark of the final term.
WATCH Luke Beveridge's full post-match press conference
Their run of 21 straight goals was the second longest successive streak in the 20th century, an achievement Beveridge said his team should be proud of.
"It's a monumental effort to keep a team to that score line for that length of the game," Beveridge said.
"Ultimately, you reflect on what they've been able to do prior and you've got to acknowledge that they've been outstanding as a group.
"I think Essendon got 11 clearances in a row at the end of the game, so it's a good little reminder going into next week that if you take a spike from the opposition and do things a little bit differently then you'll be vulnerable all over again. I'm almost glad it happened."
SHOWREEL Rampant Dogs mids tear Bombers apart
Out of the top eight on percentage only, the Bulldogs also boosted their standing in that area of the game significantly thanks to the emphatic and ruthless nature of their victory.
The win helped the Dogs' percentage surge from 95.8 to 102.2 over the course of a single night, not that Beveridge believes it will matter in the race for a finals spot.
Instead, his focus is solely on beating Greater Western Sydney and Adelaide during the final two weeks. For Beveridge, what happens from there is out of his and his team's control.
"You know it's there, but I'm not sure it's going to matter," Beveridge said.
"For us to get in, I think two teams need to falter. I just think we need to win both games.
"I'm not sure percentage is going to help us at the end of the day, because I think we need to win both games. That's the way I see it.
"As much as it's there – and you can make an argument that it's possibly an eight-point type of game, because it does get our noses up there a little bit – in the end, circumstances will tell us whether or not it mattered at all. I haven't got that crystal ball."