SYDNEY coach John Longmire is staying put, and while the chatter has simmered for weeks, he never had any doubts that his future was at the Bloods.
The 2012 premiership coach resisted the lure of his former club North Melbourne, and has extended his current deal with the Swans for a further three years.
Longmire's future has been the subject of intense speculation since his former club North Melbourne parted ways with Brad Scott in May, despite him being contracted for next season.

John Longmire has become part of the Sydney scenery. Picture: AFL Photos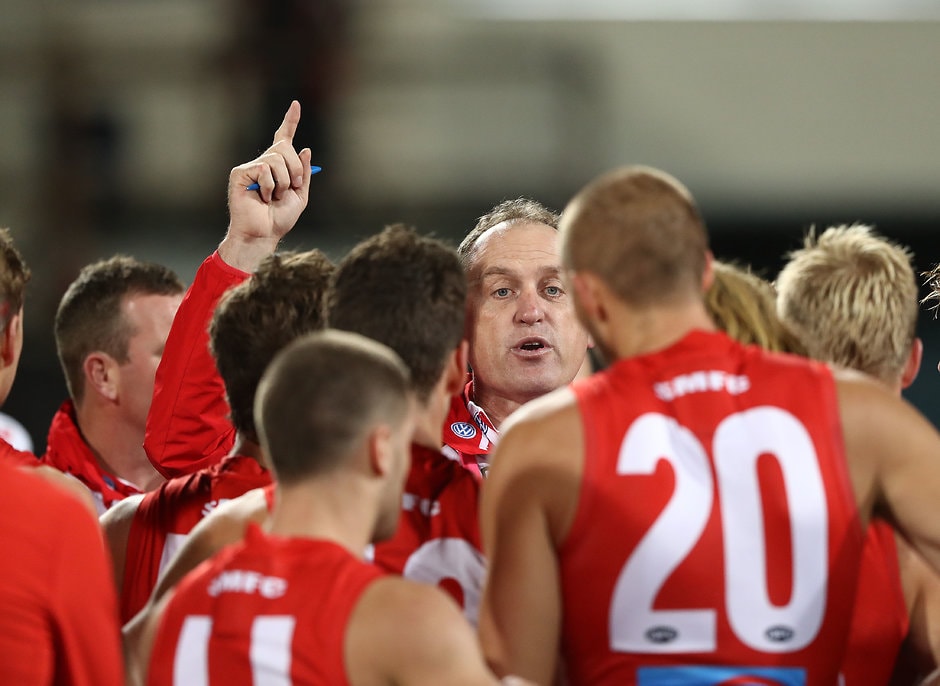 He is now committed to Sydney until at least the end of 2023.
The links to the Kangaroos – where he played 200 games, won the 1999 flag, a best and fairest and a Coleman medal – were always going to come.

WHAT'S IN THE BOX? Our guide to exactly who is who in the coach's box on match day
His weekly media appearances have produced caused some tense moments as he batted away constant questions about where he'd be plying his trade in 2020, and why he hadn't categorically ruled himself out of the vacant Roos job.
However, Longmire told AFL.com.au on Friday the intense scrutiny hasn't worried him in the slightest.
All he was focused on was winning games on weekends and making sure the most important parties involved in his contract negotiations – himself, his family and the club – were on the same page.
"I've been through this process before, and this one was a bit more public because there were other coaching jobs around, but I understand the industry," he said.
"That doesn't impact and shouldn't impact the process I had to go through.

"I had to make sure that I had the energy and commitment levels to keep improving as a coach and take this new generation going forward.
"Coaching is a 365-day-a-year job with no holidays, and even when you're on holidays, you're really not, and your family is a big part of that.
"That was the most important thing from my perspective.
"I spoke with the club and we were both really clear with what our direction looks like."
Longmire refused to comment on North Melbourne's coaching search or reports that the Kangas had offered him a lucrative deal to leave the Swans early.
Earlier on Friday afternoon, AFL.com.au reported the Roos had attempted to lure Longmire with a five-year deal worth about $7.5 million.
Longmire said the happenings of other clubs around the competition wasn't his concern, and he was never going to rush into decisions regarding his own life because of outside influences.
His first choice was always Sydney – the club and the city.
"We're 10 minutes from the CBD, 10 minutes from the airport and 10 minutes from some of the world's best beaches," he said.
"It's not a bad spot to coach in my view.
Find In the Game on Apple Podcasts, Google Podcasts or Spotify
"If the club was absolutely committed to me going forward with this group then I was always going to be here.
"We had to go through that process at our own speed and not be dictated to by anyone else.
"What that looks like doesn't take a five-minute chat, we had to make sure the commitment was there from both parties.
"I feel very fortunate to have been involved with this football club for 18 years, and I'm really fortunate to have the opportunity to keep working at this great club."
Sydney boasts one of the competition's most promising lists, and while Longmire's streak of eight straight finals appearances might come to an end this year, he knows the future is bright.
"I'm excited by our players and the potential they've got, and I love working with them," he said.