THE 2019 NAB AFL Draft is not far off, but coming fresh off a NAB League premiership with the Oakleigh Chargers, Jamarra Ugle-Hagan has got Dogs fans already excited for the 2020 draft.

The 17-year-old key forward stands at 195 centimetres and is tied to the Western Bulldogs through the Next Generation Academy.

He's quick on the lead, knows where he needs to be and his marking is simply outstanding. When he's on, nothing can stop him.
DRAFT COMBINE Who are the key contenders in 2019?

"At the start of the season, everything was going my way. Then I ended up getting cut from Vic Country as a bottom-ager and I think that's when I started to develop as a player," Ugle-Hagan said.

"Since I got cut, I reckon it's helped me a lot, it's just made my mindset a lot better."

Ugle-Hagan was pulled aside and copped a spray from his forwards coach at Oakleigh for his body language earlier in the year, which has since become a real focus.

The talented forward, who played in the under-17 NAB All Stars Futures game at the MCG on Grand Final day, said he really started to "put the work in" after getting cut and he found form almost instantly.

It wasn't a simple transition to NAB League for the quietly-spoken forward. He moved to Scotch College from Warrnambool in Year 9 after receiving a scholarship.

He had been on the Greater Western Victorian Rebels list, but followed in the steps of his cousin, ex-Demon Dion Johnstone, in making the switch to the Chargers.
PHANTOM FORM GUIDE September update

The proximity of Oakleigh's facilities made getting to training a much easier process than heading out to Ballarat.

Plus, another of Ugle-Hagan's cousins, Lachie Johnson, was playing for the Chargers.

Johnson, the son of Lions premiership player Chris, is eligible to be taken as a father-son prospect by Brisbane or join Essendon as a Next Generation Academy player, if either club takes a strong interest in him.
Jamarra Ugle-Hagan marks during the under-17 NAB All Stars Futures clash on Grand Final day.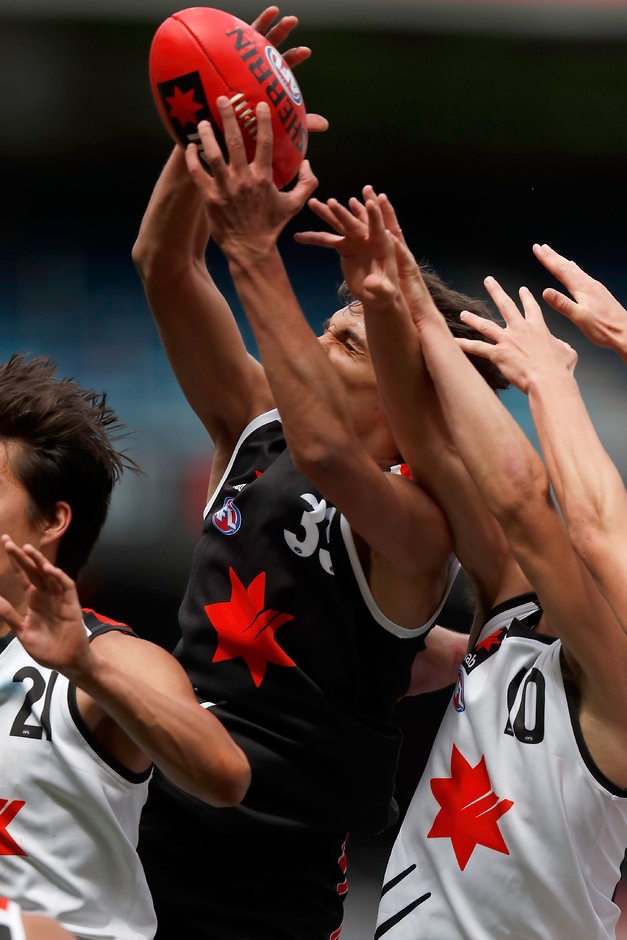 From round 10 until the preliminary final, Ugle-Hagan booted 23 goals across six NAB League games, kicking at least three goals in each of those outings.

He kicked four goals against the Sandringham Dragons in the preliminary final, where he looked unbeatable on the lead all day, thanks to some quality service from his teammates.
AFL TRADE HUB All the latest news
He even pulled out the Charlie Cameron motorbike celebration after a goal, which Oakleigh coach Leigh Clarke loved seeing.

The prospect of a Grand Final at Ikon Park weighed on the young forward's mind heavily.

"I was a bit nervous as soon as the Sandringham game finished, so for the whole week I was pretty nervous," he said.

He tried to follow his normal routine throughout Grand Final week, which is bringing a drink bottle everywhere to stay hydrated and going to bed before 10pm on Friday nights, even if there's footy on.

Ugle-Hagan is not much of an AFL watcher anyway. He'd rather be playing.

The Grand Final day was glorious for the Chargers, as Matt Rowell led the way with 44 disposals in a 53-point win. It was also the first time Ugle-Hagan went goalless in a NAB League game since early April.
Likely No.1 draft pick Matt Rowell was outstanding in the NAB League Grand Final.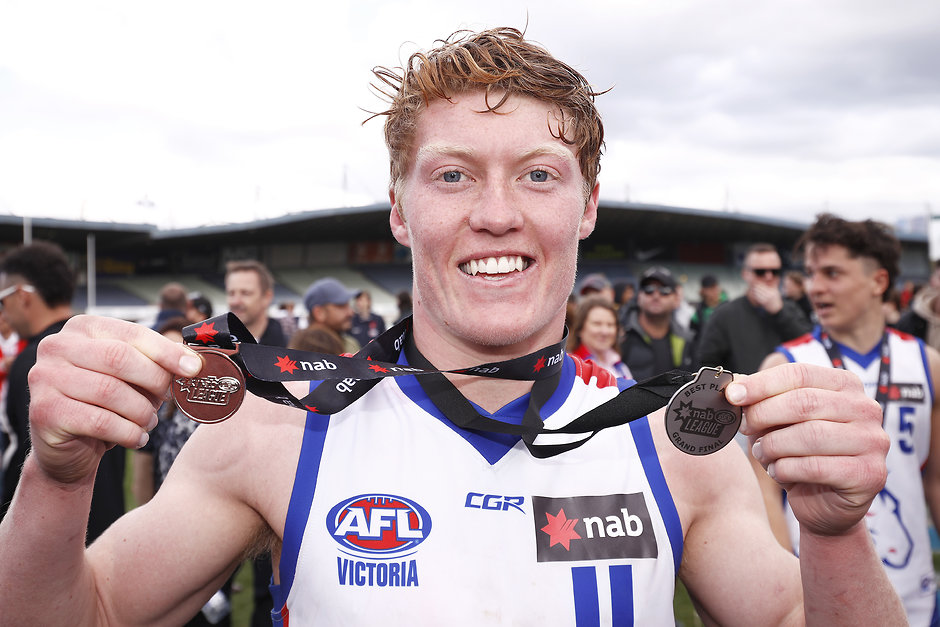 "Once the first quarter finished I knew I was going to have a quiet day," he said.

"I just tried to bring my teammates into the game by using my voice and playing my role and hoping the game would come, but it didn't come."

Playing his role meant making his presence felt, which he did with a huge bump on Joel Nathan from the Eastern Ranges in the first quarter.

The celebrations have been sweet for Ugle-Hagan. He admits he "hardly said a word during pre-season", but now looks at his Oakleigh teammates like "long-time brothers."

The best example of that might be another 17-year-old Chargers prospect who Bulldogs fans are keeping their eyes on – Finlay Macrae.
INDICATIVE DRAFT ORDER Your club's latest picks
Ugle-Hagan said he didn't have much chemistry initially with the younger brother of Jackson, but towards the end of the year, Macrae would try and hit Ugle-Hagan up with a kick two or three times a game.

The one place where Ugle-Hagan felt comfortable instantly was with the Western Bulldogs. He's spent plenty of time training with the head of the Next Generation Academy, David Newton, but the chance to actually head to Whitten Oval for a few days was something he really cherished.


Find Road to the Draft on Apple Podcasts, Google Podcasts and Spotify.
"I went in there for two days for a camp thing. I go for Essendon, but as soon as I left that club (Western Bulldogs) and got to know all the boys, it feels like I should just go for them," he said.

Billy Gowers was the first person to really make Ugle-Hagan feel comfortable, while Bailey Smith and Marcus Bontempelli also took the time to get to know the key forward.

"I felt really close to all the boys, even though I'd only known them for two days," he said.