STEPHEN Coniglio could become Carlton's $2 million man in 2020.
That's the view of rival clubs watching from afar as the highly sought-after restricted free agent ponders a life-changing, and heavily front-ended, deal at the Blues.
Should he accept, and knock back substantial deals of up to seven years from his current club Greater Western Sydney or Hawthorn, Coniglio is expected to be the competition's highest paid player next year.
Bravo Coniglio! Never in doubt #AFLNorthGiants pic.twitter.com/rj7IQ1dtEc

— AFL (@AFL) June 16, 2019
It is a deal that is tipped to sit around $1.2 - 1.3 million per season and could push the $2 million mark next year due to Carlton's previous seasons of cap manoeuvering.
In a poll of nine clubs' list officials conducted by AFL.com.au, many believe the Blues' salary cap room leaves them with the best hand amongst his suitors.

'I'D LOVE HIM TO STAY' Gil weighs in on Coniglio's future
West Coast, Fremantle, St Kilda and North Melbourne are among the clubs to have enquired on securing the 25-year-old, however the general consensus is that it's now down to three – the Blues, Hawks and Giants.
With several seasons of underspending in its salary cap to as little as 95 per cent, it allows Carlton to be armed with the potential of splashing up to 105 per cent next year.
Combined with space that was left after a failed $1 million-per-season bid for Dylan Shiel and the league-wide $287,000 increase from 2019 to 2020, it leaves the Blues' list in a "dangerous" position.
Should Coniglio choose to leave, the Giants have the right to match any offer or accept a compensation pick that will fall after their pick in the first-round of the NAB AFL Draft.
In a similar exercise last season, opposition clubs predicted the move of Gold Coast co-captain Tom Lynch to Richmond 33 days before he made his decision public.

Carlton's confidence in landing Coniglio this year has been rising in recent weeks and is only expected to grow with the appointment of full-time coach David Teague.
Stephen Coniglio is having some sort of season! #AFLGiantsCrows pic.twitter.com/LipzxY3lRt

— AFL (@AFL) August 11, 2018
As stated by one club, the signature of Teague now provides clarity for prospective players, a view backed up by Blues CEO Cain Liddle in radio interviews last month.
Liddle also conceded – on the day of Brendon Bolton's sacking – that the Blues could ill-afford a two-win season like 2018 should they wish to lure new players to IKON Park.
Since that day, they've won five of nine matches and been competitive in the remaining four.
WHAT THE CLUBS THINK
CLUB ONE: "It's a stab in the dark because I don't know, but I'd say Carlton or Hawthorn. I'm not hearing anything to say he's staying there, but we haven't been involved in it. Carlton is one of the clubs that definitely has money to spend, like the Bulldogs. The other thing I couldn't rule out is a left-field option, like the 'Buddy' Franklin situation where everyone thinks it's going one way, but it goes another and takes us all by surprise."
CLUB TWO: "I think it's Carlton. I don't know for sure, of course, and haven't been involved in any of it but it comes down to these questions for me. If he's staying, why hasn't he signed yet, or at least, why hasn't he told the club he's going to hang around?"
CLUB THREE: "For a long time I've thought it was narrowed to a couple of clubs, being Hawthorn and Carlton, or staying at the Giants. We hear what everyone else is hearing about Carlton, but it's not something we've spent much time on."
CLUB FOUR: "If I was doing a market I'd have Carlton ahead of him staying at GWS, and then the Hawks in third position, but from what I have heard he hasn't made up his mind. You can never rule the Hawks out, especially with the Jaeger O'Meara mates factor."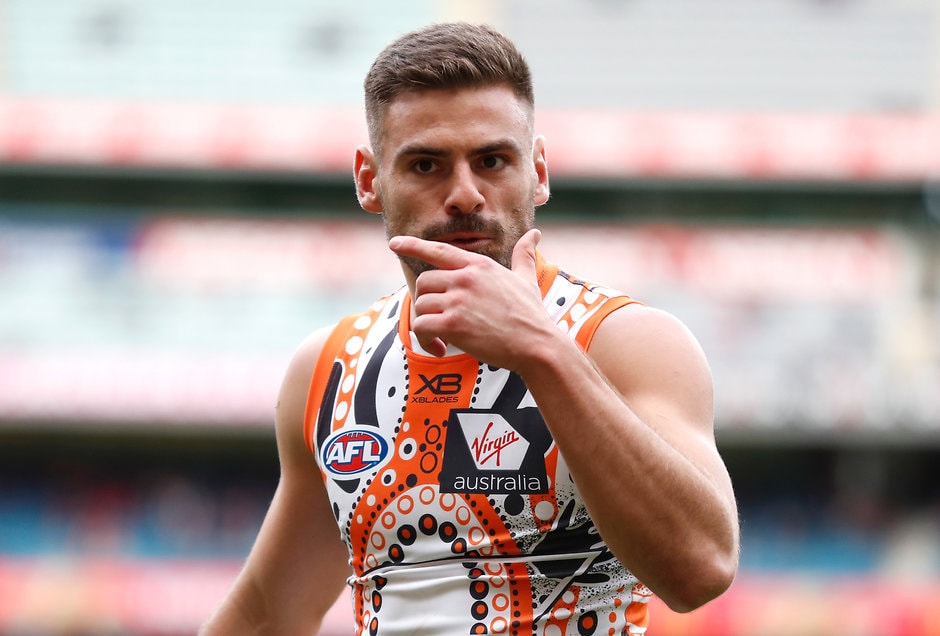 CLUB FIVE: "My feel is it's Carlton. The fact he hasn't signed at GWS while the Blues didn't have a coach and now they've got one, it just feels like it's headed that way. There's no doubt the Giants are more concerned than they were eight weeks ago."
CLUB SIX: "The last month we've thought he's Carlton bound. The SOS (current Blues and former Giants list chief Stephen Silvagni) factor plays a big part. The underspend they've developed over the past two to three seasons makes them dangerous in this situation, he could be the highest paid player in the competition next year."
CLUB SEVEN: "To be honest I've got no great read on it but everything you hear is Carlton. I'm very confident it's (salary cap room) up there, if not the most in the competition."
CLUB EIGHT: "I really don't have any idea, but if I read the speculation I'd be thinking Carlton. I think he's worth $800,000-1million, I wouldn't be paying any more than that. It's a lot of money to have invested in one player, if it's more it means you're going to have to backend and change other's contracts."
CLUB NINE: "Everything you hear about him is that he's a deep-thinker, so I wouldn't necessarily say that he's leaving just because he hasn't re-signed at the Giants. It won't be WA, that's been our read for some time. It's now just a race in three with Carlton probably ahead (of GWS and Hawthorn)."