ROSS Lyon has guaranteed he will remain Fremantle's coach next season, and declared the rebuilding Dockers are clearly on track in the face of stinging criticism in the wake of the second-biggest Western Derby loss in history.
The 91-point drubbing from West Coast was Freo's third-straight defeat, following losses to bottom-three outfits Melbourne and Carlton, and has ramped up pressure on the coach (and club) amid fading finals hopes.
If we don't measure [the season] on the body of work it's non-sensical and it is hysterical - Ross Lyon
But Lyon declared it would be "hysterical" and "non-sensical" not to judge the Dockers on their body of work this season after clear signs of improvement in the third full year of their rebuild.
Ross Lyon and Michael Walters leave the field after the dire Derby. Picture: AFL Photos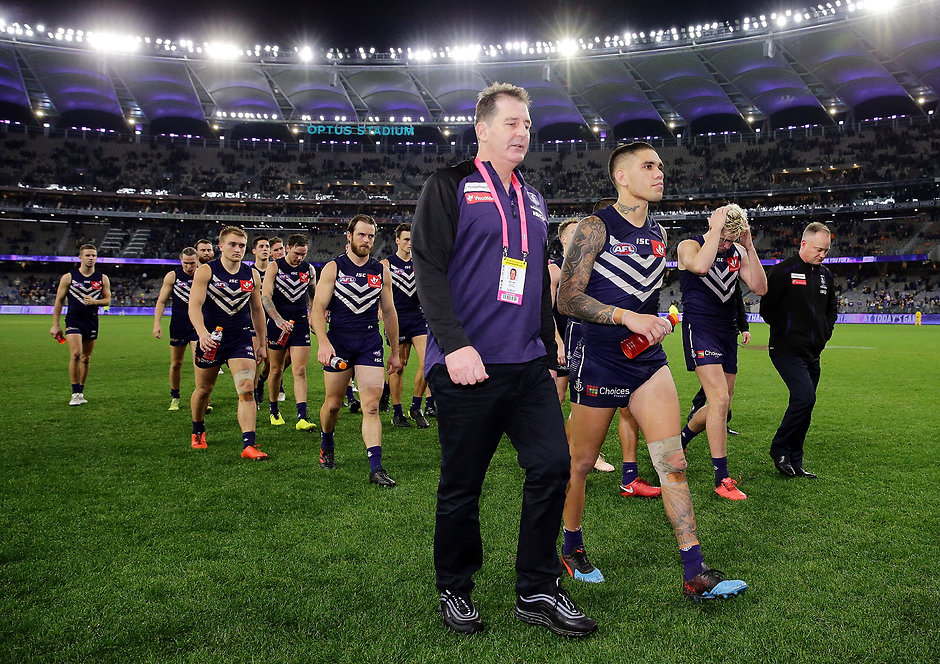 Less than a month ago, 11th-placed Fremantle sat sixth on the ladder with a 7-5 record after beating top-four sides Brisbane and Collingwood, and former Lions great Jonathan Brown believed the Dockers had leapfrogged the Eagles as the best team in the west.
"I can guarantee you I will be around (next season). My performance dictates I'll be around," Lyon said on Wednesday.
"We're a rebuilding team. We're 7-8. Three weeks ago I was being lauded.
"I never fell for it then, and I'm not falling for it now."
Ross Lyon enjoying the narrow win over Brisbane in round 10. Picture: AFL Photos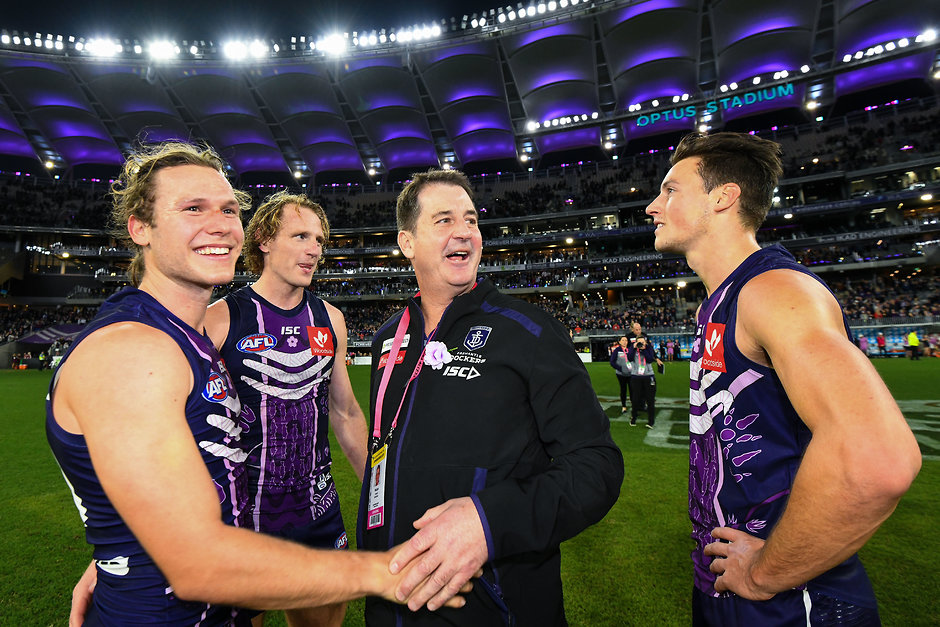 Lyon believed there was "a bit to work with" from the Eagles shellacking after Fremantle had 60 forward 50 entries but kicked 2.19 (31) – the lowest score in a derby – and is focused on getting back on the winners' list.
"The wider issue is we're a young group that's emerging. We're on track, we're clearly on track and building a great platform, and we'll only get better again next year," Lyon said.
"We have been in every game. Average losing margin of 11 (11.86 points before the Derby).
"No one can stand here and tell me we couldn't have won every (other) game we've been in – it was the first game.
"If we don't measure it on the body of work it's non-sensical and it is hysterical.
"But I just do my job, I find that's stood me in pretty good stead."
Lyon declared the Dockers couldn't get on the plane to Launceston quick enough to "redeem our performance and our season" against Hawthorn.
Find AFL Exchange on Apple Podcasts, Google Podcasts and Spotify.