"DEVASTATED" Collingwood youngster Jaidyn Stephenson has revealed a "really guilty conscience" compelled him to self-report on his "incredibly stupid" decision to bet on AFL games involving the Magpies.
The 20-year-old – who has been suspended for the rest of the home and away season and also received a $20,000 fine for placing wagers on the Pies' games against the Western Bulldogs, Essendon and St Kilda – felt his habit was getting out of control after betting on the clash with the Saints in round nine.
JAIDYN'S WHACK The most severe betting ban in AFL history
"It was an incredibly stupid thing to do and I now realise the seriousness of what I've done," Stephenson told reporters at the Holden Centre on Wednesday afternoon.
After the third (bet) I was like, 'This is actually accumulating to something that could be a lot bigger.' I just got a really guilty conscience - Jaidyn Stephenson
"I'm very embarrassed that I've let myself, my family, my teammates and our loyal fans down, and I'm devastated that I won't be able to pull on a Collingwood jumper for the next 10 weeks.
"I want to issue an unreserved apology to those who I have let down and hope that in time I can earn back any trust that I have lost."
Pies CEO Mark Anderson, Jaidyn Stephenson and football manager Geoff Walsh. Picture: AFL Photos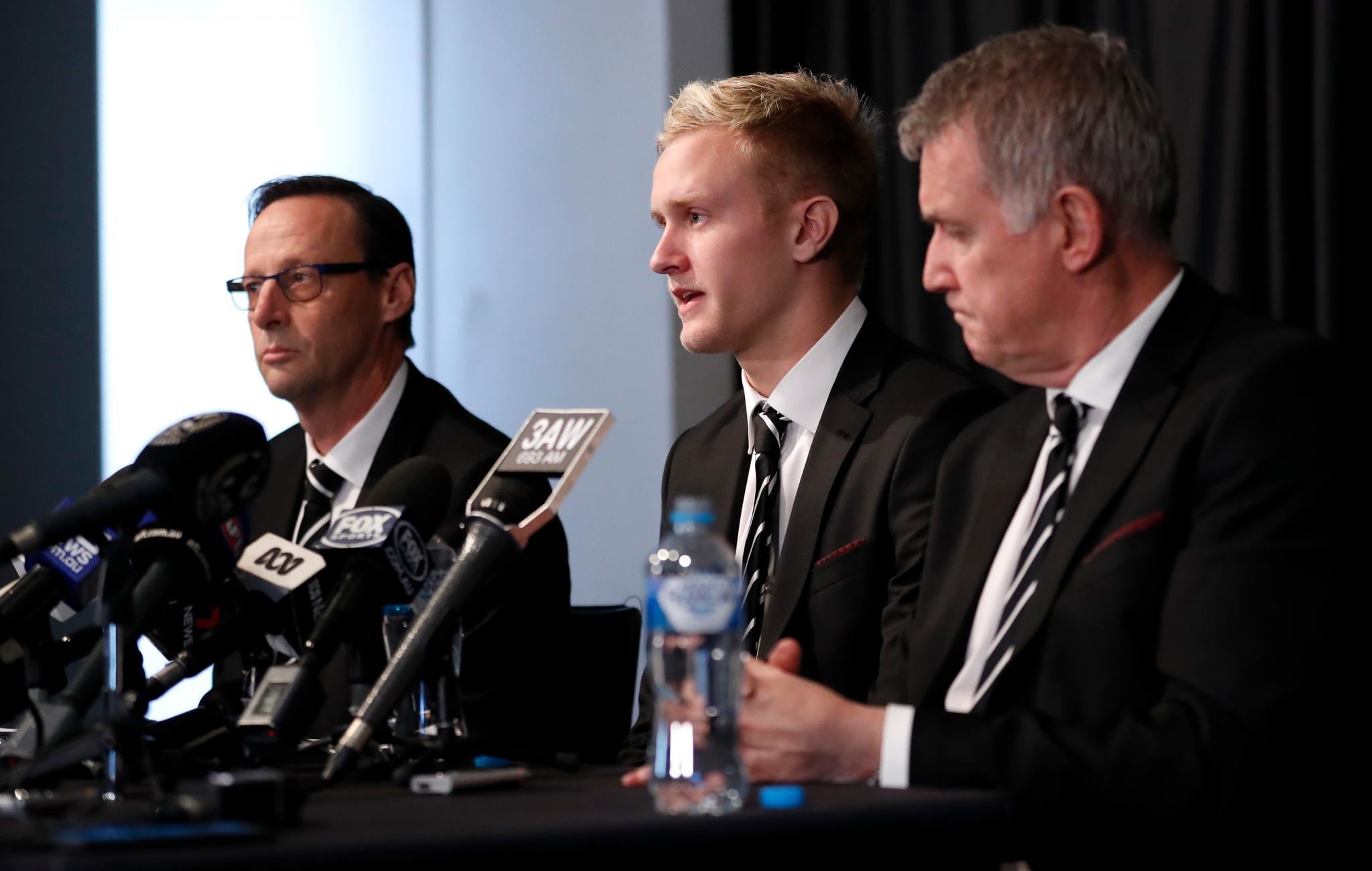 Stephenson, who paused twice to regain his composure while reading a prepared statement before taking some questions, said the bets, which totalled $36 and some of which had been made in concert with a friend, had been dependent on the team and its players "performing at their best". He said he didn't win any money.
He insisted he didn't think about the bets as he played in the games in question.
Stephenson said he'd initially tried to justify his actions to himself, admitting he had been naive and ignorant to think it was "harmless" fun. But it started to weigh heavily upon him.
"Sitting on the couch with my mate, he was doing the same thing. At the time I obviously didn't think about the bigger picture and the long-term consequences impacting on the integrity of the game, I now realise is just not acceptable. I hope others can learn from my mistakes," he said.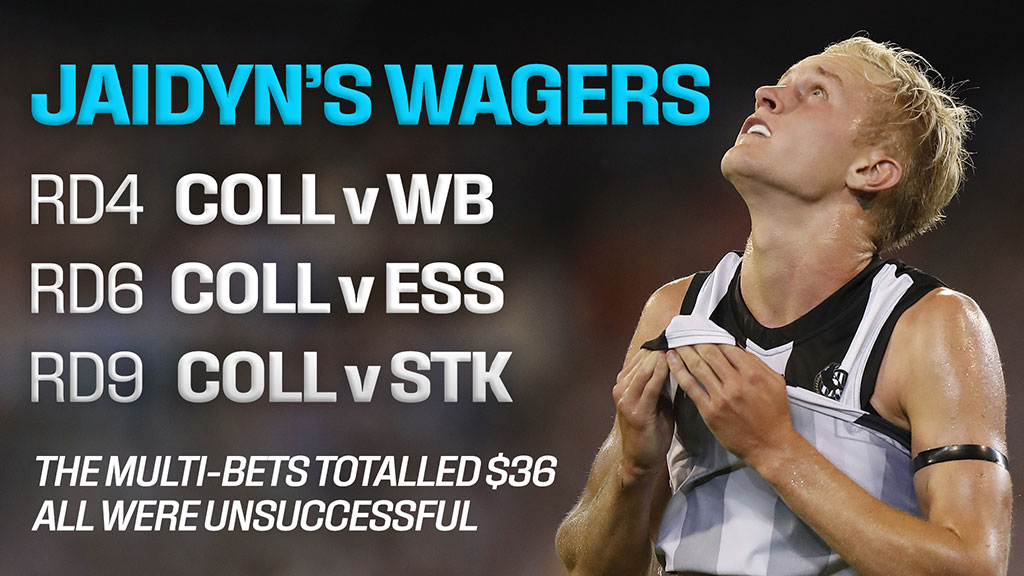 "Mum and Dad have always been big on, 'Make sure you tell the truth. Anything you're hiding will only hurt you in the long run.'
"After the third (bet) I was like, 'This is actually accumulating to something that could be a lot bigger.' I just got a really guilty conscience.
"I spoke to 'Walshy' (Pies football boss Geoff Walsh) and said, 'Look, I have made a mistake here, I'm really guilty and I regret it. So what can we do from here?'
"He said, 'We'll take it to the AFL,' and I was happy with that.
Stephenson felt better for getting his secret off his chest.
AFL STATEMENT Stephenson suspended and fined
"I'm able to look at myself in the mirror better than if I'd been still holding onto this today," he said.
Stephenson said he didn't have a gambling problem and that he had only ever had the odd bet during the spring racing carnival.
"(This has) almost scared me off gambling all together," he said.
Collingwood CEO Mark Anderson described the penalty as tough but fair.
Walsh said Stephenson would face a "tough" battle to regain his place in the team if the third-placed Pies make the finals as expected. Stephenson is acutely aware of the challenge before him.
"Ten weeks is a long time. I can come back and play the first week of finals but obviously I hope the team's going well and it'll be a tough spot to get back. So in the end it could be a 14-week penalty," he said.
"I'll be working that hard on the track and doing everything I can to prepare myself for that opportunity in week one or week two or whenever it may be in finals that I get the opportunity to play again."