LEADING draft prospect Noah Anderson said he would "love" to head to Gold Coast with close friend Matt Rowell if the Suns are granted a priority pick.
The Suns presented to the AFL Commission last month pitching to gain an extra selection at the top of this year's NAB AFL Draft. A decision is expected to be announced next week.
It would essentially give the club the opening two spots at the draft, where Rowell and Anderson are widely expected to sit.
Find Road to the Draft on Apple Podcasts, Google Podcasts and Spotify.
The pair have been schoolmates at Carey Grammar, and have also played for Vic Metro, the Oakleigh Chargers and the NAB AFL Academy side this season.
Anderson, who is the son of two-time Hawthorn premiership player and current St Kilda board member Dean, told the Road to the Draft podcast he would be keen to join Rowell with the Suns.
"I'd love that. I like to think about it as if you told a 12-year-old [version] of myself that I'd get to play AFL football, I wouldn't care where I went," he said.
Noah Anderson and Matt Rowell at Noah's house in May. Picture: AFL Photos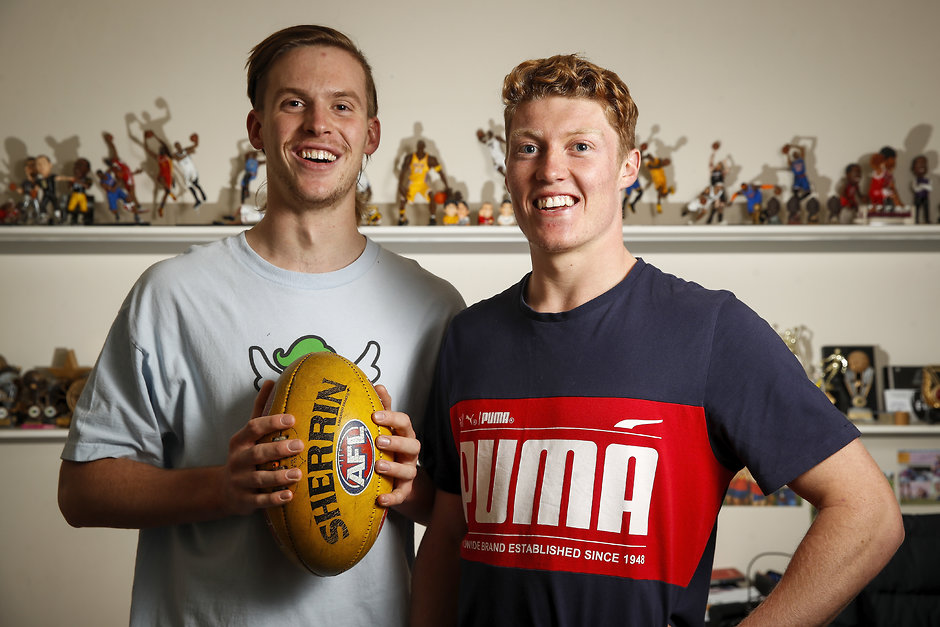 "I've still got that same mentality and if that ends up being with 'Rowelly' then that's awesome. But if it's not and I end up somewhere else, I'll take every opportunity and I'm sure I'll love it wherever I go."
The midfielder had an outstanding season, which included captaining Vic Metro at the mid-year under-18 championships and winning All Australian honours.
PHANTOM FORM GUIDE Cal Twomey's September update
He said he was "not too daunted" by the possibility of moving away from Victoria, adding if he went with Rowell it could make the transition exciting.
"I'd like to think I'm not too dependent on him. But it'd definitely be a fair bit different," he said.
"I'd love going up to the Gold Coast with Rowelly, I think anyone to be given the opportunity to move states with one of their best mates that'd be a bit different. That'd be pretty cool."
Anderson and Rowell closed their brilliant under-18 campaigns last Saturday in Oakleigh's NAB League Grand Final win.
Rowell was judged best afield after gathering 44 disposals, 12 clearances and kicking two goals, while Anderson was also important in the Chargers' win with 27 disposals and five tackles.
ROWELL GOES BESERK Huge game from likely No.1 leads Oakleigh to GF win

After losing last year's Grand Final with the Chargers, Anderson said a strong third term against the Eastern Ranges sealed it for his side.
"We always knew they were going to be pretty competitive and pretty tough to crack open. We kicked a few goals in the third and that's when I knew we were running away with it," he said.
Find Road to the Draft on Apple Podcasts, Google Podcasts and Spotify.