A FRUSTRATED Alan Richardson has criticised the standard of umpiring during St Kilda's 27-point loss to Geelong on Saturday, believing his side was hurt by some "pretty inconsistent" decisions.
The Saints lost the free kick count 26-14 at GMHBA Stadium, and Richardson said post-game that while his side made some mistakes, so did the umpires.
"What did we lose free kicks by? A lot I think. I didn't think the umps had a great night," Richardson said.
The Saints walk off the ground after falling short against the Cats. Picture: AFL Photos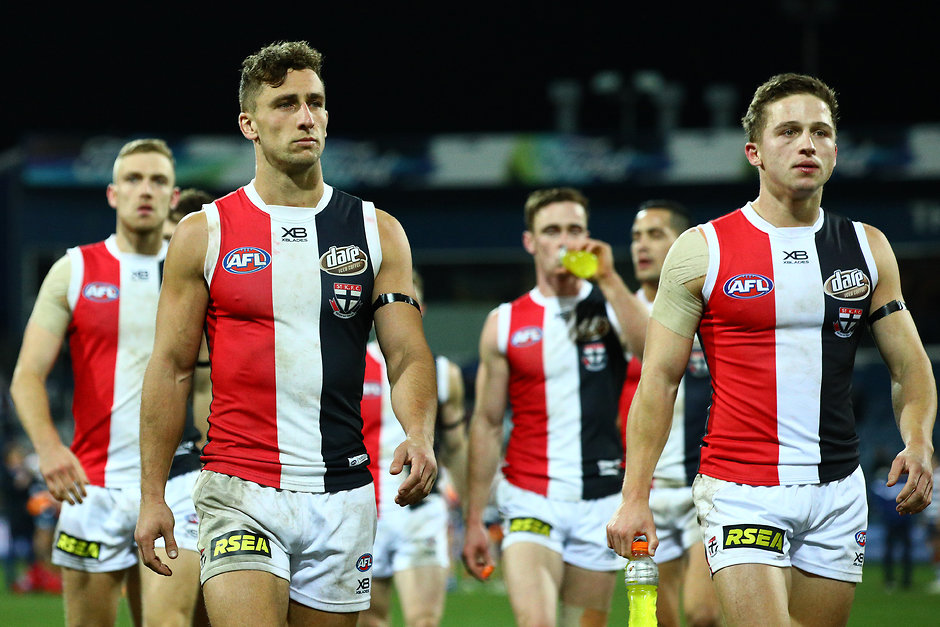 "It was as much about the non-calls as it was the calls.
"I don't get too caught up with the umpiring, because they make blues and we make blues, but I thought it was pretty inconsistent tonight."
CATS SHAKE OFF SAINTS Full match coverage and stats
St Kilda also lost the free kick count last weekend against North Melbourne (16-25), which led Richardson to get in touch with the umpiring department.
"We had an umpire come to training with us because we gave away seven free kicks in front of goal and it cost us seven goals last week," Richardson said.
"The umpiring department was outstanding there and sent an umpire out to do our match (simulation) and spend some time with the backs because that was their issue.
"So we'll follow up (next week) … we'll just make sure we're coaching the right way."
Baroooose! #AFLCatsSaints pic.twitter.com/IL8T2NkQkK

— AFL (@AFL) July 13, 2019
Despite the lopsided free kick count, Richardson said he was impressed with the fight his side showed against the top-of-the-table Cats.
He was particularly pleased by the Saints' improved physicality, following a disappointing performance against the Kangaroos last weekend.
But he said the players were disappointed they could not capitalise on their physical dominance and secure the win, especially after the Saints kicked the opening four goals of the second quarter to take the lead.
Acres kicks a goal and keeps the Saints within striking distance!#AFLCatsSaints pic.twitter.com/WyvlsEduFq

— AFL (@AFL) July 13, 2019
"They'd given themselves every opportunity, because of their intensity and their (hunting) of the opposition and the physicality they played with," Richardson said.
"There was some real frustration for us, given that the effort was so strong and the execution of the plan was where it needed to be.
"We just let ourselves down with our use."
WATCH Alan Richardson's full post-match press conference
The loss condemns St Kilda to its fifth loss from its past six games, putting further pressure on Richardson to keep his job.
But the Saints coach said he was not thinking about his future and was committed to keeping his team competitive for the rest of the season.
"I don't even think about (my coaching future)," Richardson said.
"It's looking less likely now that we'll play finals so we can either completely fall away and feel sorry for ourselves or we can understand … that this club means so much to so many people and we can give that the respect that it (deserves) by the way that we play.
"So that's my focus."