FROM snow in Canberra to a balmy 28 degrees in Brisbane, a week can be a long time in football.
FULL FIXTURE Every round, every game
Geelong is facing unseasonably warm conditions on Saturday afternoon for its top-of-the-table clash with Brisbane, just eight days after Hawthorn and Greater Western Sydney played among the first snowflakes to fall in an AFL match.
Defender Tom Stewart said the side won't be Cats on a hot tin roof though, backing his teammates in to adjust quickly to the unusual weather.
Tom Stewart and the Cats have alternated wins and losses since Round 12. Picture: AFL Photos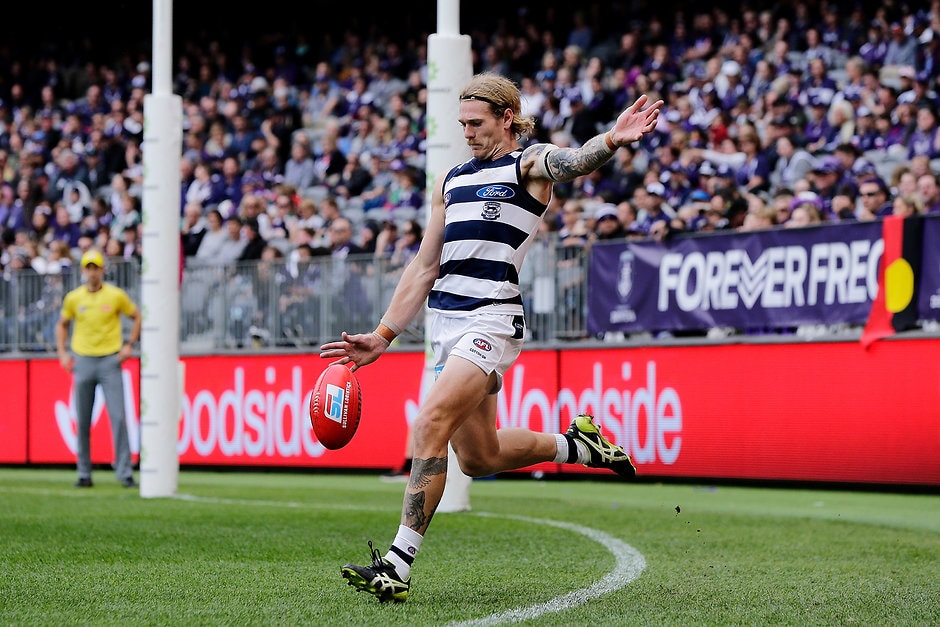 "It's always hard, because it's freezing cold here (12 degrees) and it's going to be bright and sunny in Brisbane," Stewart told reporters at Melbourne Airport on Friday.
"There's nothing that really changes from a preparation standpoint, maybe a bit more fluids and just get up there and try to adjust as quickly as we can."
I wish I did [have answers to the inconsistency]. I think I'd be giving you an exclusive that I don't know anything about - Tom Stewart
The Cats look set to go into the match with Mark Blicavs shouldering the ruck load against Stefan Martin, the versatile key back picked ahead of their large group of recognised ruckmen in Rhys Stanley (who is a travelling emergency), Zac Smith, Ryan Abbott and Darcy Fort.

It will be the second week in a row Blicavs will take the centre bounces, with Lachie Henderson coming in to fill the hole in defence.
"'Blitz' almost plays as that seventh defender when he's in the ruck. His natural instinct now is to get behind the ball and help us boys because he doesn't like leaving us," Stewart said.
"He's a special player, as we've seen over the years, he's really evolved his game in that respect. To have him go in the ruck and just compete for us is really important.
"'Hendo's' come in and played exceptionally well the last two weeks, so it doesn't change our preparation in that respect. It just gives us one extra around the ball [who's] really having a crack and getting after them."

Geelong may be coming off a 55-point win against North Melbourne, holding the Roos to just a solitary goal, but Stewart said there's plenty of improvement needed for the Cats.
"Massive win last week, but [we've been] really inconsistent, as our form line suggests, going win-loss back-to-back for the past six weeks or so," he said.
"We've given ourselves the best opportunity for the run into finals to really challenge from the top four. We can't look too past that, we've had a really solid year, but we need to build these next two weeks into finals and be ready for Brisbane this week, and then whatever comes after that.
"I wish I did [have answers to the inconsistency]. I think I'd be giving you an exclusive that I don't know anything about. I've got no idea."
Find Trends on Apple Podcasts, Google Podcasts and Spotify