PLAYERS missed almost 16 per cent more matches through injury last year compared to the 2017 season, the AFL's annual Injury Report has revealed.
All injury statistics in the report are club averages scaled to reflect a list of 40 players across a 22-match season, with last year's average missed matches by club climbing to 163.5.
FULL REPORT Read the 2018 AFL Injury Report (PDF)
The closest year to that in the past two decades was 2013, when the figure was 158.1, but it was only 141.3 in 2017 and 139.8 the season before.
The Crows had a nightmare run with injuries in 2018. Picture: AFL Photos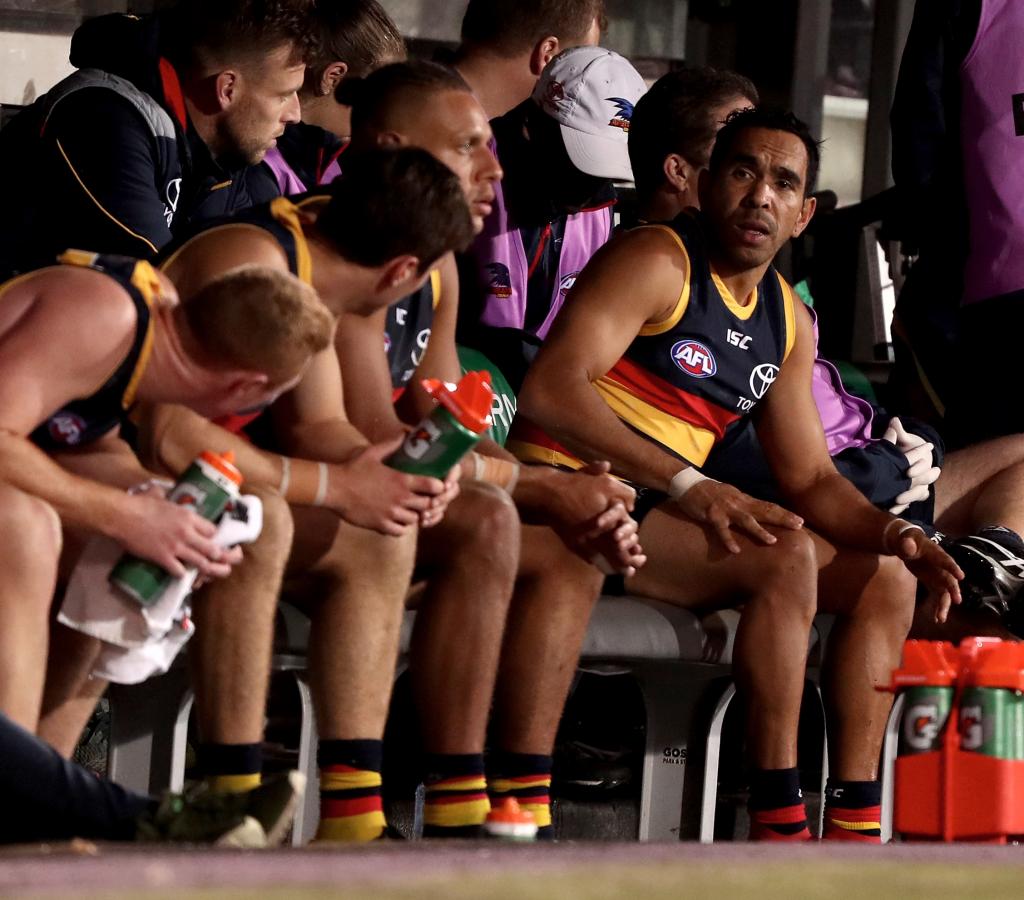 FULL INJURY LIST Who's ruled out and who's a test?
That significant increase coincides with injury incidence – new injuries per club for the season – spiking to 39.1, a five-year high.
Hamstring strains remain the No.1 cause for an AFL footballer to be sidelined, and rose from 5.35 new incidences per club in 2017 to 6.35 last season.
Clubs were without players who suffered hamstring strains for, on average, 25.19 games last year, also up from 18.87 the previous season, and the recurrence rate was 20 per cent, from 14 per cent.
There were also higher incidences in concussion (2.37, up from 1.46), acute adductor strains (1.18, 0.80), quadriceps strains (1.23, 0.99), meniscus injuries (0.52, 0.23), lateral/medial ligament strains (1.42, 1.22) and Achilles tendinopathy (0.71, 0.47).
FULL REPORT Read the 2018 AFL Injury Report (PDF)
The incidence rate of all concussions per 1000 player hours – whether a match was missed or not – went to 7.45 from 6.7, with 74 concussions in total last year compared to 63 a season earlier.
Young star Paddy McCartin has battled concussion issues since joining the AFL. Picture: AFL Photos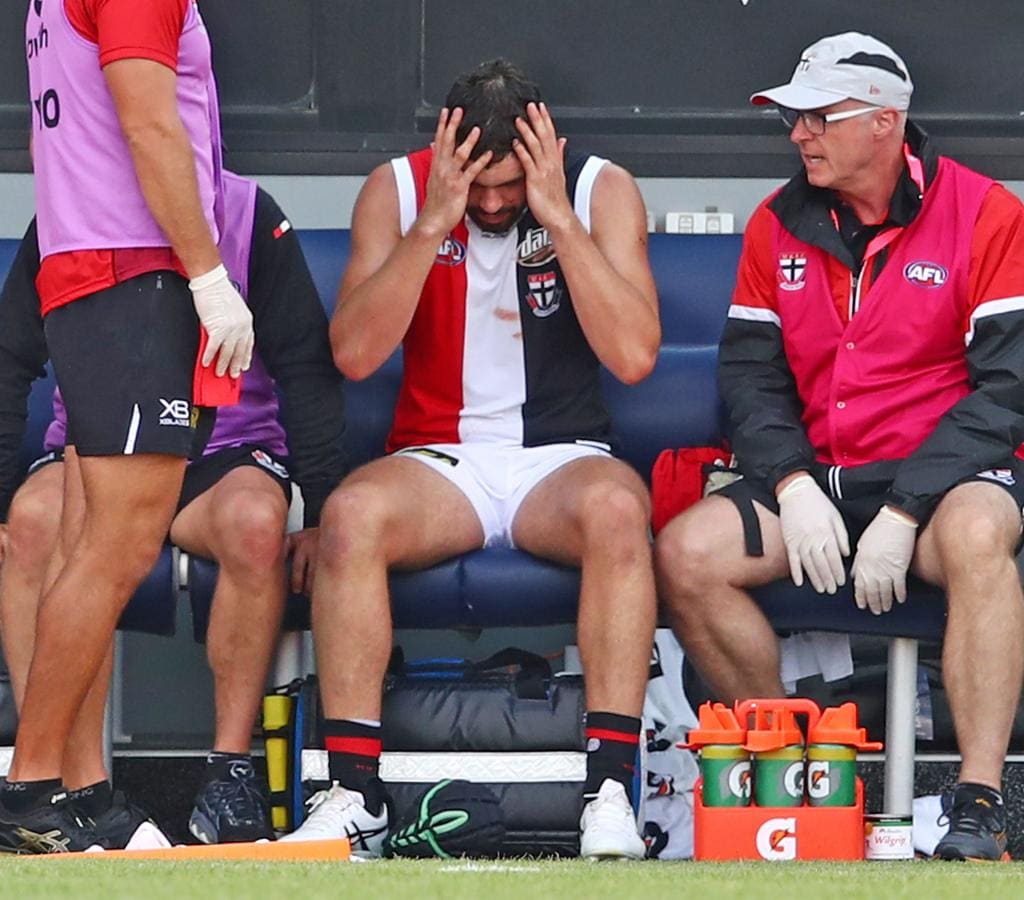 The injury report states that these statistics reflected an ongoing conservative management approach towards concussion.
The other setbacks that cost teams the most matches included anterior cruciate ligament injuries (15.96), chronic groin pain (5.26), medical illness (5.21, including infections and mental health) and acute leg fractures (5.16).
They were all higher than the 2017 season as well.
Plantar fascia ruptures became the AFL's most recurrent injury at a staggeringly high 67 per cent, taking over from posterior cruciate ligament injuries.
Former No.1 pick Tom Boyd has left the game after dealing with mental health issues. Picture: AFL Photos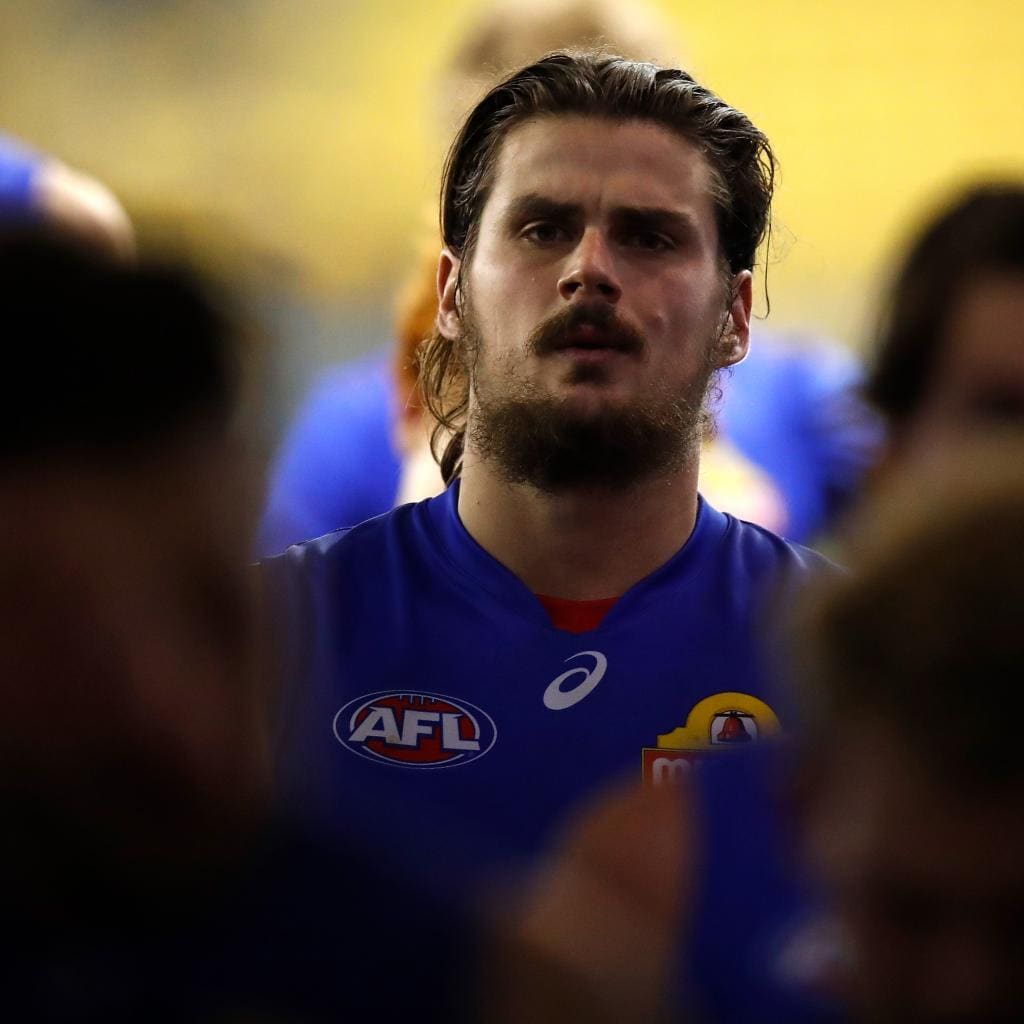 The recurrence of plantar fascia pain also jumped to 25 per cent, with ruptures and pain in this area registered at zero per cent in 2017.
The most common reason for plantar fascia problems is playing on hard surfaces or changing footwear.
PCL injuries were the highest in this category at 50 per cent in the 2017 season, but plummeted to just 14 per cent last year.
Other significant recurrences occurred in acute adductor strains (24 per cent), syndesmosis injuries (22 per cent), Achilles tendinopathy (20 per cent) and shoulder dislocations (17 per cent).
Key injury indicators 2009-18
| | | | | | | | | | | |
| --- | --- | --- | --- | --- | --- | --- | --- | --- | --- | --- |
| All Injuries | 2009 | 2010 |  2011 | 2012 |  2013 |  2014 |  2015 | 2016 |  2017 | 2018 |
| Incidence (new injuries per club per season) |  37.8 | 38.7 | 38.4 | 38.1 | 41.5 | 36.1 | 37.7 |  37.0 |  35.1 | 39.1 |
| Incidence (recurrent) | 3.6 | 4.7 | 3.6 | 3.6 | 5.1 | 4.4 | 4.0 | 3.7 |  2.7 | 3.8 |
| Incidence (total) |  41.4 |  43.4 | 42.0 | 41.7 |  46.6 |  40.5 |  41.7 | 40.7 |  37.8 | 42.9 |
| Prevalence (missed matches per club per season) | 151.2 | 153.8 |  157.1 | 147.7 |  158.1 |  146.0 | 156.2 | 139.8 |  141.3 | 163.5 |
| New injury severity (average missed matches) | 3.4 |  3.4 | 3.7 | 3.4 |  3.3 |  3.4 | 3.5 | 3.4 | 3.5 | 3.7 |
| Recurrent injury severity (average missed matches) | 4.8 | 4.4 | 4.6 |  4.9 | 4.0 |  4.7 | 3.7 | 3.0 |  3.9 | 3.9 |
| Recurrence rate |  10% | 12% | 9% | 9% | 12% | 12% | 11% | 10% |  8% | 10% |
| Clubs participating | 16/16 | 16/16 |  17/17 | 18/18 | 18/18 |  18/18 | 18/18 | 18/18 | 18/18 | 18/18 |
| Average players per club | 46.1 | 46.4 |  46.9 |  46.7 | 45.4 |  45.1 | 45.4 | 45.8 | 45.3 | 44.9 |
Find Trends on Apple Podcasts, Google Podcasts and Spotify