ROSS Lyon believes there are agendas being run to get him out of Fremantle as speculation continues to swirl about his coaching future.
Despite a one-point win over Sydney keeping the Dockers' slim finals hopes alive, their on-field performance has been overshadowed by more talk that Lyon might not remain at the club in 2020.
Lyon speaks with Griffin Logue at training on Wednesday. Picture: AFL Photos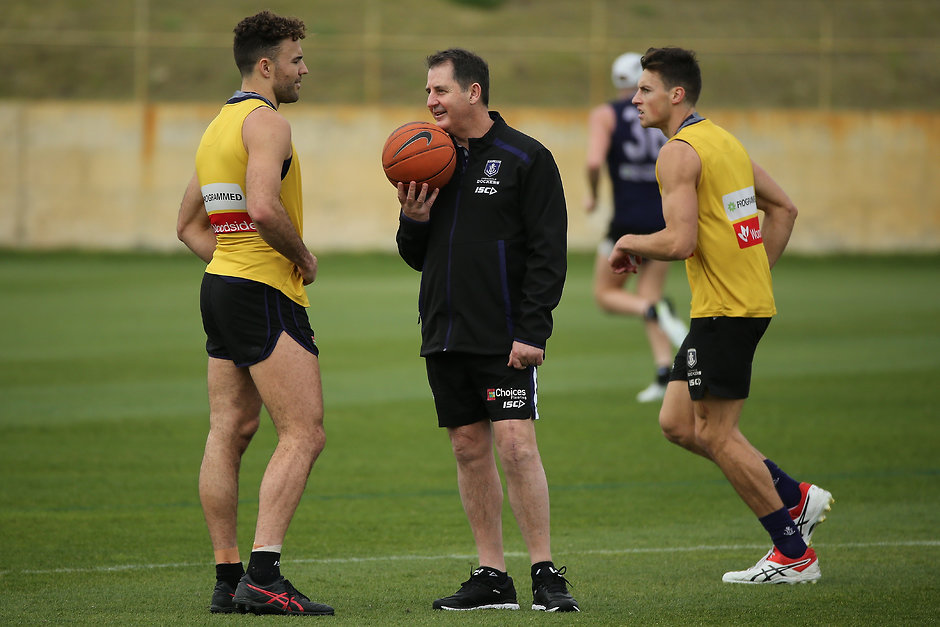 Reports have linked Lyon to a potential move back to former club St Kilda, despite his repeated insistence he is committed to entering the final year of his current contract, with the prospect of an extension unlikely before next season begins.
IN THE MIX Who's pushing for selection in R19?
"There's lots of agendas being run. There's agendas to move me on and get me out of the club," Lyon said on Wednesday.
"Apparently, there's noise that I'm required in Melbourne. I'm committed to my contract. I'm enjoying my time here.
"I'm really close to Nathan (Fyfe) and the leadership group. Our players fought on like caged lions on the weekend.
"We've really improved. We've got some significant big-man injury worries, but we're finding a way and we're one game out (of the eight), so that's my focus."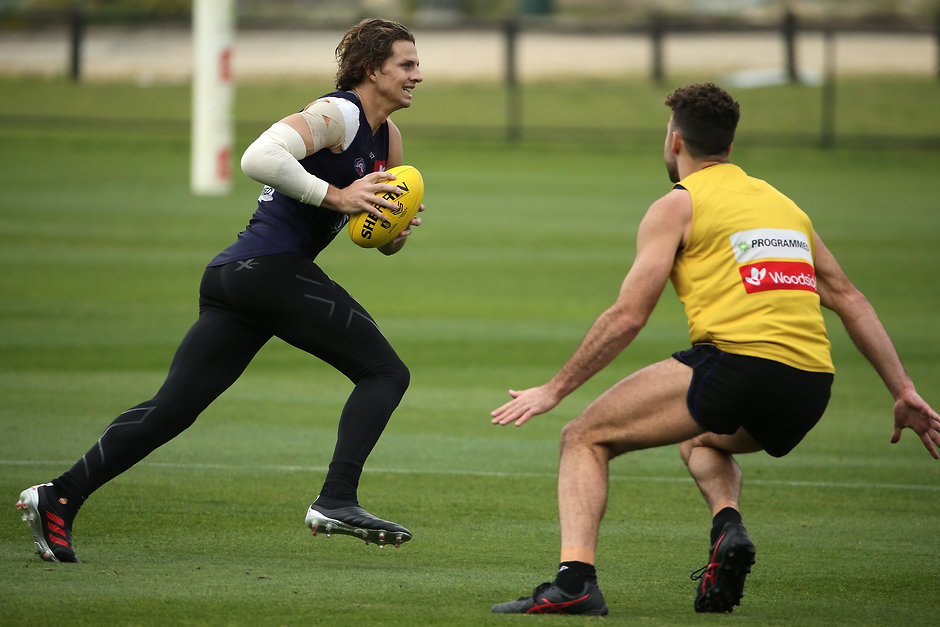 Lyon had "no idea" who was running the agendas and denied his situation was unusual given the Dockers are yet to re-sign him, while Melbourne, Sydney and the Bulldogs have moved to recontract their coaches this year.
"I don't think it is unusual. The term was to the end of 2020, that's what both parties committed to. There was no options or clauses put in that there's a rider that you need to be re-signed," Lyon said.
"You're making a number of assumptions: a) that I want to continue (as) an AFL coach, b) that I want to coach here and c) that I need to coach.
"They're all assumptions that people are making.
"I'm not here to talk any more hypotheticals, because it's actually getting boring and it's taking away from the job at hand, which is coaching."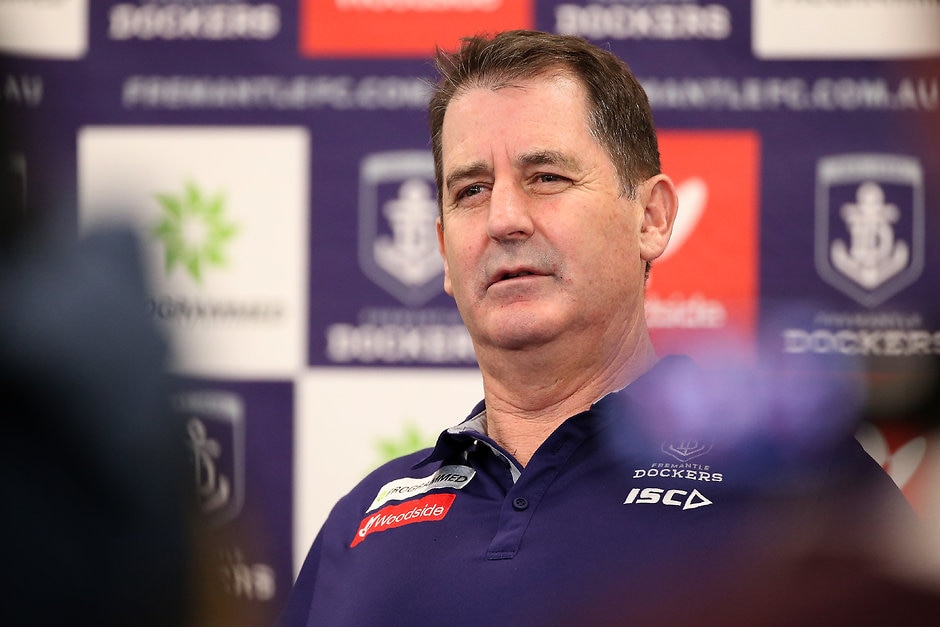 Amid the intense interest about his future and almost daily coverage in Perth, Lyon could see the lighter side of the situation.
"It's certainly magnified in a two-team town. Understand that. That's really been enjoyable, life's pretty hum-drum otherwise," he said.
"It's a privileged position, enjoy the challenge and sign up for it."
Lyon was confident tough big man Rory Lobb (shoulder) would be fit to face the Bulldogs this Sunday in a virtual elimination game for the eight-win sides' finals hopes.
FULL INJURY LIST Who's ruled out and who's a test?
Fyfe (elbow) is also set to take his place, while veteran ruckman Aaron Sandilands is likely to travel in the midst of a big-man shortage.
The Dockers could send Fyfe forward more often after managing just 31, 53 and 52 points in the past three outings, although Lyon had a simpler solution for their scoring woes.
"Put it through the sticks, 2.19 against West Coast wasn't ideal," he said.