ON THE EVE of Shaun Burgoyne's record-breaking 373rd game, the Hawthorn champion has been surprised by a gathering of past and present indigenous players.
FULL FIXTURE Every round, every game
Friday night will see Burgoyne breaking Adam Goodes' record for most games played by an indigenous player, having recorded 148 games at Port Adelaide before adding another 224 to date at the Hawks.
View this post on Instagram
The 36-year-old has won four flags (2004, 2013, 2014 and 2015) in that time, as well as playing in another two losing Grand Finals in 2007 and 2012.
Burgoyne, who debuted in 2002, believed he was taking part in a club interview at the MCG alongside his family, before the group walked down and surprised him.
Burgoyne has won 248 of his 372 AFL games since 2002. Picture: AFL Photos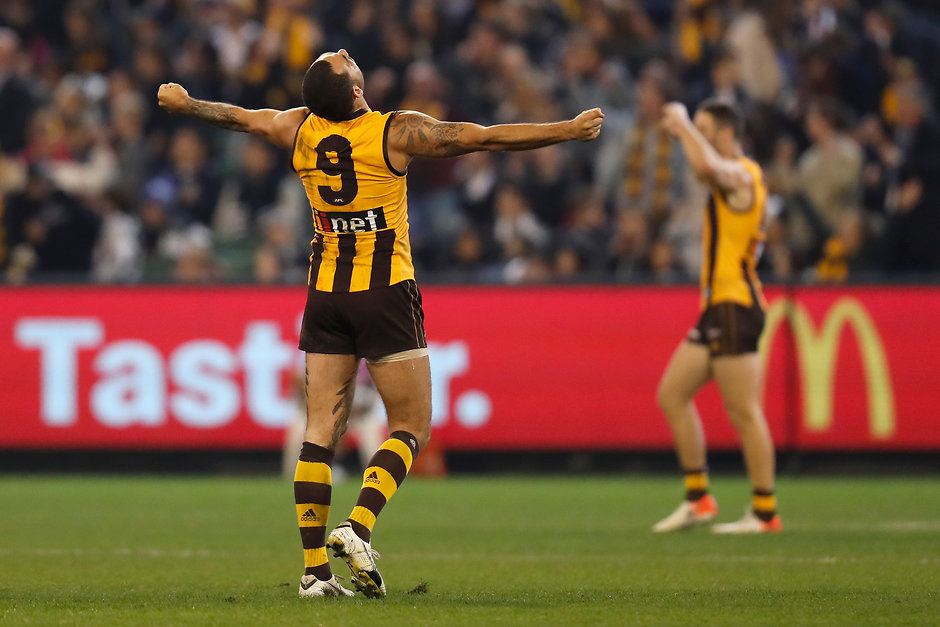 Past players were represented by luminaries including Brownlow medallist Gavin Wanganeen, Che Cockatoo-Collins, Byron Pickett, Chris Johnson, Gilbert McAdam, Danyle Pearce, Mathew Stokes and Darryl White.
Current Hawks Chad Wingard and Jarman Impey (complete with crutches after recently rupturing his ACL) were present, as well as players from other clubs such as Neville Jetta, Steven May, Matt Parker and Sam Petrevski-Seton.
There's so many things to love about Shaun Burgoyne. @chadwingard20 speaks about his love for his champion teammate.#Silk373 pic.twitter.com/xTKOHWq2Bx

— Hawthorn FC (@HawthornFC) August 1, 2019
"I was just looking around saying, 'Have a look at this, how good is this!' You get tingles being there," McAdam told SEN.
"Having all the younger kids there, (Saints) Benny Long and Matty Parker, imagine those young kids and what it felt like for them.
"When I was playing that wouldn't have happened, there just wasn't enough indigenous players going around. So, for the younger kids to see that and experience all that, it must inspire them.
"It's got to be an inspiration for them looking at what Shaun's done."

Former teammate Gavin Wanganeen, who Burgoyne described as his "childhood idol", presented Burgoyne with a signed footy printed with an indigenous design.
"It's really a huge pleasure to be here on behalf of all the current indigenous players, past players, it's a wonderful achievement, mate," Wanganeen said.
"We've all put our signatures on this footy. It's our pleasure to be here.
"You should be extremely proud of yourself, what you've achieved, the family support you've got from Amy and the kids."
Find AFL Exchange on Apple Podcasts, Google Podcasts and Spotify.