THE AUSTRALIAN Football Hall of Fame has its 28th Legend: Kevin Sheedy.
One of footy's greatest innovators, Sheedy was elevated to Legend status in Tuesday night's 2018 Australian Football Hall of Fame ceremony.
Sheedy made his mark on the game as a triple premiership player with the Tigers, before guiding the Bombers to four more flags from the coach's box.
MARTIANS AND MARSHMALLOWS Nine ways Kevin Sheedy changed the game
As well as a champion coach and player, he was a visionary, helping forge integral elements of the modern game such as the Anzac Day blockbuster, and taking a pioneering role as Greater Western Sydney's inaugural coach.
HALL OF FAME Click to see all the 2018 inductees
Six players were also inducted into the Hall of Fame in Tuesday night's gala ceremony at Crown Palladium: outstanding Geelong defender Matthew Scarlett, Carlton great Wayne Johnston, Hawthorn and Footscray star Terry Wallace, Melbourne key forward David Neitz and iconic West Australians Mel Whinnen and Bernie Naylor.
Sheedy (centre, bottom row) with the 2018 Australian Football Hall of Fame inductees (clockwise from bottom left): Wayne Johnston, David Neitz, Matthew Scarlett, Terry Wallace, Mel Whinnen. Pictures: AFL Photos

Kevin Sheedy
Sheedy's chapters in football folklore are many.
There's the great Essendon coach waving his jacket after a win against West Coast in 1993. Or referring to umpires as 'Martians' to avoid being sanctioned for criticising the whistleblowers.
Behind his quirks and eccentricities, though, lies a brilliant mind and extraordinary talent, as demonstrated by his four premierships as coach and a further three as a player.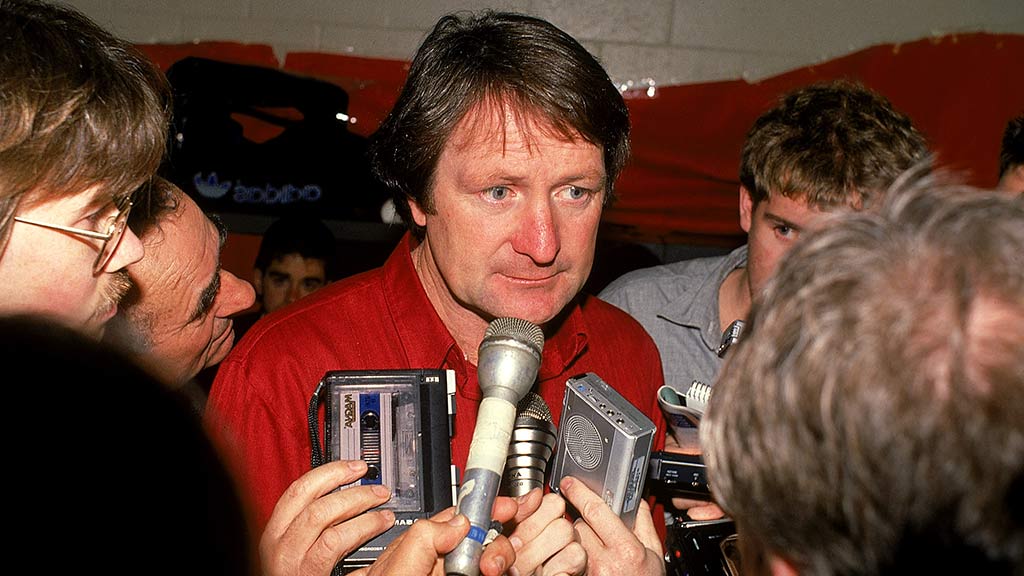 Dubbed a "back pocket plumber" by then-Tigers coach Tom Hafey, Sheedy was tremendously tough and hard working in helping his side win Grand Finals in 1969, 1973 and 1974.
He played 251 games for Richmond, then coached 669 matches at Essendon and Greater Western Sydney.
Sheedy coached the Bombers to flags in 1984, 1985, 1993 and 2000 before finishing up there in 2007 after a 27-year stint.
"Only two people in the world did 27 years: Nelson Mandela and myself," a deadpan Sheedy said on Tuesday night.
He was appointed to the head role at the Giants in 2012, partly because of his brilliant promotional skills. He has advanced the game like few others before him.
"You dream as a kid. To think it could come true is another difficult story," Sheedy said.
Sheedy toasts the game as Hall of Fame attendees wave Essendon scarves in tribute. Pictures: AFL Photos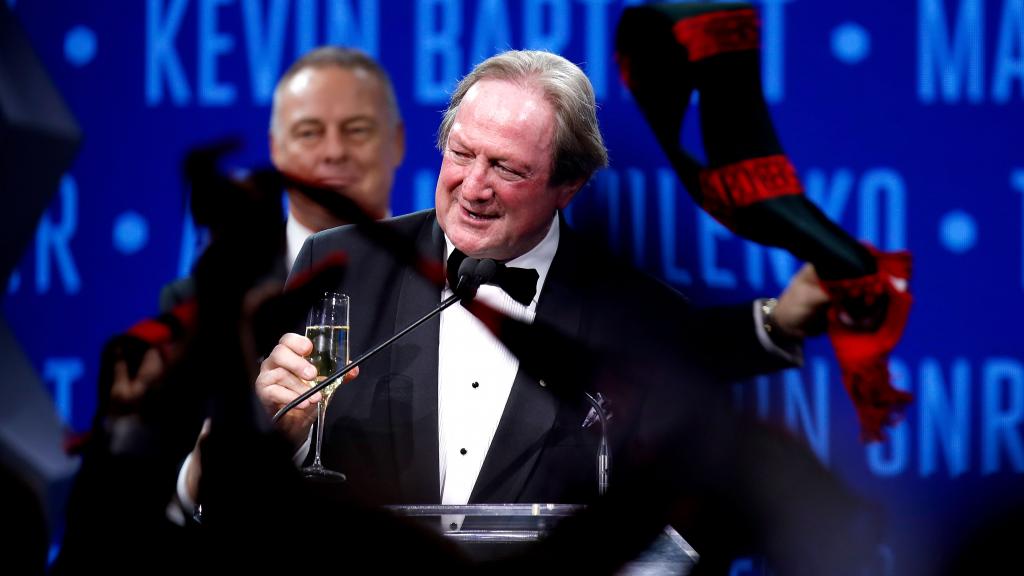 Hafey played a big role in Sheedy's career.
"Tom taught me how to have an attitude. That's the best skill he gave me," Sheedy said.
"He gave me a chance in the back pocket and that's all I needed, just to get into the team and get into a position, and try and work out where you could get to on your talent, or lack of it.
"He was a great coach."
Coaching was more fulfilling than playing, for one simple reason.
"Playing, I knew what I was doing. Coaching, I had no idea what I was doing," Sheedy quipped.
KEVIN SHEEDY PROFILE Why Sheeds is football's deepest thinker
Matthew Scarlett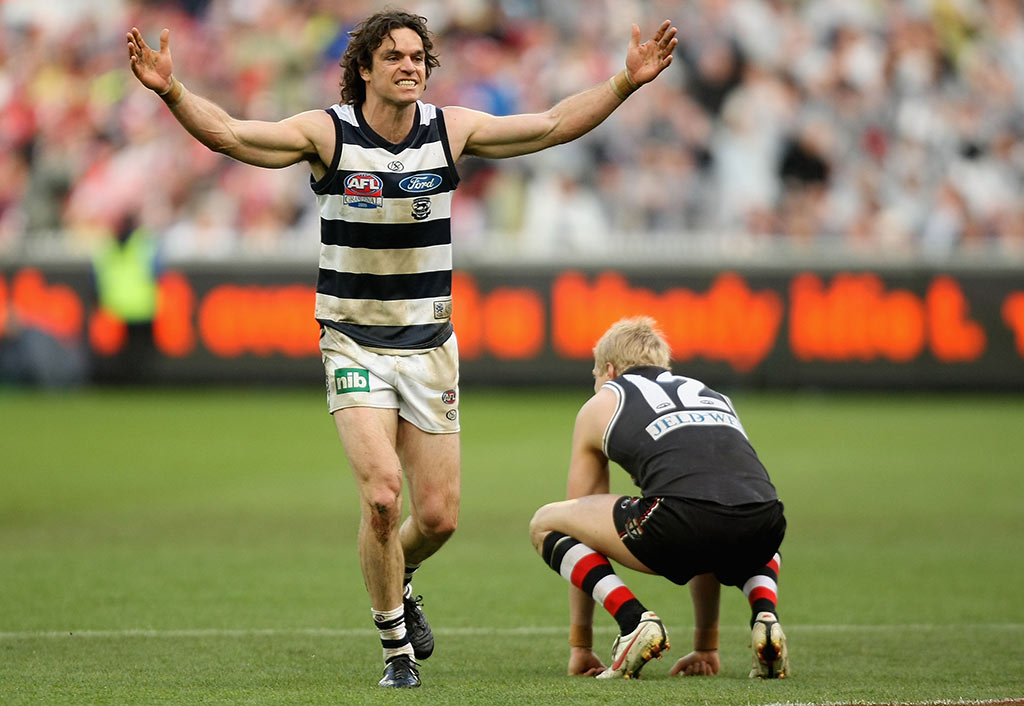 Scarlett reinvented the full-back position, racking up possessions and driving the champion Cats out of defence.
The anchor of Geelong's triple premiership team of 2007-11, he arrived at Kardinia Park as a father-son selection after his dad John also represented the club.
So damaging was his influence for opponents, rival coaches often sent a man to Scarlett in an attempt to negate the playmaker.
It rarely worked, and Scarlett was named in the All Australian team six times in his 284-game career.
Perhaps his most famous moment is that toe poke in the dying minutes of the 2009 Grand Final, when the Cats edged out St Kilda in a thriller.
"I'm still not sure why I did it. The ball was sitting up. I could've just grabbed it and handballed it off. Luckily enough, it went to a great player (Gary Ablett)," Scarlett said.
His will to beat his direct opponent made him one of the toughest defenders to ever play on.
"I was a little bit competitive at times. I loved playing on all the great forwards," Scarlett said.
MATTHEW SCARLETT PROFILE The hell of playing on Scarlo
David Neitz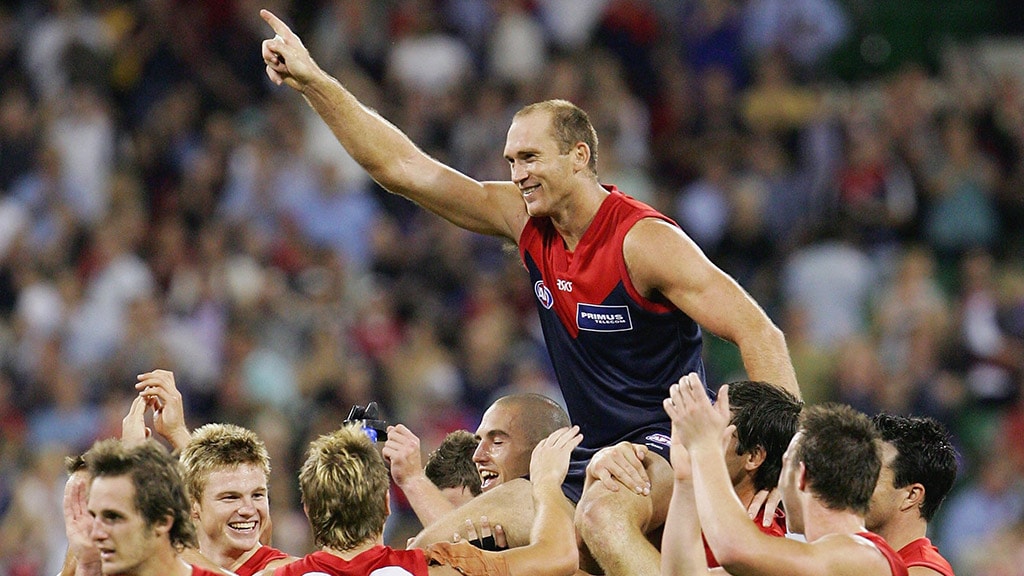 Physical presence, courage and exceptional leadership made Neitz a greatly admired player at Melbourne.
A Coleman medallist in 2002, Neitz could play at both ends of the ground and started his career as an athletic defender.
Among the incidents for which he is remembered is a huge, and legitimate, bump on Hawthorn's Luke McCabe that left the Hawk with a broken collarbone, indicative of the ferocity with which Neitz played.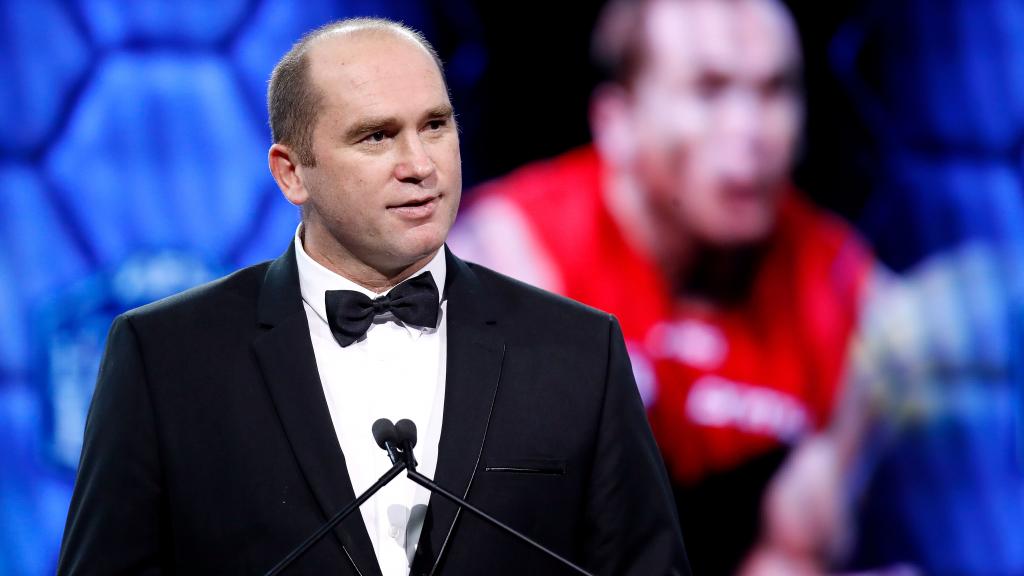 At Tuesday night's ceremony he revealed his physicality was already on display as a 15-year-old in the Under-19s competition.
"I came off the wing for my first game and the ball was there and the Sydney captain at the time was on the other side of the ball," Neitz said.
"I think it was pretty legal … but he did end up on a stretcher."
Neitz played more games for the Demons than anyone else in the club's history (306) and holds the record for most matches as Dees captain (175).
DAVID NEITZ PROFILE Heart of the Demons
Wayne Johnston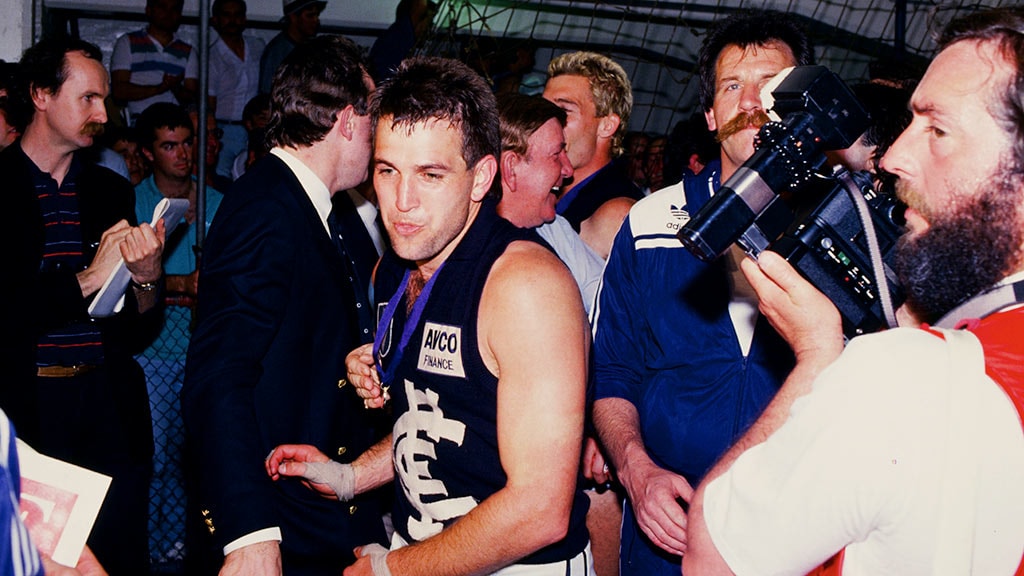 Johnston made his name for his exploits in September, delivering inspirational acts on footy's biggest stage to win four flags at the Blues.
Bestowing on himself the nickname 'Dominator' during a night out with teammates, the dynamic left-footer lined up in 209 games.
He did his best work up forward and in the midfield, his desperation, fanaticism and hard-running helping the Blues dominate in a golden era.
Johnston's refusal to fail helped him perform when it counted.
"When people say 'Why did you set yourself up for it?' I go, 'I was well coached, I had good coaches, I trusted the game plan, I trusted my players, and then also I had non-negotiables'," Johnston said.
"There were things I would do that people couldn't stop me from doing, and good luck trying."
WAYNE JOHNSTON PROFILE Carlton's king of September
Mel Whinnen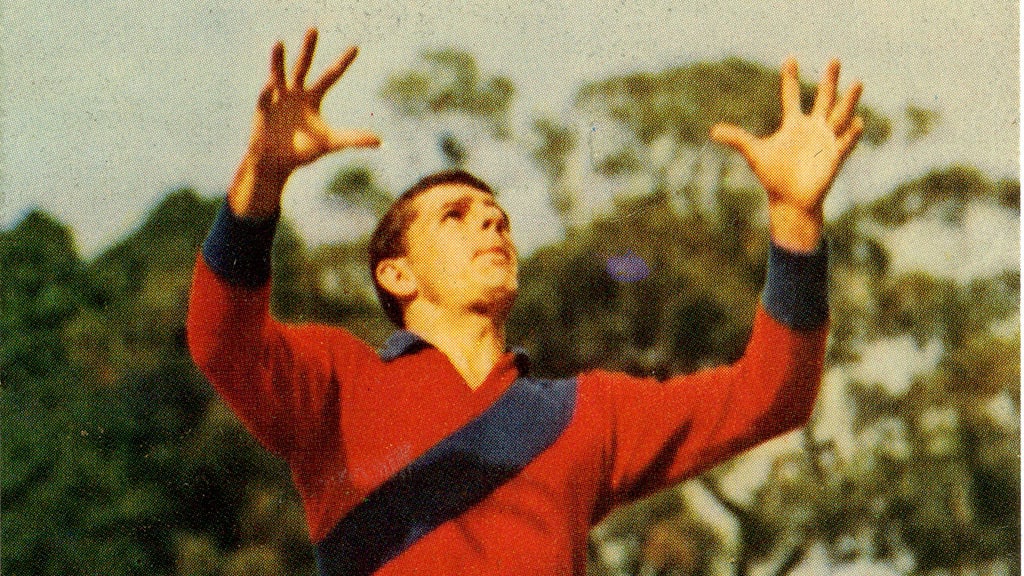 No-one in the WAFL has ever won more than Whinnen's nine best and fairests.
A centreman, he played a mammoth 371 matches for West Perth.
Few could catch the speedster and even when they found themselves within distance, Whinnen was elite at slipping past would-be tacklers.
He helped West Perth win four flags and was awarded the Simpson Medal for being best on ground in the 1975 decider.
Whinnen gave some tips to those hoping to enjoy a long career.
"I don't know whether there's any secrets. I guess I did enjoy training. I tried to train to the best of my ability. Tried to do those things that the coaches would try to get us to do, particularly during the 'Polly' Farmer era (as coach). He trained us very hard and very long," Whinnen said.
"I just enjoyed my footy. I'd enjoyed it from a very young age and I was lucky with injuries too."
MEL WHINNEN PROFILE The fastest man in the west
Terry Wallace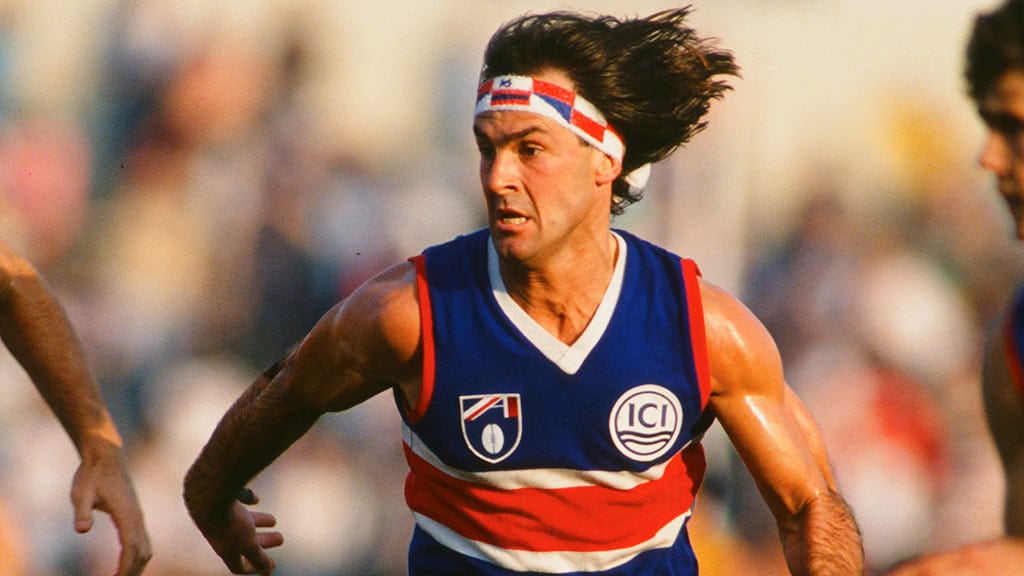 Wallace was one of footy's great bargains, moving to Hawthorn from VFA side Camberwell for "a set of steak knives" in a deal for Hawk Gerry McCarthy.
Earning the nickname 'Plough' for his dogged determination as an inside midfielder, he went on to play 254 matches.
He won three flags and two best and fairest awards with the Hawks, before heading to Richmond then Footscray, where he capped his career with a further pair of best and fairests.
Wallace (r) with host Gerard Whately at Tuesday night's gala ceremony. Pictures: AFL Photos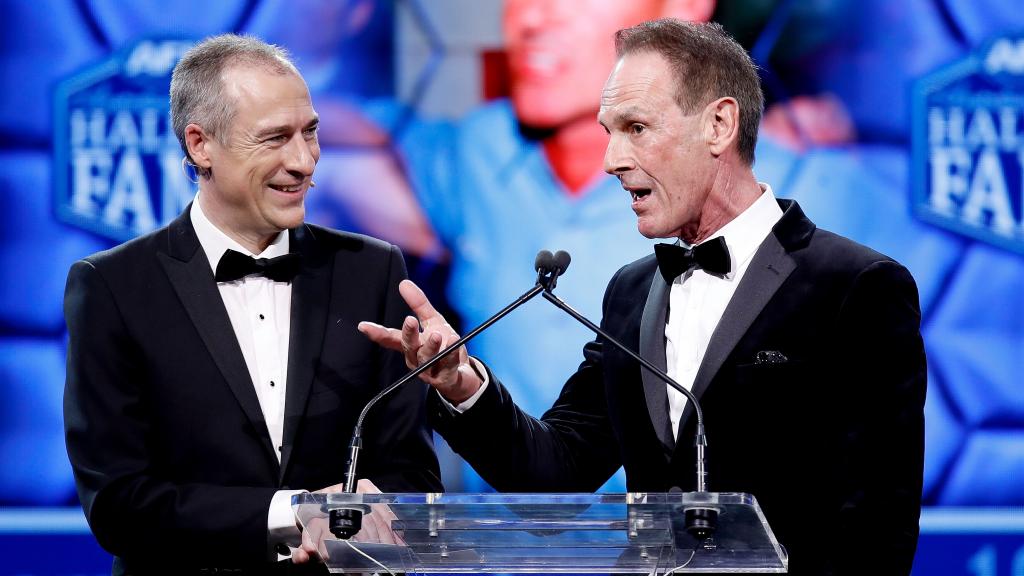 Wallace's professionalism was before his time in an era when players would work full-time.
"I actually dedicated myself, for about a five-year period, to just playing," he said on Tuesday night.
"The early part of the week was 100 per cent about recovery, getting yourself right, deep water running and doing all those sort of things. Later in the week, working on extra running sessions, extra weights sessions to be able to get myself up."
He would coach the Western Bulldogs for seven years, followed by a stint in charge of Richmond.
TERRY WALLACE PROFILE The Plough who never let up
Bernie Naylor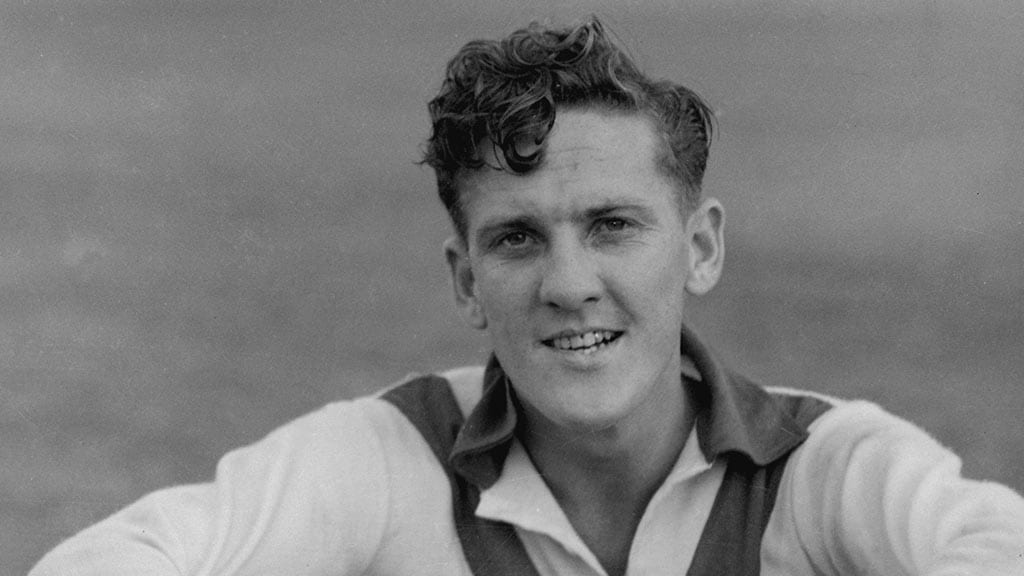 World War II interrupted Naylor's career at South Fremantle but he returned to be a dominant force, finishing with 1034 goals from just 195 matches.
Naylor's speed and marking helped him star, while he could convert his shots from any angle.
He once kicked 23 goals in a game in 1953, including 12 in a quarter.
"We've been waiting for this for a long time and it's just a privilege and an honour," his daughter Anne Lemmone said of Naylor, who died in 1993.
"He was just a sportsperson that didn't speak a lot about his accomplishments."
BERNIE NAYLOR PROFILE WA's answer to John Coleman
WHO'S IN THE HALL OF FAME? Find every legend and inductee
Have you taken the 2018 fan survey?
Use the form below and you can have your say on footy's big and small issues.
Survey not working in the app? Click here to open in a web view