IF YOU had asked even the most diehard of West Coast and Collingwood supporters at the start of the year who they thought would be paraded through the streets of Melbourne just 24 hours prior to the 2018 Grand Final, even they might have skipped their own teams.
GRAND FINAL MEGA-PREVIEW Eagles v Pies
West Coast had just lost two Brownlow Medal winners to retirement in Matt Priddis and Sam Mitchell, with many pundits even tipping the Eagles for a bottom-four finish.
Meanwhile, an era of Magpie frustration built to the point where a thorough end-of-year review into the club's football department was required at the end of last season. Coach Nathan Buckley's contract was renewed, but his future was not necessarily safe.
Both lost their first games for the year, while both took a while to convince outsiders they were the real deal. But throughout it all, both have filled their supporter base with the confidence that no matter the result on Saturday evening, they've given it their all.
TWO STYLES COLLIDE Will old school or new age win the GF?
It's not necessarily something West Coast fans might have thought after their 2015 Grand Final loss to Hawthorn. It's not necessarily something Collingwood fans might have thought possible at all after a series of bottom-10 finishes under Buckley in recent years.
But the defiance and the resolve of the crowd 100,000-odd Eagles and Magpies supporters lining the streets of Melbourne on Friday was reminiscent of how each team has changed the attitude of their fan base – and the wider football public – throughout the year.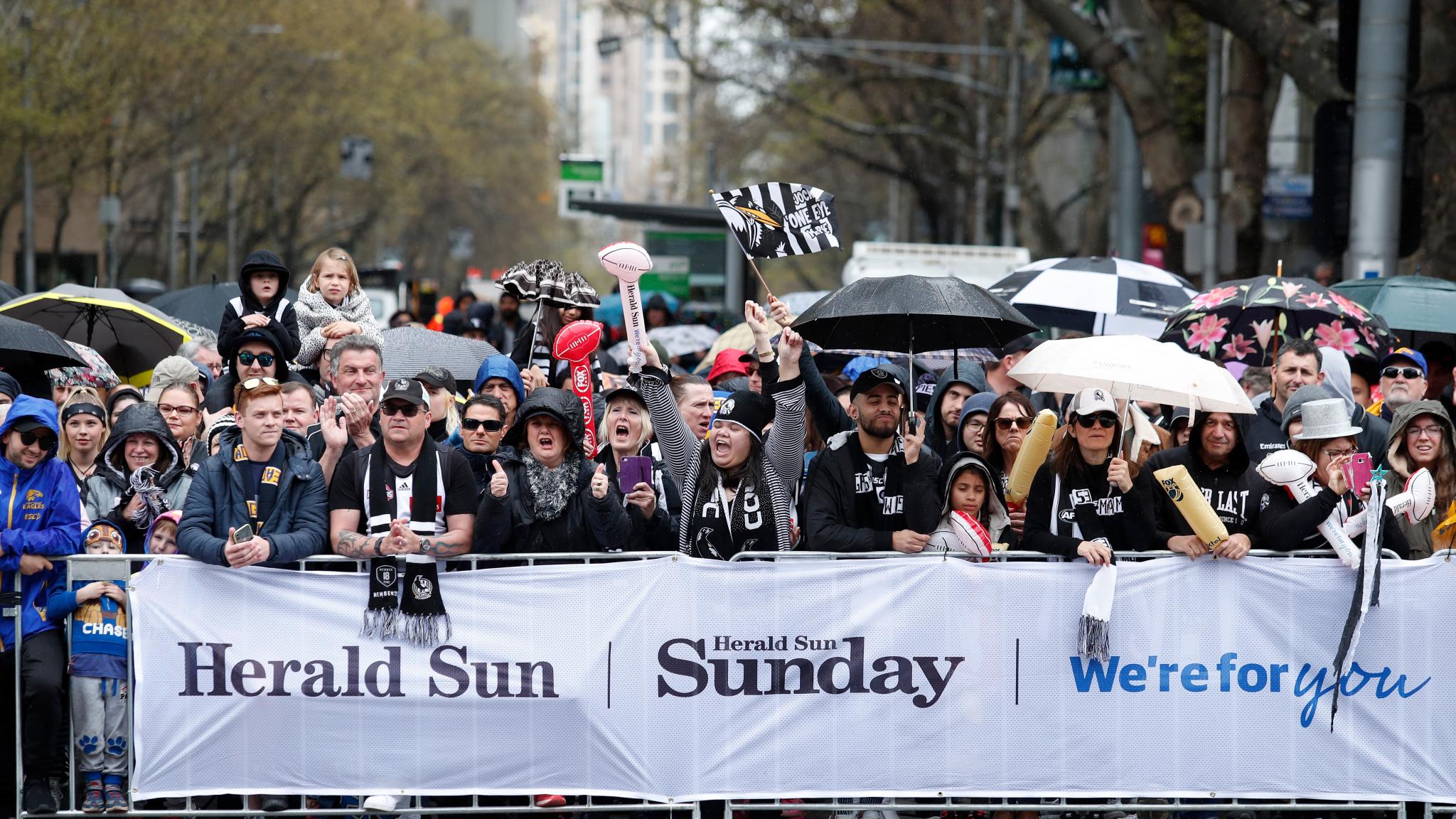 The fact they were there despite a grey Melbourne day, where rain threatened throughout, was emblematic of the commitment and persistence their teams have shown all season.
"Some may call it patience, the other word for it is perspective," Buckley said.
NO MOORE TIME Buckley couldn't consider 'shattered' swingman
"You're never at the top of your game all the time, you're never at the top of the tree all of the time, you don't have things on your terms all the time – whether it's in a four-quarter game of footy, a season or an era.
"It's important to know who you are and what you're not. I think the review last year was our capacity to understand where our strengths lie and some of the things we needed to adjust and to shift.
"Let's be really clear, every club reviews every year. Some seem a bit more significant than others and cut a little bit deeper than others – and ours was quite significant – but we had some really positive things come out of that and we've been able to build from that.
"Patience is important, perspective is important, but at the same time you've got to make decisions on available information and invariably the best managers and the best leaders do exactly that."
While Buckley called it patience and persistence, his counterpart in West Coast coach Adam Simpson preferred to describe it as resilience – saying it was a testament to each team's "one-club" mentality.
"It's very similar, isn't it?" Simpson said.
WILL GUN COME UP? Simpson 'hopeful' on McGovern
"Both clubs have been quite resilient, not just this year, but in the last three or four years. You can see similar pathways with something a bit bigger than football.
"There's no doubt a tremendous spirit at our club and I get the sense the teams that go all the way carry that through, not just with the players, but the whole department and externally as well.
"I feel like both of us are in that stage. That doesn't just happen in a moment, it takes time to foster that. I feel like we're in a position now where there's a lot of maturity in our group, there's pretty good connection between us and the players.
"I've got no doubt Collingwood is in the same situation. So, win, lose or draw, we'll hold our heads high. We can't wait to play."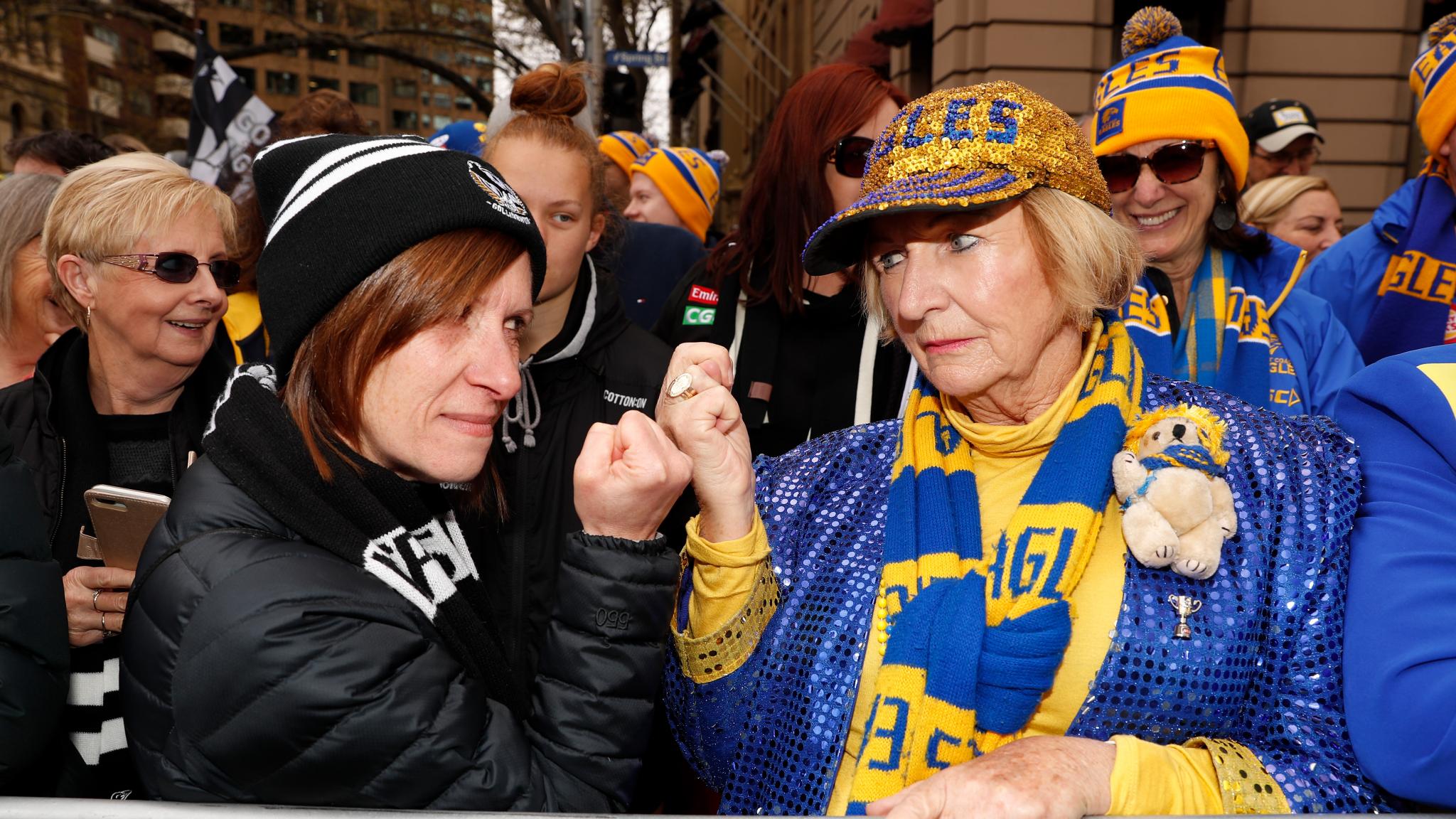 The Magpie Army might have slightly outnumbered their interstate opponents as the vehicles carrying both sets of players snaked their way towards the MCG. Indeed, the slow and drawn-out 'Collingwood' chant was the most audible at Yarra Park.
Those clad in black and white were perhaps also more used to the rain, now pouring down consistently and leaving many to flock underneath nearby trees for shelter, rather than the open expanses near the stage where the players were presented to the fans.
It didn't seem to bother West Coast supporters, though. If they'd paid the money and made their way all across the country for this, they were going to enjoy it.
The longer you stayed around the MCG, the more West Coast fans there were. Some, like Hasan, were going to enjoy themselves. Having paid $1500 for return flights – via Adelaide to get home – he was going to make sure he made the most of it.
"We got here yesterday, on the same flight as the boys," he said.
"I paid about one and a half grand for this – and we've got to sleep in Adelaide tomorrow night – but if we win, it's all worth it."
Nothing was raining on their parade.