RILEY Bonner thought his day was done.
A punishing two-and-a-half-hour training session for his AFL club Port Adelaide had pushed him to the edge of his physical limits.
But a tap on the shoulder from Chad Cornes, the Power's then-SANFL coach and a 239-game club great, stopped Bonner in his tracks as his mind and body prepared to wind down.
The young defender's torture had just begun as he was introduced to the infamous 'Cornes Drill', where he had to try and beat Cornes to a series of ground balls.
Cornes proceeded to taunt and sledge Bonner as he denied him possession.
This became a post-session ritual for the West Adelaide and Goodwood Saints product, who also completed the drill with another former Port Adelaide footballer, Jacob Surjan.
The Power's 2004 premiership coach Mark Williams used to subject Cornes to the same torment, hence it being named in his honour.
"It was one of the most gruelling things I've had to do," Bonner told AFL.com.au.
"Chad wouldn't let me get the ball. It was at the end of pre-season training and he was trying to mentally break me.
"It was tough at the time, especially being not as physically developed as I am now, but I got through it and it's helped me.
"I'd be last on the track, but I loved every bit of it. As much as I hated doing it, I knew they were putting the work into me for the long run, and I can't thank them enough for their time."
Bonner looks back fondly on those days, especially after his 31-disposal performance against Fremantle on Saturday earned him the year's first NAB AFL Rising Star nomination.
There was method to Port Adelaide's madness with Bonner, whose left foot arrived at Alberton as a weapon – honed, in part, from his soccer days – but other elements of his game needed work.
The now-21-year-old was underdeveloped physically and his defensive pressure wasn't where it needed to be.
Power coaches were upfront with Bonner that he had work to do, but even he must have hoped for more than four games in his first two seasons in the system.
"It was tough (being patient), but I realised I'd just been drafted to a pretty strong side," he said.
"I knew they had a strong defensive back seven and that it would be tough to get a game, and I knew I had a few deficiencies I had to work on."
Bonner points to a match against SANFL side Sturt mid-last year as the turning point in his AFL career.
Cornes set him the task that day of marking Double Blues star Mark Evans – and the defensive commitment he took into that match stuck with him.
Riley Bonner (right) spoils Stuart's Mark Evans in the SANFL. Picture: AFL Media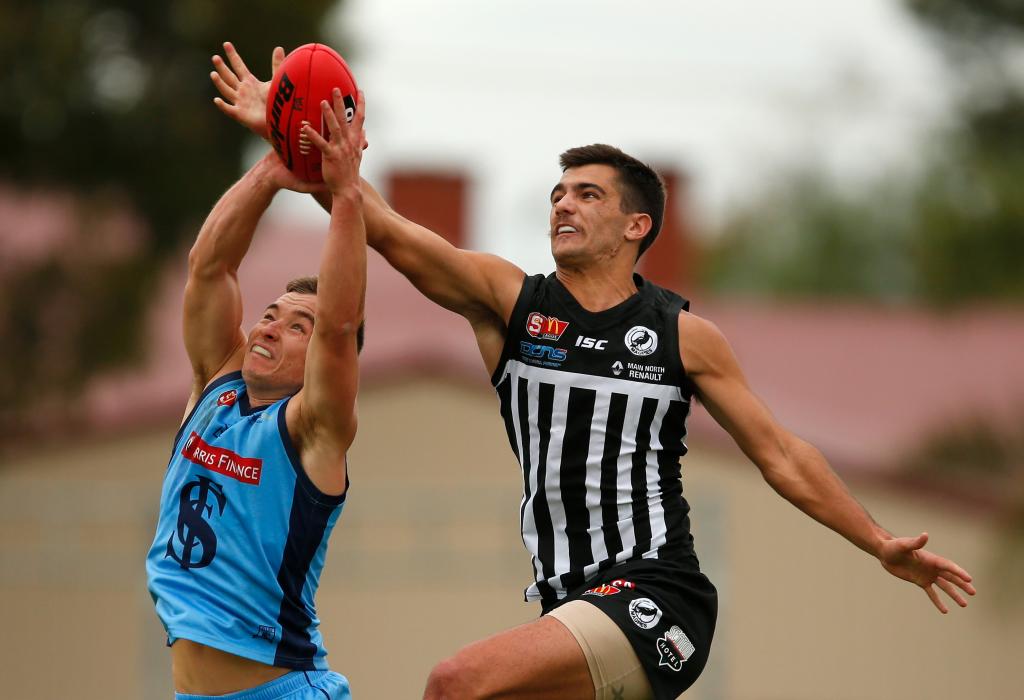 Bonner played the last three matches in 2017, including Port's extra-time elimination final defeat, and now wants to entrench himself in a team considered a flag contender.
The recruitment of Jack Watts, Tom Rockliff and Steven Motlop has buoyed internal belief.
"Those guys have really helped our system and our game style has flourished with them coming in," Bonner said.
"Obviously, the premiership is what every team is striving for, but, for us, it's playing consistent footy most weeks and showing our game style can beat top-eight sides."