WHEN Aaron vandenBerg recalls the long and frustrating walks around the Tan with his Melbourne teammate Pat McKenna, both flash a wry smile at each other.
Almost every second day for a year-and-a-half, vandenBerg and McKenna completed the 4km long walk while the rest of the Demons squad enjoyed their main training sessions.
That's how long each spent away from teammates in the confines of rehab, making the gruelling recovery from foot (vandenBerg) and hamstring (McKenna) injuries.
But while players speak of the lonely road to recuperation from long-term injury layoffs, the pair knew they were lucky to have each other.
Looking back now, both of them understandably find it hard to believe that just 18 months ago, they had barely even had a conversation.
McKenna, having just arrived at the Demons via a trade from the Giants, was hoping to make an immediate impression on those at his new club. VandenBerg, into his third season with Melbourne, was preparing for what he hoped would be an injury-free 2017 campaign.
Five surgeries, endless hours of rehab and those countless walks around the Tan later, they would become best mates, sharing the toughest journey of their football careers together.
"You tend to get a pretty strong bond when you're walking the Tan together, every second day, when the boys are out on the training track," vandenBerg tells AFL.com.au.
"You spend a lot of time with one another. You both go through ups and downs, so it's always nice to have someone there by your side to get you through it."

Having earned his opportunity off the rookie list in 2015, vandenBerg began feeling pain in his foot late the following season. He persisted, hoping it would disappear. It didn't.
A stress fracture in his heel would turn into Haglund's Disease, impacting on his Achilles and his ankle. A six-week injury turned into 18 months on the sidelines.
"I couldn't really run properly and I wasn't sure what was going on," vandenBerg says.
"Initially, you think a fracture would only be six to eight weeks out. But I spent a bit of time in the moon boot and then the crutches and it didn't heal. We weren't entirely sure why."
McKenna, on the other hand, was close to best on ground for Greater Western Sydney in its 2016 NEAFL Grand Final victory. Initially taken with pick No.23 at the Giants, he was traded to the Dees at the end of that season.
However, one of his first actions in his new colours was to tear his hamstring off the bone in a practice game with Casey.
"When you do what I did, you don't think it's going to be a 60-week injury," McKenna says.
"It's generally a 12- or 14-week injury. Things just went wrong. We didn't operate straightaway when, in hindsight, we should have. Then the first operation didn't heal like it should have, so we had to get a second operation. That set us right back."
The pair rehabbed together for the next 18 months, celebrating each other's little wins and enduring the other's setbacks. Then, finally, their progress began to feel tangible.
In a strange coincidence, they returned to the main training group on the same day – June 10 – with the club celebrating the milestone with a banner. Then, last Saturday, in a wet and windy clash at Casey Fields, they finally made their long-awaited comebacks.
Barring practice matches that had been cut short by respective setbacks along the way, it was McKenna's first official game in 665 days. It was vandenBerg's first in 680 days.
They deservedly celebrated with a hard-fought victory.
"If I was doing this just by myself, if I was out there doing two-hour rehab sessions by myself, it would just be so hard," McKenna says.
"We started to become pretty good mates last year. And this whole year, we've done everything together. To come back and play in the same game together, it was a bit freakish how that worked out."
Pat McKenna (left) and Aaron vandenBerg are now best mates. Picture: AFL Photos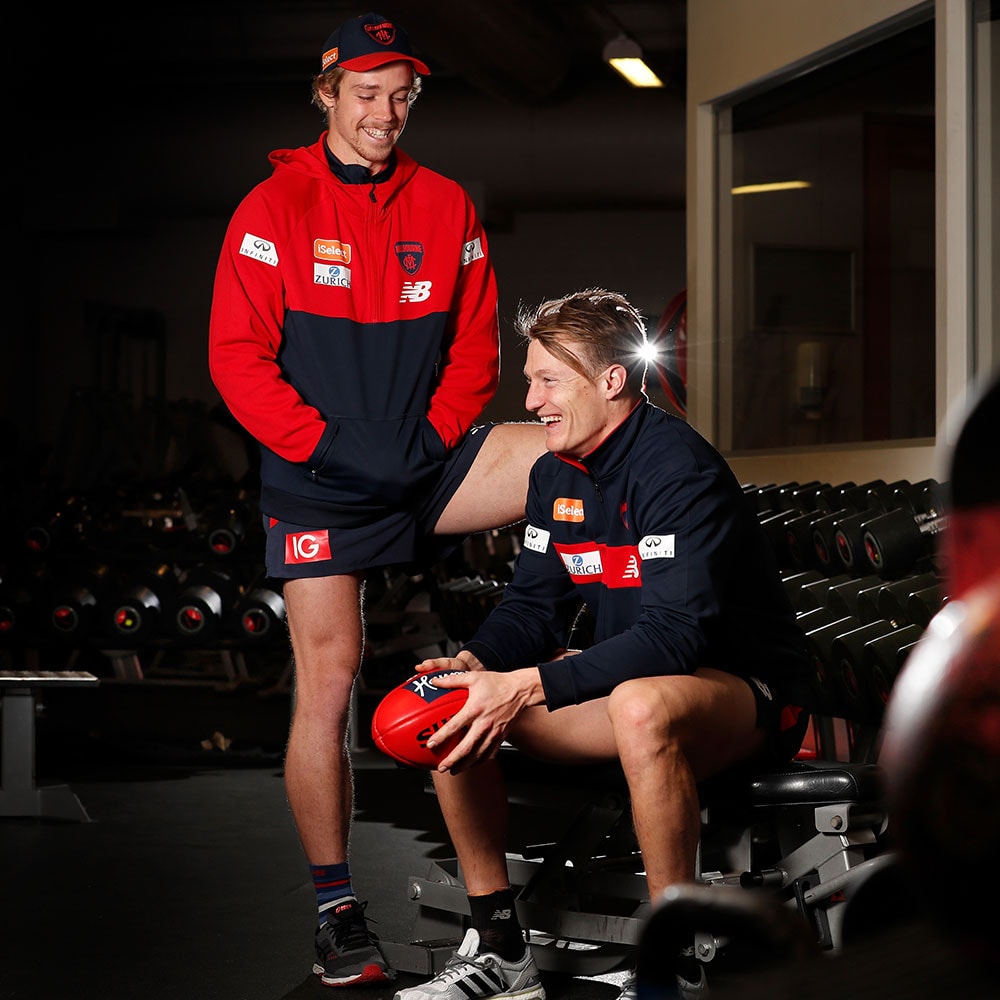 Having woken up filled with excitement last Saturday, each conceded they did get a little nervous when they saw the conditions they would be playing in. It was wet and wild, in a fixture that produced just 51 points for the match (Casey defeated North Melbourne 44-7).
Fortunately, both got through unscathed. But having started running in April, training in June and then matches in July, neither are yet ready to say they are fully over the mental demons that occasionally creep up on them.
I've been in rehab 11 times with six proper setbacks. I've had a date where I was going to play and I've never made that date. Three of those times, it's led to operations. - Aaron vandenBerg
"When that's happening consistently, you get out on the track and you're never quite sure what's going on with your foot and what's going to get dished up."
McKenna agrees: "When you cut something open a few times, that feeling is always going to hang around – at least for this season anyway."
VandenBerg, who has already played 29 games of senior footy, demonstrated the exact qualities Melbourne fans know he's capable of in his VFL return. He had 24 disposals and 16 tackles in just three quarters on Saturday. And he's desperate to produce more of the same.
"I feel like I've got some unfinished business, so I want to get back to being a good player again – as opposed to being an injury-hampered player," he says.
Yet to make his AFL debut despite being in his fourth year in the system, McKenna's focus is more around showing his teammates exactly what he's capable of.
"I came to the club, did the whole pre-season and thought I was in a good spot … then obviously this happened," the classy half-back says.
"It's a bit weird to come to a club, having not played a serious game yet. I've hung around with all of these guys for 18 months and they still don't really know what I can do."
VandenBerg, however, is one of the rare few who does know all about McKenna's resilience.
The pair estimate that they spent around four or five hours a day in each other's company over the past 18 months. Or, as vandenBerg describes it: "Every minute of every day."
So, after all of that, will they stay mates after footy? McKenna jokingly shakes his head.
"Pat's shaking his head, but he'll say yes deep down," vandenBerg laughs.
"We've been back playing and we're still spending a fair bit of time with each other. It's probably separation anxiety."
Soon overcome by a big smile, McKenna eventually agrees.
"It's what helps you get through," he says.
"If it was an individual sport, I probably would've thrown in the towel by now. But because I've got such great people around me, it always helps."