CARLTON has the Hosking twins, Sarah and Jess. Will North Melbourne have the Haines twins?
Chloe and Libby Haines are two of Tasmania's rising stars. With the Kangaroos having exclusive access to the southern state's talent, the duo could find its way onto the club's inaugural list for the 2019 NAB AFL Women's season.
The 18-year-olds started playing only last year, but have rapidly risen through the ranks, playing for Tasmania and the Allies at the NAB AFL Women's Under-18 Championships in just their first year of football.
In 2018, they once again represented their state and were selected in the Eastern Allies side for the second portion of the under-18 carnival.
The Haineses, who hail from Wynyard (about an hour's drive from Devonport on the state's north-west coast), played basketball growing up.
DRAFT PROFILES Check 'em out
Footy was always in the background for the identical pair (although Libby, at 174cm, is one centimetre taller than her sister).
They'd kick the ball out in the cul-de-sac where they live, but actually playing? That was a step they hadn't considered, until a representative from the Burnie Dockers came to their year 10 PE class at Hellyer College in Burnie, and the seed was planted.
The two, who are in year 12 studying for a certificate in sports and recreation, are members of the NAB AFL Women's Academy. In August, they played for North Melbourne's VFLW affiliate Melbourne University (in different matches). Both were named in the best.
Here are some snippets from the two players, plus some comments from Greater Western Sydney star Alicia Eva, who coached the pair in the Eastern Allies at the under-18 carnival.
CHLOE HAINES
"In my local competition, I play in defence. I really enjoy it, probably because the ball is down there a fair bit and doesn't get to our forward line much. But for Tasmania and Eastern Allies, I played in the midfield and even had a bit of time up forward.
"Covering the ground easily is a strength of mine. I can read the ball well in the air and I really like tackling.
"Coming from basketball, a non-contact sport, I've really enjoyed being able to bump my player. It's been completely different to what I expected, but I've enjoyed it.
"It's our second season now at Burnie. We play in the seniors (of the Tasmanian State League Women's competition). We've got such a young team, Libby and I are some of the oldest, so we're in the leadership group.
"We play against much bigger girls from other teams, because there's probably only seven others who have played before.
"Erin Phillips has been my basketball hero and she's now footy hero. I like watching the Hosking twins play together as well. Hopefully Libby and I get drafted together – we've only played two games without each other."
ALICIA EVA ON CHLOE HAINES
"We played her in the midfield and rotated her up forward as well. Both are really good in the air.
"Chloe, in terms of her midfield role, sets up really nicely as a sweeper or outside receiver and spreads really well. She finds herself in some pretty dangerous positions.
"She's very promising and can go forward and kick goals, too."
LIBBY HAINES
"We've played basketball since we were about 11 and only recently gave it up to just focus on football.
"After my first game of footy, I remember thinking, 'Why didn't I play this earlier?' The contact side of the game and having so many teammates compared to basketball makes it a lot of fun.
"I'd never really played in the backline until this year. I'd spent most of my time on the wing or up forward, but I really love it. My strong points would be tackling and spoiling. That's how I play my best footy, whether at full-back or centre half-back.
"I'll nominate for Tasmania (effectively North Melbourne) in the draft. We'd prefer to go to the Kangaroos and get to play a few games in Tassie. That'd be good.
"There are a few people from Tassie already signed up at the Roos. Emma Humphries, who played for Melbourne last year, she's the Burnie Dockers assistant coach, so I can talk to her about my footy. Maddy Smith's another one, she only lives a few hours from us, so we've played her a bit. She doesn't hold back, she's a bulldozer on the field.
"I love watching Erin Phillips and – as a defender – Brianna Davey. They're my favourites.
"I got to train with Carlton at the start of last pre-season through my spot in the AFLW Academy squad, and Bri made me really welcome. She's a real leader out there and tries to help everyone else on the field as well. I had to do a 2-kilometre time trial, but it was a good experience."
Libby Haines will nominate for North in the draft.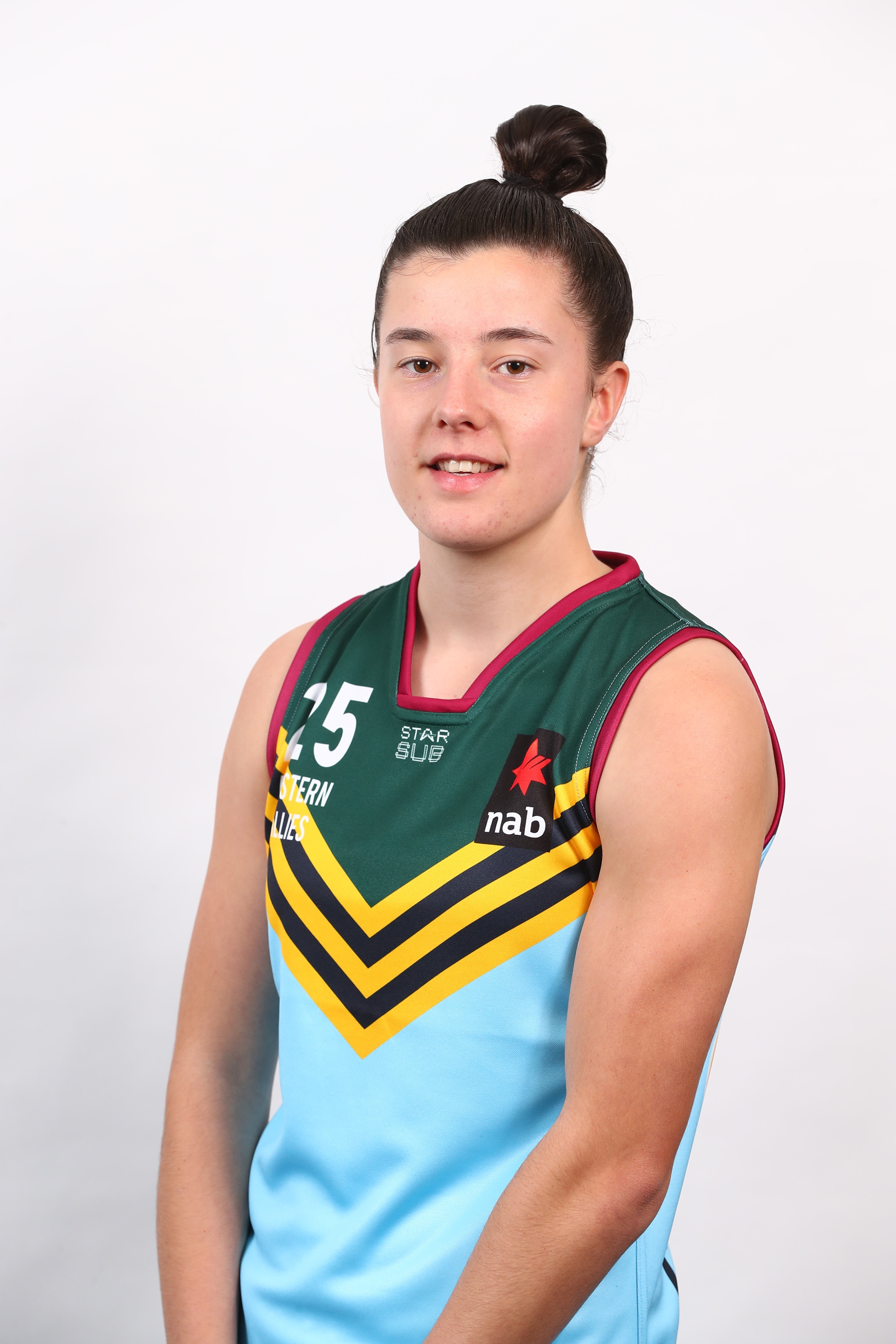 ALICIA EVA ON LIBBY HAINES
"Libby reminds me of (North Melbourne defender) Dani Hardiman, in that she'll come off her opponent to impact a contest, in a third-man-up role. She'll float in, take a rebound mark then get the ball going back the other way. She reads the ball really well in flight.
"During the championships, I really encouraged her to back in her foot skills, take the game on, change some angles and set us up going forward.
"The Haines twins have a bright future ahead of them."