SIMON Goodwin doesn't have an office, and doesn't want one.
It makes him a rare species among the AFL's 18 senior coaches, but the Demons' leader is never concerned about being different.
Nor does he concern himself with any external criticism.
Melbourne footballers can waltz into the open-plan set-up at their AAMI Park headquarters and approach any coach without the hindrance of a closed door.
There are meeting rooms for private conversations, or often players and coaches duck next door to Edwin's Café for heart-to-hearts, as any regular on Olympic Blvd would notice.
The theory behind Goodwin's seating system is that it removes 'elitism' and goes some way to making everyone feel equal.
It was that type of thinking that won over a sceptical Demons board on the hunt for Paul Roos' successor and originally convinced Stuart Dew was their man.
Goodwin, 41, told them his coaching philosophy was based on culture, relationships and the person behind the footballer, among other things, like education and a game style that starts with building his midfield "inside out".
'I FEEL READY' Goodwin's path to top job
They weren't just fluffy words designed to impress.
When Alex Neal-Bullen walked off the plane at Melbourne Airport four years ago after being drafted, the new Demon's fellow South Australian Goodwin was waiting for him.
"From that moment, I had a lot of trust in him," Neal-Bullen told AFL.com.au this week.
"It's how I like to be coached; playing under someone you can trust and someone I want to go out and play for.
"I asked all my mates who got drafted and they didn't have an assistant coach or anyone like that at the airport, so it just paints a picture for how he operates. He cares for everyone."
MIX AND MATCH Two great Demons in harmony
But being a nice guy is far from all Goodwin is, and certainly wouldn't be enough to be a successful AFL coach.
The former champion Crow is still the kid – even as a father of three – who fell in love with the game and slept with his Sherrin, and still inside him is the obsessive footballer chasing perfection and solutions.
"What drove me the most was this desire to prove people wrong. When I was a really young lad; I was small and I was told I was probably never going to make it," Goodwin said in his Australian Football Hall of Fame speech last year.
"I struggled at school initially and I had to work really hard. Really, throughout my whole career, (my aim) was to prove people wrong – and that's when I was at my best.
"When someone said you can't do something; that was when I wanted to do something."
Many adjectives came up among those AFL.com.au spoke to about Goodwin: calm, winner, balanced, creative, resilient, intuitive, driven, meticulous, committed, trustworthy, mentor, father figure, authentic, friend.
Jake Melksham is one player that counts Goodwin as a mate and has known him for longer than most at Melbourne, because of their prior affiliation at Essendon.
Melksham and Goodwin enjoy a special relationship. Picture: AFL Photos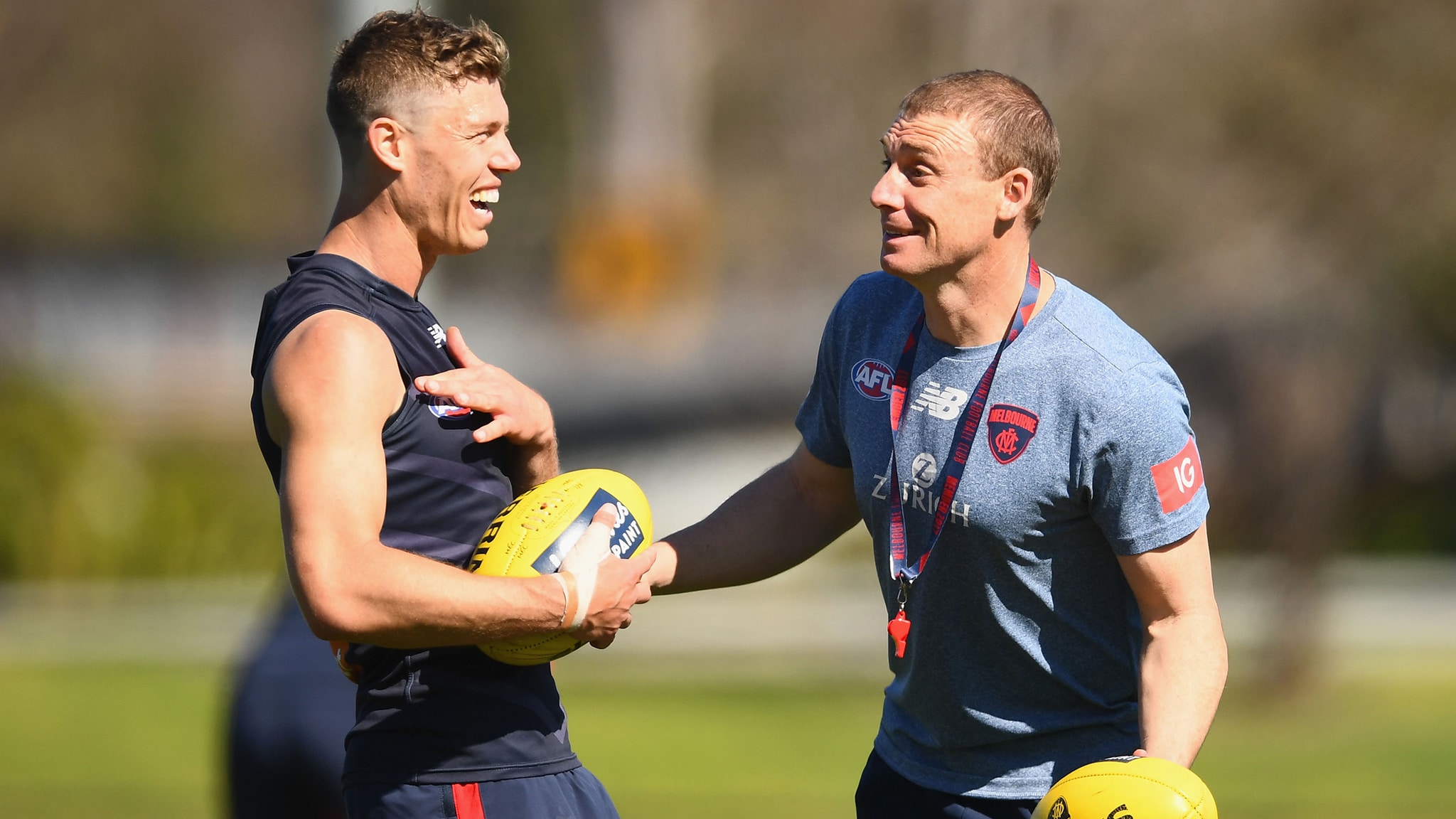 The coach's ability to go beyond the basic working dynamic and earn his troops' faith, trust and respect is part of what makes him special.
"It's rare, and that's a big reason why we're finding success, because player-coach relationships in the past have been quite separate," Melksham said.
"Coaches have been much older than players (in the past), whereas Simon's only seven or eight years out of the game.
"He's really driven in forming those relationships to find out more about us as people and what we're like away from the club and vice versa with himself, and I think that brings the club closer together."
Goodwin was predictably disappointed with the abrupt way his first season in charge of the Demons ended last year.
An upset round 23 loss to Collingwood preceded West Coast's win over Adelaide, the 29-point margin enough to tip Melbourne out of the finals by less than 0.5 per cent.
Goodwin and his right-hand man in the coach's box, Craig Jennings, split up and covered much of the United States on separate sports-related study tours.
He returned to Australia with a strong vision for the Demons, including a want to tell his life story – warts and all – to his players and fellow coaches to encourage what became known as 'growth sessions'.
There was more to Goodwin's blueprint on transforming Melbourne from a long-time minnow into a bonafide premiership contender again.
He already publicly pushed 2008 No.1 draft pick Jack Watts out of the club and had turned his attention to his own coaching staff.
Goodwin overhauled Roos' coaching team a year earlier, with only Jade Rawlings remaining, but a reshuffle followed.
Ben Mathews (stoppage and contest coach), Jennings (strategy and education coordinator) and Matthew Egan (head of player development) kept their 2017 roles.
But Goodwin moved everyone else into jobs he believed better suited their strengths.
One of those was former development coach Max Rooke, the unassuming, ferocious-tackling, dual Geelong premiership player who now preaches the benefits of forward-half pressure.
MELBOURNE COACHING CHANGES
| | | |
| --- | --- | --- |
| COACH | 2017 | 2018 |
| Jade Rawlings | Defensive coordinator | Casey VFL coach |
| Troy Chaplin | Offensive coordinator | Backline coach |
| Max Rooke | Development coach | Forward line coach |
| Brendan McCartney | Player/coach performance manager | Player/coach performance manager, backline coach |
| Justin Plapp | Casey VFL coach | Midfield coach |
He also relocated McCartney from the coach's box to the bench from round five in another difficult decision he deemed necessary.
It's an interesting staff as it is, with three of them previously being an AFL senior coach, as a caretaker at minimum (McCartney, Rawlings and Egan).
Goodwin's sereneness in the most stressful situations – it's something another of his players, Angus Brayshaw, marvels at – contrasts with the intense and fiery personalities around him.
That's no coincidence, either. 'Yes' men work for some coaches, just not Goodwin.
"He's very calm, and especially in situations where you'd think he has a licence not to be," Brayshaw said.
"Coaches throughout my whole career – going back to juniors – when the pressure's right on, they tend to blow up and spray blokes, but with 'Goody' there's always a solution.
"He never just blows up."
Goodwin implicitly trusts the coaches around him, too, something that's been apparent since he was an assistant at the Bombers.
Luke Chambers was Goodwin's midfield analyst for a year at Essendon and he relished working alongside the future senior coach.
"He was the best coach I've seen on the (training) track. He was very vocal and hands on, and he saw stuff at ground level that's very hard to see unless you're elevated," Chambers told AFL.com.au.
"In the box, he never wanted me to show him any clips. I'd never seen that. Most coaches want to watch the clip themselves, but not him.
"He would back you in, add that to what he'd seen with his naked eye, then make a call. He had a good gut feel for the game and trusted his instincts."
Goodwin has arguably had to work hardest at convincing a sceptical supporter base conditioned to failure that he was the coach to lead the Demons out of the wilderness.
Some fans were calling for his head, or at least seriously questioning him, as recently as the disappointing Sydney defeat in round 21.
Melbourne hasn't lost since and is one win from a first Grand Final since 2000 and within reach of ending its 54-year premiership drought.
After travelling from Southern NSW for last week's Elimination Final, 73-year-old Robyn suffered a heart attack at the 'G.

Goody gave her a call to check in + make sure that heart's still beating true. ❤

Glad to hear you're doing well, Robyn! pic.twitter.com/heLBJxRz7Y

— Melbourne FC (@melbournefc) September 13, 2018
Most supporters are almost certainly on board now, like the overwhelming number of others within the club, but David Wheadon, coordinator of the renowned Next Coach program, knows that won't change Goodwin.
The five-time All Australian midfielder and dual premiership star enrolled in Wheadon's program in 2010, the last of his 14 seasons playing in the AFL.
Goodwin later joined Wheadon on a fact-finding mission to Stanford University, where his passion for study tours was sealed.
"I was impressed that Simon came off being captain of Adelaide, but was humble about wanting to learn the craft of coaching," Wheadon said.
"Humility shows you don't think you know it all, and it doesn't mean you're weak or meek. He had a desire to learn and was very enthusiastic.
"I also admired his intellect. Intellect can mean a lot of things, but in Simon's case it's a common sense intelligence."