IT'S 2.30AM.
Ex-Brisbane footballer Michael Close, now North Melbourne's VFL co-captain, is awake and pacing at his parents' farm in Culla, about an hour south of Horsham, in western Victoria.
A throbbing headache, more like a migraine, is making it largely impossible for him to sleep – and lying down only amplifies the pain.
This was a nightly scenario, complete with two Panadol every four to six hours, in the fortnight after a Geelong VFL opponent's hip made accidental, but forceful contact to the Kangaroo's head.
Close, who turns 24 on July 30, had already been concussed twice this year and it was his first match back from the second one, but this time he was knocked out cold.
His story of repeat concussions in a short stretch is becoming all too common.
Think current AFL footballers Angus Brayshaw, Paddy McCartin, Liam Picken and Kade Kolodjashnij, while Jack Fitzpatrick, Sam Shaw, Justin Clarke, Ben Griffiths and Leigh Adams retired at least in part because of extended concussion battles.
"I wasn't knocked out with the other ones – they were just hits to the head – and the first one lingered a bit, then the second one lingered a bit more," Close told AFL.com.au.
"To be honest, I used to think when blokes got a head knock and missed a couple of weeks, 'Surely it can't be that bad and they must be a bit soft'.
"But until it actually happens to you, you don't know what goes through the player's head."
AFL.com.au previously detailed the frightening events that followed after North's VFL doctor assessed, then cleared Close – adopting standard protocol – to make the 3 ½-hour trip from Geelong to the family farm.
His father, Robert, was behind the wheel as his son slept the drive away.
It wasn't until 11pm, some 13 hours after his first-quarter knockout, that Close's vomiting started. In between, the 197cm swingman felt OK, all things considered.
A restless sleep followed, before more vomiting the next morning triggered urgent action, with a CT scan at Horsham hospital revealing bleeding on the brain – or, technically, its protective tissue.
Close didn't feel "normal" again until almost three weeks after his on-field incident, but it won't be until the six-week mark that he can start completing light exercise.
His football season is over. Assuming everything goes to plan, he is aiming to resume contact training again in January.
THE INCREASING CONCERN
Concussion has become the most troubling medical issue at all levels of the sport.
Club doctors are hesitant to speak about it because of legal ramifications, while experts, including La Trobe University associate professor Alan Pearce, admit not enough is known about the condition.
AFL, and even most state league players, have a relative army of medical staff on hand to monitor their every move, but their grassroots equivalents are not so fortunate.

The quality of care in the AFL is not enjoyed at lower levels. Picture: AFL Photos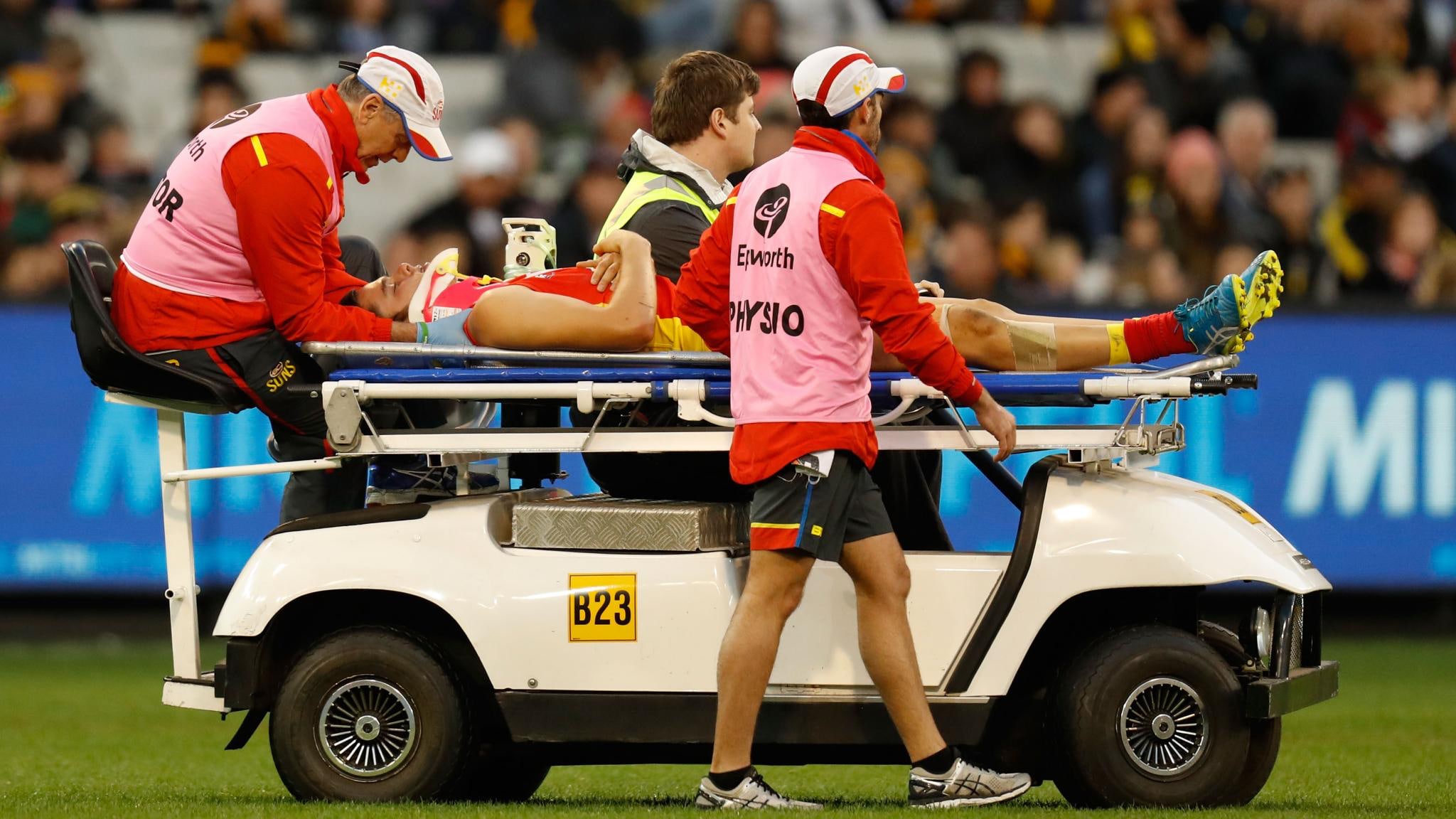 "Concussion can only be diagnosed by a medical practitioner," Pearce said.
"Country and metropolitan clubs don't have access to a doctor (but do have qualified trainers), because it's very expensive, so most of the time they have to rely on symptom recognition.
"If there are symptoms they can recognise, they have to then send them off to a doctor. This is sometimes where things go astray, because players are like, 'I'm fine, I don't have to go'."
Indicators differ but include nausea, confusion, dizziness, headaches, memory loss and anxiousness – and can present immediately or minutes, hours or even days afterwards.
The AFL, in conjunction with concussion experts at the Murdoch Children's Research Institute, has developed an app, HeadCheck, to help parents, officials and players aged 5-18 recognise the signs.
AFL Barwon chief executive Lee Hartman told AFL.com.au concussion has become his football hub's most pressing injury concern in the past two years.
Pearce was part of a booked-out concussion presentation last week for AFL Barwon club and league stakeholders at Epworth Hospital's Geelong base, which includes a concussion clinic.
"Traditional footy injuries have been diagnosed forever and a day. They're the easy ones," Hartman said.
"But concussion is a bit of an unknown, which is why we're so keen to work with the Epworth to educate us. We formed a relationship with them at the start of the year.
"All the clubs have trainers, but they're not experts in the field. The education process is only just starting and it needs to keep going."
STILL WORK TO DO AT THE ELITE LEVEL
AFL clubs, with all their expertise, aren't getting it right every time and don't always have the answers.
Carlton received a suspended $20,000 fine last week after AFL football boss Steve Hocking said the club's medicos failed to note, or misinterpreted, Cam Polson's video signs of concussion against Collingwood.
The AFL's concussion guidelines prohibit players returning to the field after a concussion.
The complexities are evidenced in the examples of North Melbourne's Ben Jacobs and Blues ruckman Matthew Kreuzer, who both suffered delayed symptoms in recent weeks.
Jacobs was a late withdrawal in the Roos' past two matches and his coach, Brad Scott, told reporters on Thursday he was no guarantee to play this weekend despite him being named.
Just as worrisome is neither Jacobs nor club officials can pinpoint the cause of his symptoms, as in whether it was one head knock or a series of them.
"It's a strange one," Scott said.
"He presented post-training (two weeks ago) with concussion symptoms and I was as perplexed as anyone, because he trained really well.
"It's a really tough call for the docs, but when they're not 100 per cent sure on clearing them to play, they rule them out."
Jacobs' situation is at the heart of the major stumbling block in better understanding concussion, according to Pearce.
"The AFL's done a lot of good work in the last five years in changing their concussion policies and procedures," said Pearce, a neuroscientist who researches sports concussion.
"Getting a player off the ground and testing him or her on the sidelines is now part and parcel of the game.
"But in relation to (the likes of) Michael Close, Angus Brayshaw and Liam Picken, the questions we're trying to answer is why are these players getting repeat concussions and why are they not recovering?
"What is it in our return-to-play protocols that we're not doing right?
Pearce is one of a group of people working on developing an instrumented 'smart' mouthguard called the Nexus A9, which records impacts to the head.
The idea is for the technology, which originated in Perth, to avoid cases like Jacobs', with research suggesting as many as half of all concussions go unnoticed.
But more help in the way of funding is still required for independent research into all facets of concussion.
DO HELMETS HELP?
Angus Brayshaw's father, AFL Coaches' Association CEO and ex-North Melbourne footballer Mark, like Close, has changed his opinion on concussion from his personal experience.
He has two other sons, Andrew and Hamish, who are also on an AFL list.
Angus sustained his fourth concussion in 12 months in May 2017 before returning to the field this time last year wearing a specialised helmet, which he continues to do.

Angus Brayshaw hasn't looked back since donning a helmet. Picture: AFL Photos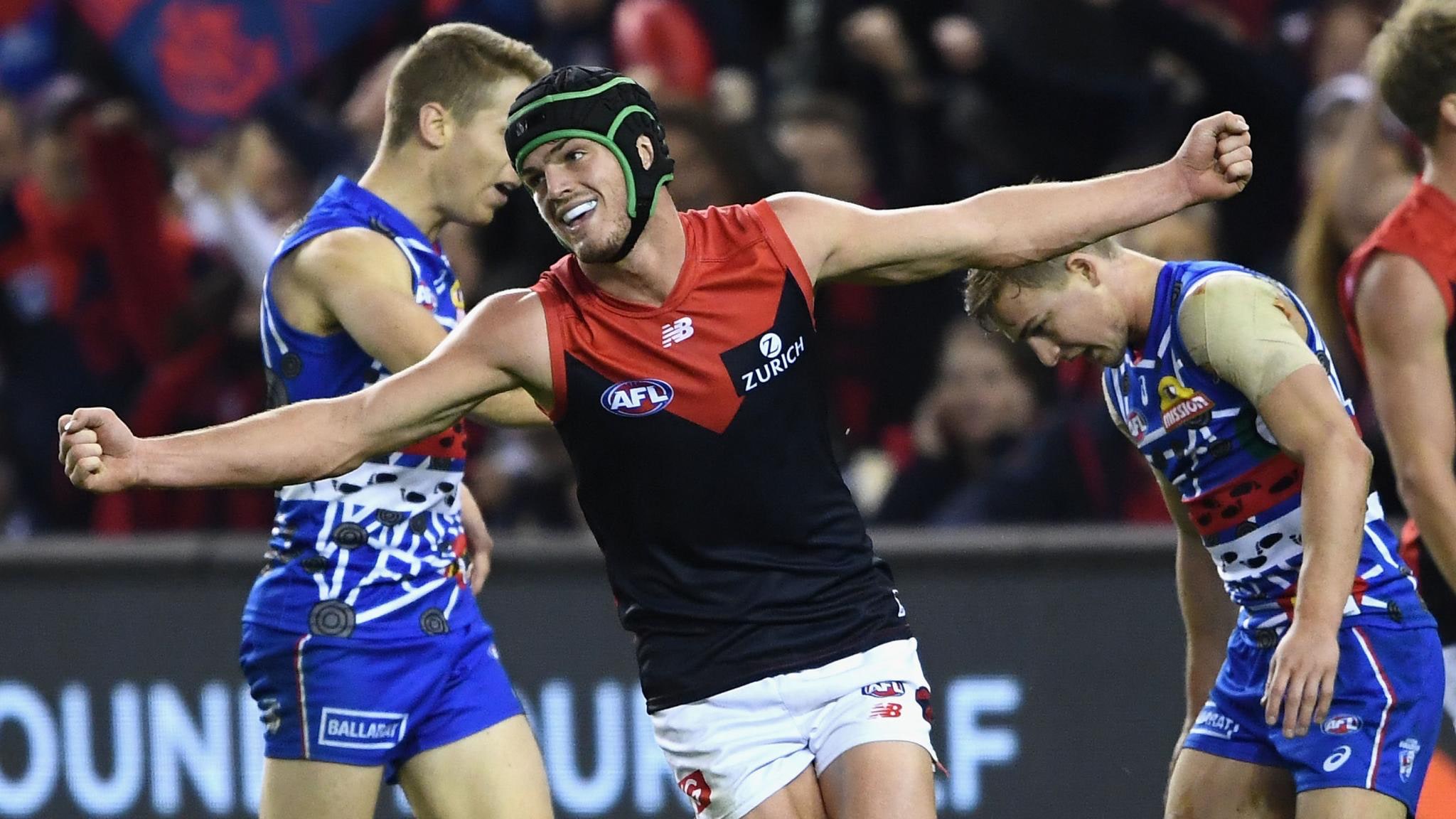 "It was a great learning curve for me and my advice to people, if they ever find themselves in the same position, is to do the same thing we did," Mark told AFL.com.au.
"Find a doctor, particularly one that's experienced in this space, and listen to them, take your time and forget what it used to be like – 'Get back on the horse, you'll be right'-type stuff.
"The end result was Angus came back and has never looked back, because of the painstaking caution that the Melbourne club doctor (Zeeshan Arain) insisted upon."
Angus' decision to don headwear followed a discussion between him, his mother Debra and St Kilda great Nathan Burke, whose helmet is synonymous with his own career.
McCartin and Caleb Daniel are other helmet-wearers among the current AFL crop.
Daniel's mother insisted on her son using one from a young age, because she was nervous about his height leaving him vulnerable to head hits.
Research is yet to prove helmets actually help prevent concussions, but wearers report feeling more confident and safer.
Opinions vary on whether athletes in sports that mandate helmets, such as baseball, and invasion sports like gridiron and ice hockey (where head-to-head contact is common), are more susceptible to concussions.
Florey Institute of Neuroscience and Mental Health associate professor Paul McCrory wrote in a 2012 research article that concussion rates were "approximately 15 times" higher in Australian football than gridiron.
McCrory is part of the AFL's concussion working group, but was unavailable for comment.
However, Pearce said it was "generally accepted" that the concussion rate in AFL (5.6/1000 player hours) was lower than rugby league (28.3/1000) and gridiron (18.1/1000).
Nathan Gibbs and Mark Watsford authored a research paper last year that noted one AFL team's incidence rate was much higher (17.6/1000) than the League average.
They suggested underreporting might be occurring.
Whether it's that or other factors, Close pointed to ex-teammate Harris Andrews' brain bleed, from a round 14 incident, as an example of serious head injuries seemingly occurring more often.
Will Jeremy Cameron come under scrutiny for this clash that left Harris Andrews unconscious?

If so, what would be an appropriate sanction?#AFLLionsGiants pic.twitter.com/Vay8P9sot2

— AFL.com.au (@AFLcomau) June 23, 2018
"I've been told these bleeds are very rare, but then to have it happen to Harris as well, I actually question whether it's becoming more apparent or common in footy these days," Close said.
"It could be something like (underreporting), but it's also getting out there more because the media's more aware of it, which makes everyone more aware.
"You don't want anyone going through what I've gone through, so if I can share what I've been through and help someone in any way, then it's served its purpose."