AS CYRIL Rioli announced his AFL retirement at the age of 28, we asked for your favourite memories of the superstar Hawk.
Here are a selection of your responses.
Cyril buried us in the biggest moments
The 2016 goal with a minute to go against the Swans in round 17. As a Swans fan, it always seemed like Cyril buried us in the biggest moments, so even as (commentator) Brian Taylor was questioning his range after he marked it, I knew it was going in. It never even looked like missing. A special player with an indelible impact.
- Matthew Boyd, Sydney NSW
The time Cyril came to stay
A 12-year-old 'Junior' Rioli, representing Northern Territory at an interstate event in Albury, was our family's billet in 2001. What a joy he was! He had superb footy skills, was admired and adored by his teammates, rang home every night and ate lots of Anzac slice I made for him. It's been known in our family ever since as Junior's Slice.
- Pippa Paton, Ocean Grove Vic
A 19-year-old Rioli leads the Bombers on a dance in his debut season in 2008. All pictures: AFL Photos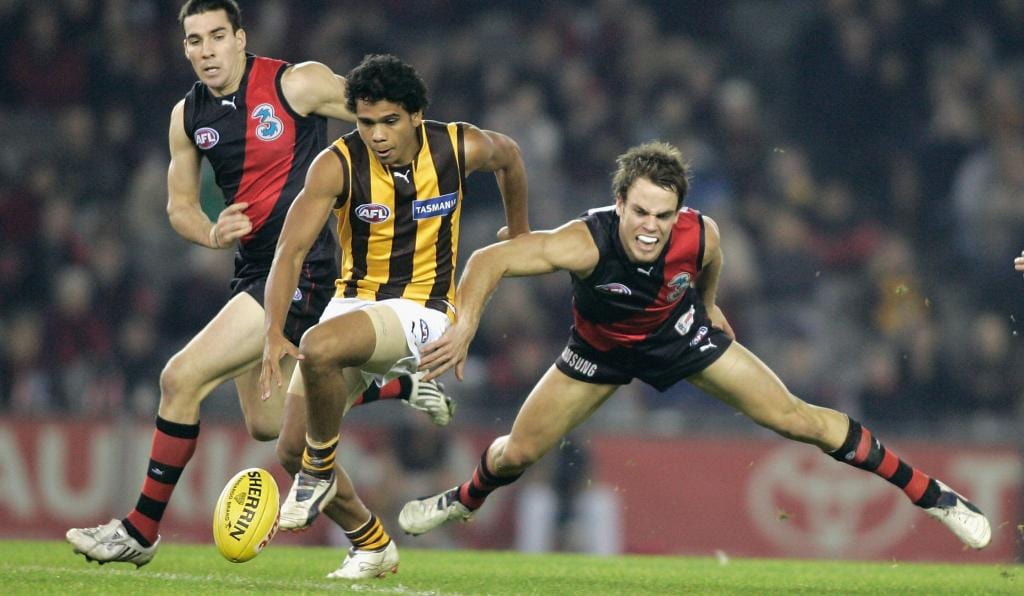 When Cyril stopped the Cats in their tracks
It's the 2008 Grand Final, there is a crucial contest on the wing. Two Cats – Max Rooke and Corey Enright – and one Hawk. The Hawk is Cyril Rioli. Without the ball he pressures Enright, dispossesses Rooke and wins the holding the ball decision. It lifts the team at a critical moment and inspires an unlikely victory.
- Peter Edward Davey, Mitcham Vic
'He never let the club down'
I was at the 2008 Grand Final and still look back on that tackle on Rooke in the third quarter with a massive smile. It's one of the many special Cyril memories over the journey where he never let the club down. Love ya Cyril, thanks for everything you gave to the game.
- Michael Parnis, Highett Vic
Rioli hauls down Max Rooke in a pivotal moment in 2008's decider.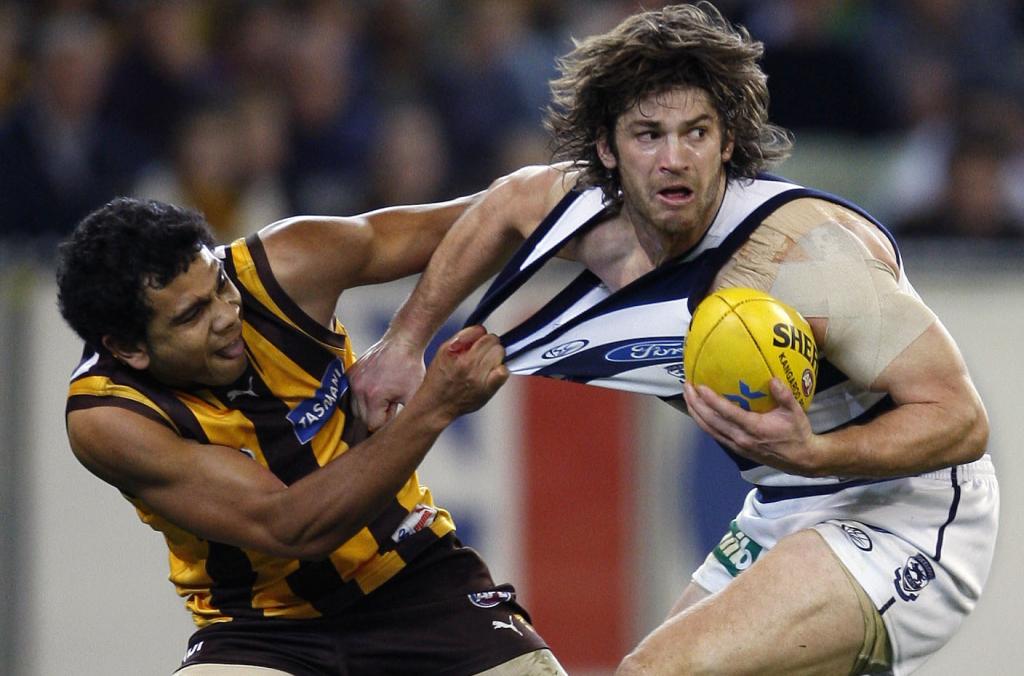 Perfecting 'the Rioli'
Playing footy in the schoolyard back in the day, my mates and I would practice the dribble kick, selling the candy and the shake-shimmy manoeuvre. One day it was decided the combination of tricks needed a name. The decision required little thought and it was dubbed 'the Rioli'.
- Rob Abrahams, Perth WA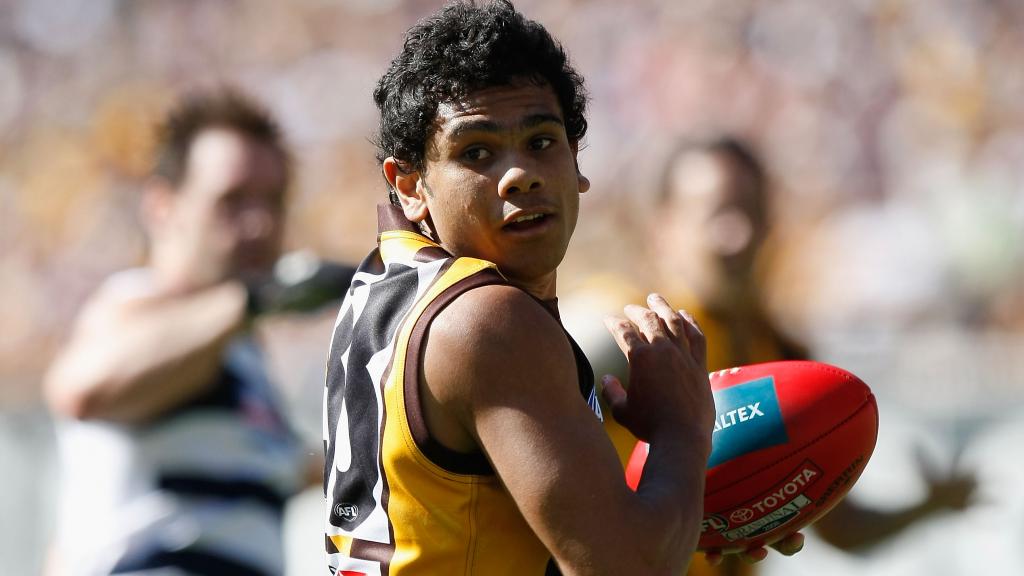 'He had the balance of a cat'
I was fortunate to be down from Cairns and in the MCC reserve to watch Cyril take a screaming mark on the outer wing against Collingwood in round one of 2012. He hit the ground running. It was classic Cyril. He always had the balance of a cat and was just a joy to watch play footy, with sublime skills and defensive pressure. Mate, you are irreplaceable. Thanks for the memories.
- Matty Turner, Cairns Qld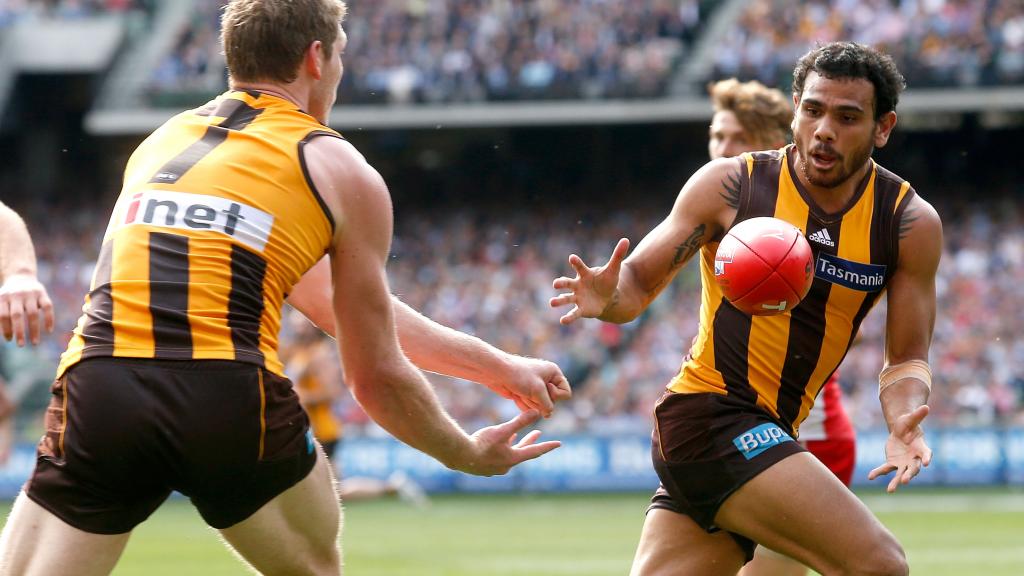 'All's well that ends well'
I was watching live as Cyril got front and square to a Buddy Franklin contest in the third quarter of the 2008 Grand Final. He swooped the crumb clean and burst clear for an open goal. As Dennis Cometti said at the time: "All's well that ends well.". Cheers, Cyril!
- Travis Weir, Perth WA
'A dead-set superstar who'll never be replaced'
In the 2015 Perth prelim against Freo, he single-handedly turned the game in the Hawks favour and got us to the granny. A dead-set superstar who will never be replaced or forgotten.
- Kane Taaffe, WA
Rioli, pictured with coach Alastair Clarkson, played in all four Hawthorn premiership sides between 2008-15.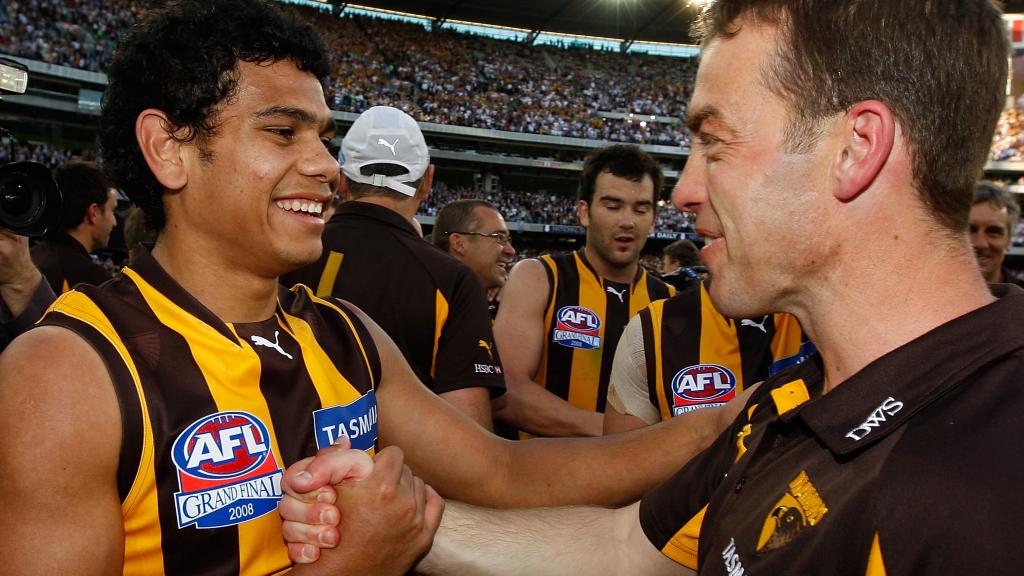 'I'm a Tigers fan and I wear his badge'
There is a feeling I get in a game when a player does something that combines imagination, power and timing. Many of us call it magic. I think it is the purest element of the game. Sometimes a whole game can play out without it happening once. With Cyril it would happen more than once a quarter. I'm a Richmond supporter and I wear his badge with pride. Cyril personifies the beauty of our game.
- Hayden Victor Priest, Clifton Springs Vic
CYRIL'S NORM SMITH When Rioli put on a Grand Show
An A-grade superstar
In a 2008 regular season game against Geelong, he ran back with the flight and outmarked (from memory) Andrew Mackie and Matthew Scarlett. Although we lost the game, we proved later that year we would win the war and that Cyril was an A-grade superstar. Thanks for the memories.
- Brendan O'Toole, Quinns Rocks
Speccies were a speciality for one of the game's great entertainers.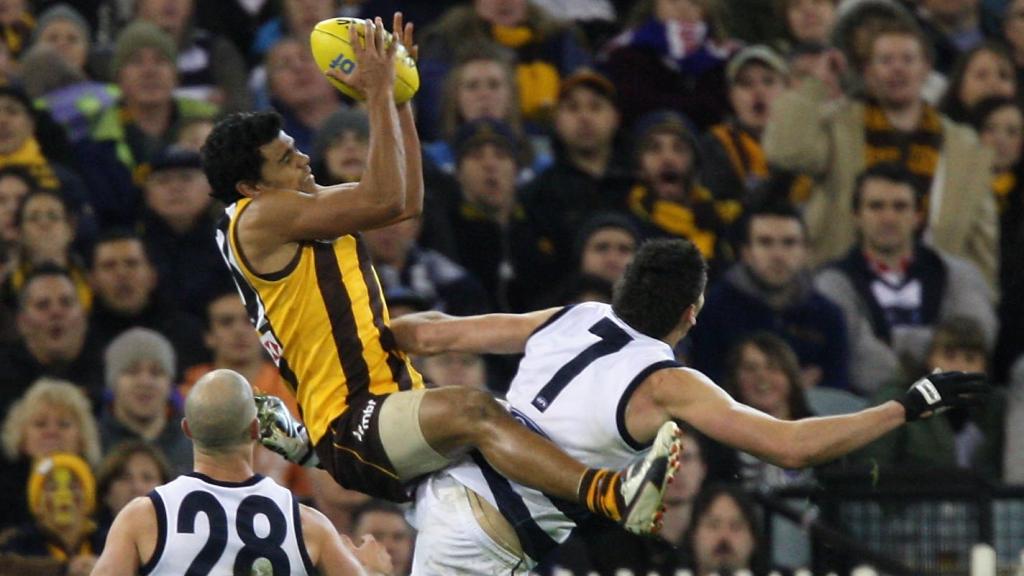 'He talked to every star-struck kid'
Cyril's way with kids is outstanding. He came to our Auskick club's pie night in 2016 and signed every jumper, talked to every star-struck kid. (I have a ripper photo). Absolute legend, we wish him the very, very best.
- Jenni Powell, Hawthorn, Vic
'Cyril did everything'
The 2015 Grand Final was one of the best individual performances you will ever see. Cyril did everything. He snagged a few goals, gave off a few. His pressure was out of the roof. He did basically everything to win another premiership.
- Amin Naim, Strathmore Heights Vic
Rioli remained approachable while starring on footy's biggest stages.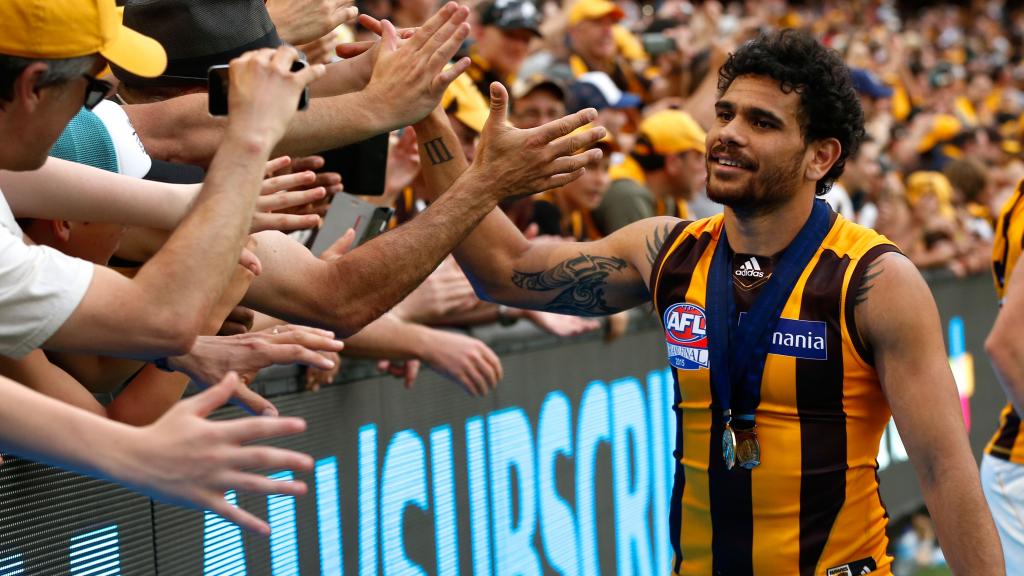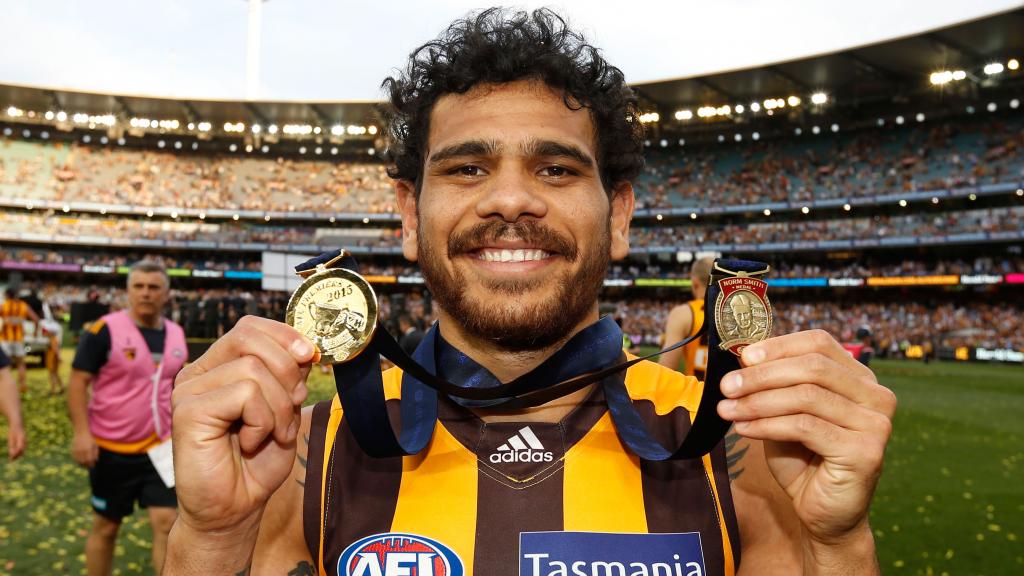 The mark of the year that wasn't
It was round 16 in 2016 v Port, and I was with my daughter at Adelaide Oval. I have never seen the master so fired up and aggressive, and he was super - as normal. It's a pity THAT mark wasn't paid, but he made the difference that night and we were honoured to witness it.
- Pete Dietrich, Adelaide SA

The grab that wasn't: Rioli enters the stratosphere against Port Adelaide in 2016.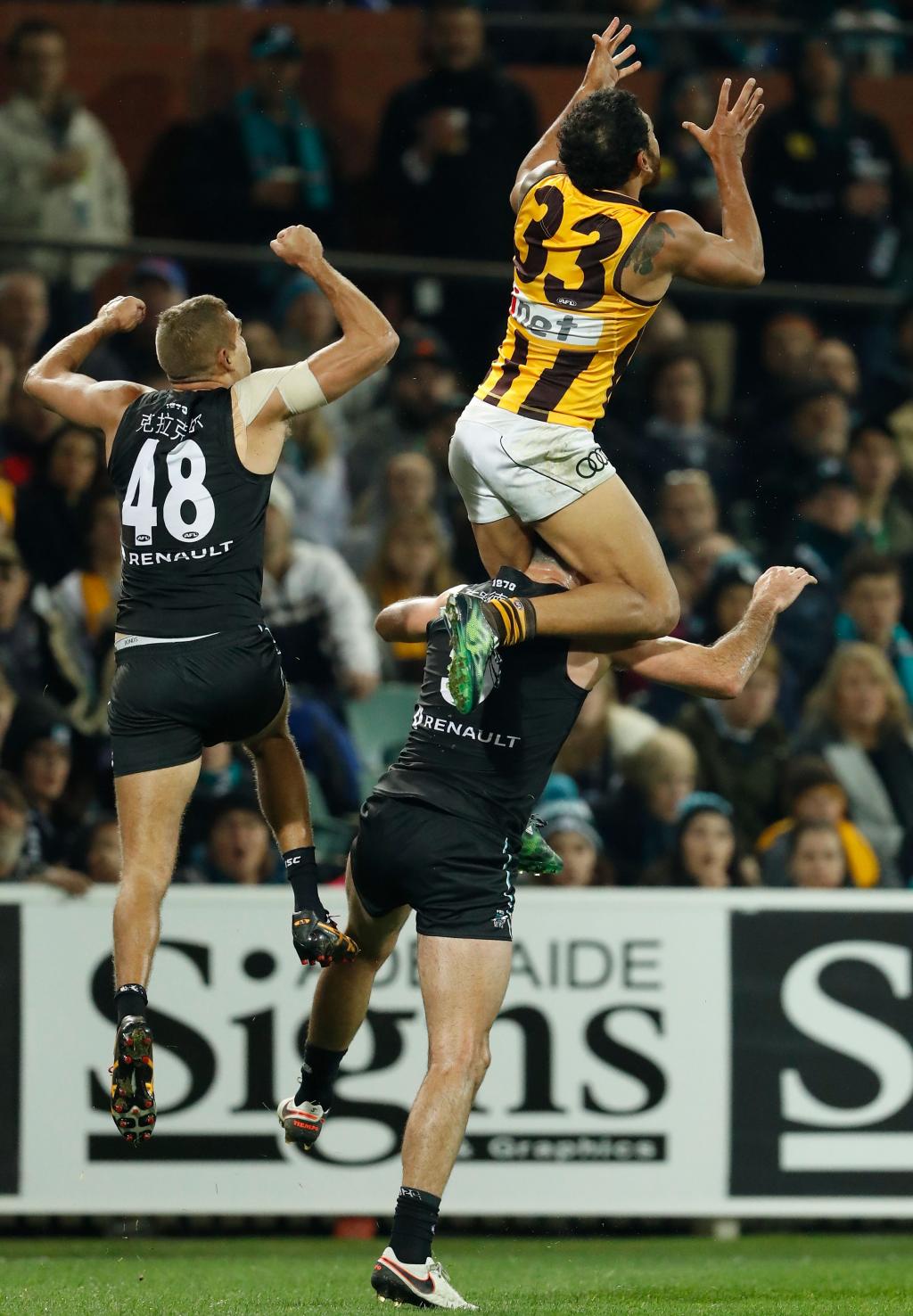 He bent the fabric of football
Cyril has the ability to bend the fabric of football, and I remember a play that was nothing short of a masterpiece when he kicked the most magnificent kick into the forward 50. He managed to hit the chest of Jack Gunston running back with the flight of the ball, in between two defenders. Pure Cyril magic!
- Remi Schauder , Melbourne Vic
HAWK SHOCK Rioli announces retirement
NICK BOWEN Rioli's exit frees Hawks to target Lynch and Sloane
A NIGHTMARE TO PLAY AGAINST Players' Rioli tributes