THE FIRST thing Melbourne players were exposed to in the 2018 pre-season was coach Simon Goodwin baring his soul in a heartfelt and revealing insight into his life journey.
Footballers and coaches piled into the players' lounge at the Demons' AAMI Park headquarters and listened to their leader recount his exhilarating highs and crippling lows.
Much was made of a possible disconnect between the coaches and players when the club's pre-season boot camp in December was scrapped, but by then Goodwin was already working to fortify that relationship.
No topic was taboo, including his $40,000 fine – half of which was suspended – 11 years ago for betting on an AFL match, his gambling addiction, his parents separating when he was a child and, of course, the Essendon supplements saga.
There was plenty of good to talk about, too, such as his three children, son Eddie and daughters Isabella and Lily, with his wife Maggie.
This is also a man who played 275 games for Adelaide, won two premierships, made the All Australian team five times and was last year inducted into the Australian Football Hall of Fame.
Goodwin, known for maximising his abilities, is now in charge of one of the game's most promising teams and preparing to coach Melbourne in a preliminary final against West Coast on Saturday.
"I knew some of the things he was talking about – we'd spoken about them before – but others I didn't," Demons forward Jake Melksham told AFL.com.au.
"For him to open up like that shows a fair bit of courage, but also shows just how much he trusts the group, and so many players benefit from that.
"There's been a lot of other coaches and players who have got up and spoken similarly to the group. Most of us did it."
At Melbourne, they've become known as 'growth sessions', much like reigning premier Richmond's HHH (hardship, highlight, hero) gatherings.
These types of honesty sessions are becoming increasingly popular in overseas codes, and Goodwin went on a sports-related study tour in the United States in the off-season.
The Demons dabbled in this area last season, but not to the extent they have this campaign, kick-started by Goodwin and run by former AFL footballer Jim Plunkett.
Plunkett previously worked for Leading Teams and joined Melbourne's cause in November 2016, as general manager of people and culture, and even sits on the bench on game days.
The growth sessions involve between one and three players or coaches standing in front of the group and speaking for about 10 minutes each on various topics, and all designed to forge deeper relationships.
They might discuss their fears, their vulnerabilities, their dreams or what they love. Some of them end in fits of laughter, others in tears.
"We know each other on the field so well, but it's off the field where you need to learn a bit more about people and what makes them tick, and this year that's kicked up a notch," defender Michael Hibberd said.
"I feel like it's bonded us as tight as I couldn't even imagine. Guys I didn't know that well at the end of last year, I feel like I've got tight bonds with those guys now, so it's been a good year."
Jake Melksham and Michael Hibberd are fans of Melbourne's 'growth sessions'. Picture: AFL Photos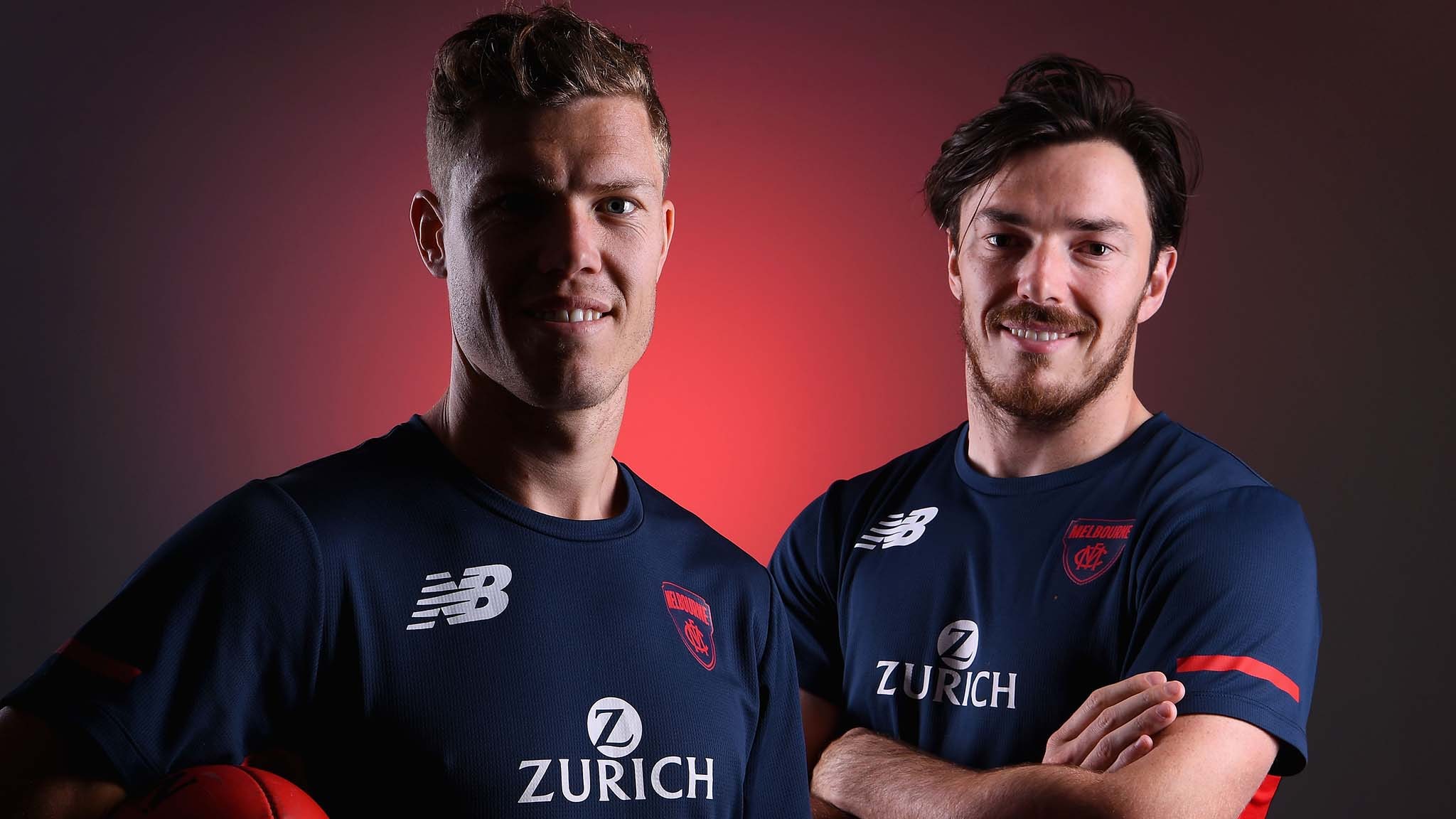 These sessions have even included people outside the club, like former players or coaches and even supporters with a story to tell.
Neale Daniher – the man who coached the Demons in their last Grand Final in 2000 – ex-captains David Neitz and Brad Green, Jeff Farmer and Anthony Ingerson are among those who've been involved this year.
They were more regular in the pre-season, but have continued into the season proper with the aim of encouraging more open one-on-one discussions.
"If the coaches or players feel like we need to sit down and have a chat, we do," forward Alex Neal-Bullen said.
"That's the best thing. It can be over coffee or it can be in a meeting room – it's not formal. It starts with a group situation, but then it can filter out to be just an everyday chat.
"If someone's struggling a bit, they feel more comfortable now to open up about it."
Check out AFL.com.au on Saturday morning for Marc McGowan's feature on Simon Goodwin and how he operates behind the scenes