CALLUM Mills and Jason Johannisen. Sydney Swans and Western Bulldogs.
Two men, two clubs, two unfolding storylines which no one would have predicted after they met in the 2016 Grand Final.
Mills - a man destined to be an AFL star before he'd even played an AFL game and a standout winner of last year's NAB AFL Rising Star award, yet one who had been left shattered by his own injury-marred performance in the Grand Final loss to the Bulldogs.
This year began badly for him and his club, too, reaching a shock and embarrassing low after round six when Carlton inflicted upon the Swans a sixth consecutive season-opening loss and on Mills a type of physical barraging bordering on unfair harassment.
No Grand Finalist had ever started the next season 0-6. The Swans were done, Mills, a kid, unable to deal with the pressure in his second year.

Callum Mills retaliates during the Swans' clash with Carlton. Picture: AFL Photos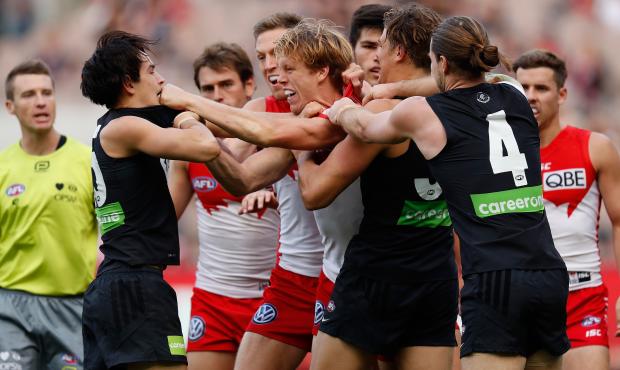 Johannisen - the South African-born best afield in the 2016 Grand Final, opened this year in ripping form, successfully adding a new skill to his CV – that of influential forward – and via his manager he fielded lucrative contract offers from rival clubs.
After seven rounds, the Bulldogs were 5-2. The premiership defence seemed a sound proposition, and it was just a matter of how many dollars were attached to Johannisen's new deal, be that at the Bulldogs or elsewhere.
Fast track to post-round 15. The Swans are flying, having lost only one game since that Carlton debacle, and even that by just six points. A premiership, somehow, remains a strong possibility.
Mills is attacking opponents, not being attacked. Importantly, his teammates – embarrassed by their inaction in round six – have his back.
The Bulldogs are struggling, having added a 2-5 scoreline in their second set of seven matches to the 5-2 outcome with which they began the year. From tenth on the ladder, a premiership defence remains a chance, but only that – a chance – given the drop-off in intensity and after-effects of a well-deserved partying stint.
Johannisen has been poor in the past month. Like Mills against Carlton in round six, he has been attacked by opponents, and he has not responded at all well. It was no surprise that it was Mills' team which began the personal harassment of him, when George Hewett targeted him in round 12.
Simpson hits back at Bevo's criticism of 'cowardly' JJ bump

A dejected looking Jason Johannisen after the Dogs' loss to Melbourne. Picture: AFL Photos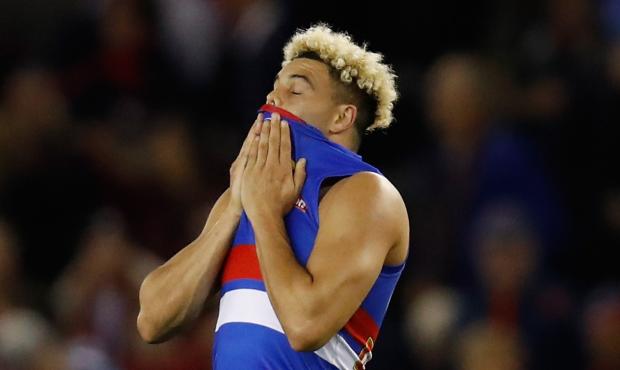 Players from other clubs took notice. Be aggressive on Johannisen, and he will turn it up. Jake Melksham and Mark Hutchings have followed Hewett.
In the match against the Blues, Mills was harassed, physically and mentally. Strangely, no teammate went out of his way to protect him. Even after it had gone on all match, Mills was gang-tackled in the last quarter by Bryce Gibbs, Matt Wright and Ed Curnow, again with no retaliation coming Carlton's way.
In the days after, Swans leaders Josh Kennedy and Luke Parker spoke publicly of their personal disappointment of failing to assist their young teammate.
They vowed to make amends, and they have.

Luke Parker and Josh Kennedy celebrate the R12 win over the Bulldogs. Picture: AFL Photos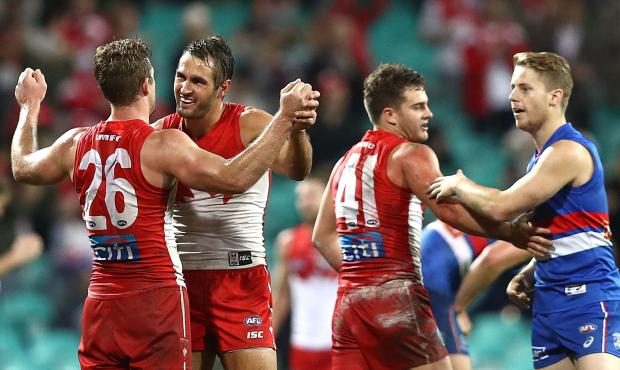 It is known that in the week after their game against the Blues, and leading into a round seven match against Brisbane Lions, Kennedy and others sought counsel from non-Swans people whose will-to-win qualities they valued.
Kennedy last week on Triple M referred to the behaviour that week of being "line in the sand" in nature.
"I guess on the back of that it was about not standing for that, not accepting that, and make sure that you know we either get on the front foot or we give a bit back if someone wants to come at us," he said.
"The writing was on the wall so we had the decision to either do something about it or continue doing what we were doing and fortunately everyone's bought in and we've been able to turn it around."
Johannisen and his teammates have been incapable of dealing with the rag-dolling first inflicted by the Swans in round 12.
The Bulldogs won't admit this, but it is known teammates of Johannisen have become annoyed by his inability to deal with the physical attention, and of the new, individually distracting requirements placed upon them as a result.
Crows eye different approach to under-pressure Johannisen
Coach Luke Beveridge has this season been prepared to axe Bulldogs players with better form than Johannisen. Team selection for Friday night's game against Adelaide will be of high interest.
Kennedy, Parker and co. used the embarrassment attached to their inaction on Mills' predicament to turn their season around. They roughed up Lions players in round seven, had multiple melees against North Melbourne in round eight, targeted Jack Steven and Paddy McCartin the following week, and in round 10 were involved in match-long spite against Hawthorn.

Lance Franklin in the thick of it during a heated battle with North. Picture: AFL Photos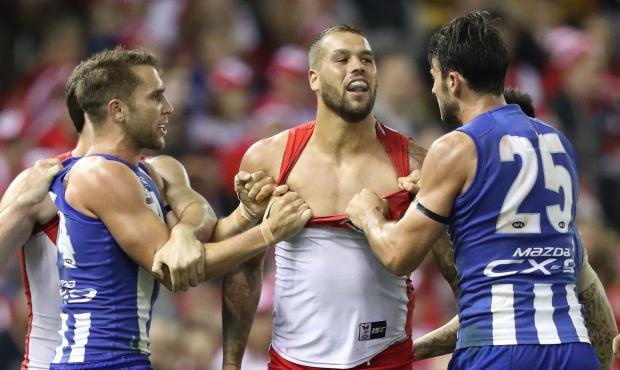 After the bye, they attacked Johannisen. The next week, they were again in melees and spot fires against Richmond, and in round 14 were pushing and shoving Essendon players before the game started. They toyed with Melbourne last Friday night, and somehow gained even more of an obsessive drive to win after Mills was felled by Tom Bugg.
In a fortnight where Bugg, Bachar Houli and the AFL's own Ali Fahour have created headlines for the wrong reasons, it is obvious there is a big difference in using aggression wisely, as opposed to cowardly..
The Swans have expertly positioned themselves right on the edge, and are surging. The Bulldogs need to, before they become Hawthorn of 2009.
Twitter: @barrettdamian