KEVIN Sheedy, that peerless promoter of Aboriginal footballers, first came into contact with the Rioli clan in 1974.
The previous year, the then-Richmond premiership star had been the first full-time development officer appointed by a League club, and his journey to the Tiwi Islands proved something of an awakening.
More visits followed and friendships were formed with the likes of Cyril Rioli snr (the father of Richmond great Maurice and the grandfather of Hawthorn superstar Cyril, or 'Junior Boy').
The late family patriarch, whom Sheedy remembered was "the chief of the island", had eight sons, all of whom were raised on football, boxing and fishing and were encouraged to become community leaders.
The eldest son, the supremely talented Sebastian 'Sibby' Rioli (the late father of former Bomber Dean), was the first to play in the WAFL; and was followed by Maurice, who in turn blazed a trail for the clan in Victoria.
Sheedy remains enamoured with the family. "The Riolis are superstars – always have been," Sheedy told the AFL Record.
"Every time they get the ball, people in the stands lift off their seats to look. The fans don't know what's going to happen, but they know it'll be good, it'll be different, and it'll probably be pretty special.
"They are also unbelievable decision-makers because they see the whole landscape of the field.
"And they're all tough. I haven't seen a scared Rioli. They're ball players who are smart and evasive, but if you hit them you know you're going to get hurt.
"It's a great combination."
Here, we celebrate the four Riolis who have played senior football in the AFL/VFL and have helped make the Rioli clan the first family of Aboriginal football.
Maurice Rioli
A football pioneer for his family, for Tiwi islanders and for many Aboriginal players in general, the late, great Maurice Rioli was a man who loved the big stage.
The beautifully skilled, left-footed centreman was voted best-afield in three successive Grand Finals – the 1980 and 1981 WAFL deciders with South Fremantle and the 1982 VFL play-off with Richmond – the last two in losing teams.
'Mr Magic' also won best and fairests in his first two seasons at Tigerland (1982-83) and was runner-up in the 1983 Brownlow Medal.
No wonder Essendon's then dual reigning premiership coach Sheedy was so keen to snare Rioli
when he considered a change of clubs at the end of 1985.
Sheedy: "For all his brilliance, Maurice was tough, and a great tackler. And he was a lovely person."
Although he initially found the training tough at Richmond, Rioli was driven to succeed, later saying: "I was wanting to prove to myself and others that I was good enough to play at that level."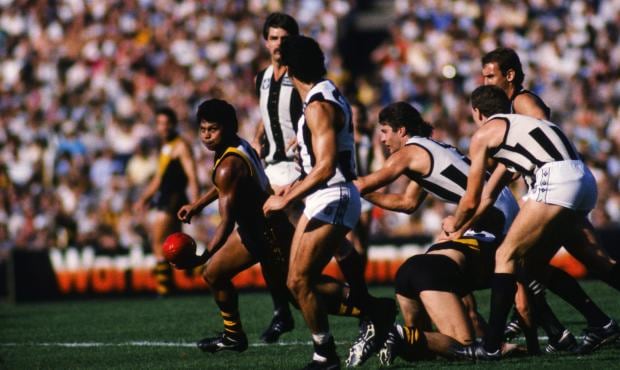 Maurice Rioli weaves his magic against Collingwood in 1985. Picture: AFL Photos
When Rioli was inducted into the Australian Football Hall of Fame last year, former Richmond teammate Dale Weightman recalled a silent assassin.
"He didn't talk much – he let his footy do the talking – and he was poetry in motion," Weightman told the AFL Record.
"Pure class, silky-smooth, a great ball-handler, a great dodger and weaver, and a beautiful left-foot kick.
"He always seemed to have time and he never lost his feet – he had unbelievable balance."
Weightman said Rioli was "ahead of his time" as a tackler, revealing he would advise teammates: "Hey brother, you gotta draw from the hips like a gunfighter."
Rioli did his share of fighting too – in retaliation for regular racial slurs – and that's where his status as an amateur boxing champion came to the fore.
Weightman: "He'd just give a little one-two and the bloke learned his lesson."
Some years earlier, Rioli also delivered a boxing lesson to the much bigger and much louder Mark 'Jacko' Jackson at South Fremantle training.
Rioli later became a champion for his people, as a longtime Labor member of the Northern Territory parliament and later in community services on the Tiwi Islands.
All the while, he continued to mentor and inspire young footballers, among them members of his extended family, including Essendon great Michael Long and nephew Cyril Rioli – who, remarkably, also won Norm Smith Medals – and grand-nephew Daniel Rioli, who proudly wears Maurice's old No. 17.
Long last year described Rioli as a "Rolls-Royce" who, from a football perspective, helped "put NT on the map".
Rioli's sudden death at just 53 on Christmas Day, 2010, provoked an enormous outpouring of grief, and he received a state funeral in Darwin.
Dean Rioli
Sheedy still shakes his head at the fact it was more good luck than good management that Dean Rioli ended up at Bomberland.
At 19, Rioli was overlooked by every club in the 1997 National Draft before the Dons grabbed him in the Rookie Draft.
"We should've got him earlier than that," Sheedy said.
"You challenge your recruiting officer and they say, 'Well, no one else (drafted) him either.' But that doesn't mean it's right, because it left the door open for someone else to potentially get him. I'm glad we got him."
The teenager hadn't exactly flown under the radar – he'd won the WAFL's rising star award and played a key role in South Fremantle's 1997 premiership, slotting a game-high four goals in a come-from-behind six-point win, his last goal coming in the dying stages.
And, of course, he was a Rioli. But he had a crook knee and was seen to be overweight – issues that dogged him throughout his AFL career, when his 180cm frame ballooned to around 100kg.
Former Bombers assistant coach Robert Shaw last year wrote on the club's website that had it not been for ongoing injuries, Rioli would have become "an Essendon champion".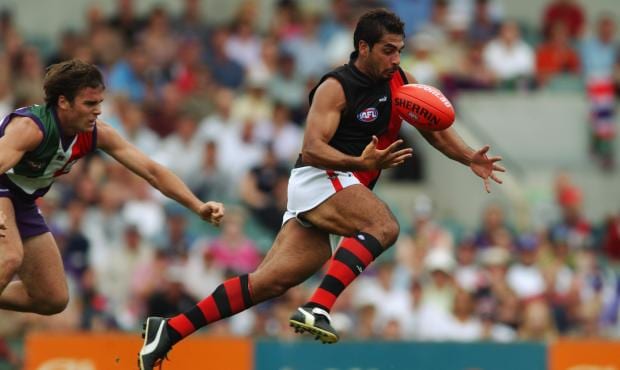 Dean Rioli played exactly 100 games for the Bombers. Picture: AFL Photos
Sheedy has genuine fondness for his former charge and vividly recalls his kicking and decision-making skills.
"Dean was a beautiful kick and he could see the whole picture," Sheedy said. "He was one of the best disposers of the ball that I coached. Every time he got it, our forwards' eyes would light up like Luna Park.
"The real art to kick the right type of ball to that particular receiver. Dean had that. He'd adjust his kick to a tall person, a slow person and so on. That's a gift."
Sheedy said that when Rioli played, he was "a great player, a tough player", who would have been immortalised alongside his hero Michael Long as a member of Essendon's 2000 premiership team had he not suffered his second broken collarbone for the season in round 21.
A decade later, Rioli recalled it as the "hardest moment" of his career.
However, he achieved another dream – that of playing 100 games so his name would be emblazoned on the No. 43 locker – and he's grateful to the "kind-hearted" Sheedy for nursing him to the milestone.
There's a perception Sheedy ensured Rioli played 100 games because it would give Essendon access to any potential father-son prospects.
But Sheedy dispels the myth. "It wasn't about that. My philosophy was if they're near it, they're going to get there. If you're not going to win the premiership that year, reward your gladiators for being loyal to the club."
Cyril Rioli
Cyril Rioli sees the adulation. But even after 10 years at Hawthorn, he finds it all a bit "weird".
The Hawks have named one of their junior membership categories after him. They have done so for years.
More than 35 per cent of all player-branded merchandise sold at the club's Hawks Nest merchandise outlets feature either his smiling mug (often on a mug) or his No. 33 jumper. Rioli gear sells nearly twice as much as any other player.
The Hawks were a bit slow to embrace Indigenous players, but thanks to the courage and willingness of former recruiting manager John Turnbull to challenge entrenched attitudes, Chance Bateman and Mark Williams were drafted to the club. Both are premiership players and were popular with members and supporters.
But the love for Rioli goes to another level. He is a rock star. Hawthorn people adore him like a son, and adding to the pleasure is that he should have played for arch-rival Essendon, the club that first forged a partnership with the Tiwi Islands, Rioli's birthplace.
"Every time he gets the ball in a Hawthorn guernsey, I feel ill – and I haven't been well for a long time," said Sheedy, who finished up as Essendon coach just before the 2007 draft and who coveted Rioli for a considerable time.
"Imagine Cyril Rioli and (former Tiwi Bomber Anthony) McDonald-Tipungwuti together in Essendon's forward line. Good luck!"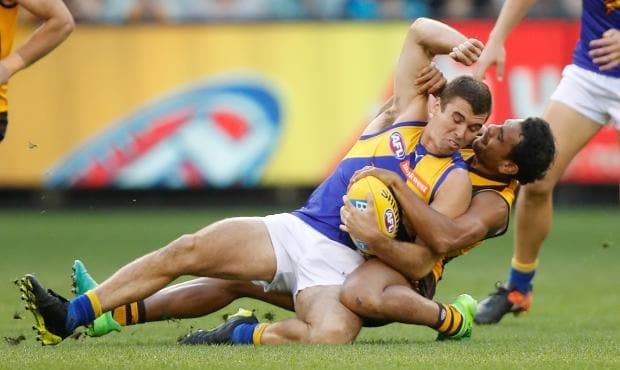 Cyril Rioli's tackling and defensive pressure is a constant. Picture: AFL Photos
The "Cyril" chant often breaks out at the MCG when he and the Hawks are up and about.
"It's sort of weird," Rioli said of the hoopla. "We just play for the love of the game."
Rioli might not have been the best of his family to play the game. Maurice was obviously a star, but it is Cyril who has elevated the family to football royalty with his play over 185 games for the Hawks.
The Rioli clan have always played the game a certain way, but the brand has been shaped by Cyril. Any Rioli with a bit of talent is instantly compared with Cyril. Their progress through the junior pathway is compared with his.
Asked whether there's a Rioli 'brand', Rioli said: "Growing up on the Tiwi Islands, it's about playing on instinct and the team thing. It's based around pressure and making my teammates better. We all tackle pretty well."
In the dry world of football analytics, they're generally classified as 'one percenters', but bearing witness to a Rioli tackle is like watching a virtuoso performance.
His has been a brilliant career – four flags and a Norm Smith Medal. The 2014 flag, the third he played in, might have been the sweetest of the lot, coming back as he did just in time for the Grand Final after shredding his hamstring halfway through the year.
The sad part is that he won't be playing this weekend. He suffered a major injury to his PCL in Tasmania a fortnight ago and will be watching from the couch as the Hawks – wearing a jumper he helped design and promote with a clever 'Mannequin Challenge' style video on the club website – take on the Swans in Sydney.
"This one will be tough to watch from the sidelines because Hawthorn always does a very good job of celebrating the round," he said.
Daniel Rioli
Daniel Rioli reckons he would have loved to have played for Hawthorn, wreaking havoc and snagging goals alongside uncle Cyril.
Essendon, the club of uncle Dean, would have been special, too. There was also the intrigue of walking into a club where no Rioli had been before, spreading the magic and making the family even more beloved.
But when Richmond called his name with the 15th selection at the 2015 NAB AFL Draft, it immediately felt right. The grand-nephew of the great Maurice Rioli (whom he calls his grandfather) should really play nowhere else.
"To be at Richmond where my grandfather played wearing No. 17 is unbelievable," he said. "It couldn't be any better."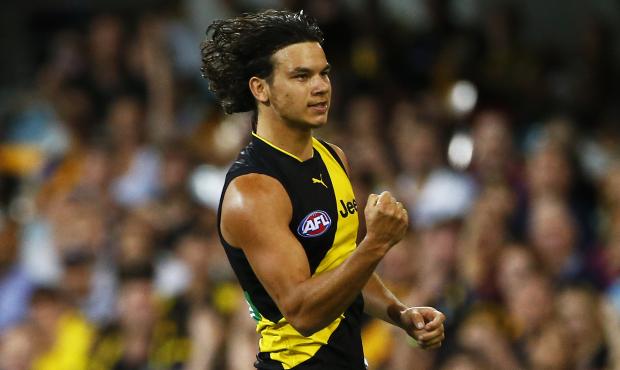 Daniel Rioli is making his own name at Richmond. Picture: AFL Photos
He need not venture too far to learn how revered the Rioli name is at Tigerland.
"There are lots of stories," he said. "When I'm signing autographs, Richmond fans tell me they watched my grandfather play, what he went through and what he meant to the club. Hopefully I can be a similar sort of player."
Only recently, one of the training staff showed him a signed Maurice Rioli poster. Elsewhere at the club he came across an action shot of him playing, one he had never seen before.
"I'm sure there are a heap of stories I've never heard before," he said.
You would think there was added pressure on Rioli, given his name, number and footballing address,
but he shrugs it off the way so many of his relatives have when evading an oncoming tackler.
"Cyril really takes the game on, he can tackle," he said. "(But) I can tackle, too. There's a kind of pressure that comes with being a Rioli and it's a good thing to have the name. Maurice, Dean and 'Junior' (Cyril) played their brand of footy and now it's my turn to make my name. The pressure can be a positive thing."
Rioli is blazing a similar trail to Cyril. Both left the Northern Territory at the end of Year 8 to complete their schooling in Victoria – Cyril at Scotch College and Daniel at St Patrick's College in Ballarat – and a couple of the younger Riolis have been identified and might soon be heading down the same path.
But the inspiration for Rioli will always be those who came before him.
"It's pretty good growing up in the Northern Territory where all the Riolis are born and bred," he said. "I'm pretty lucky to be part of all that."
THIS STORY WAS ORIGINALLY PUBLISHED IN THE ROUND 10 EDITION OF THE AFL RECORD, AVAILABLE AT ALL VENUES.