"GO PLUGGER."
It's a message from the coaches' box that all Dandenong Stingray players want to hear. It's also a message that Ned Cahill received quite often throughout an impressive 2019 campaign.
'Plugger' is a position the Stingrays have created for players that are running hot. Paying homage to St Kilda and Sydney goalkicking great Tony 'Plugger' Lockett, it's a licence to go to the goalsquare and an instruction not to leave.
Ned Cahill in the huddle with the Dandenong Stingrays.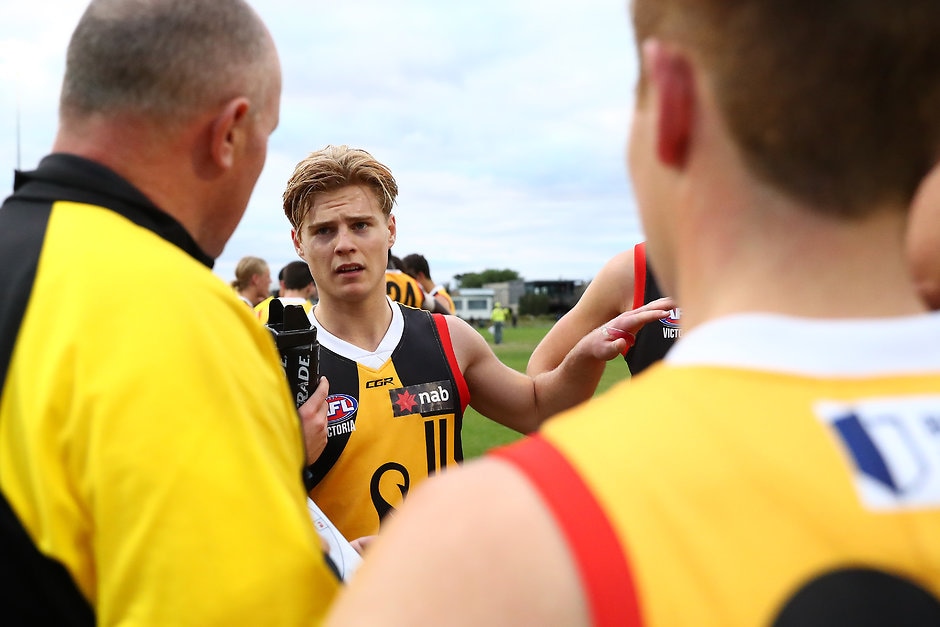 "It's always fun when the coach tells you to go 'Plugger'," Cahill told AFL.com.au.
"You think to yourself, 'bloody oath, bugger off boys'. It's a lot of fun."
Find Road to the Draft on Apple Podcasts, Google Podcasts and Spotify.
Fortunately, Cahill has the smarts and the nous around goal to make 'Plugger' the most natural position for him.
Clean and dangerous on ground level, the 178cm forward has kicked goals in bunches this season and enjoyed some of the NAB League's most dominant individual games from the forward line.
He kicked three goals from 29 disposals against the Oakleigh Chargers in April, bagged four majors from 19 touches against the Western Jets in May and helped his side win its first final against the Murray Bushrangers with three goals from 21 disposals in August.
Cahill knows where the goals are.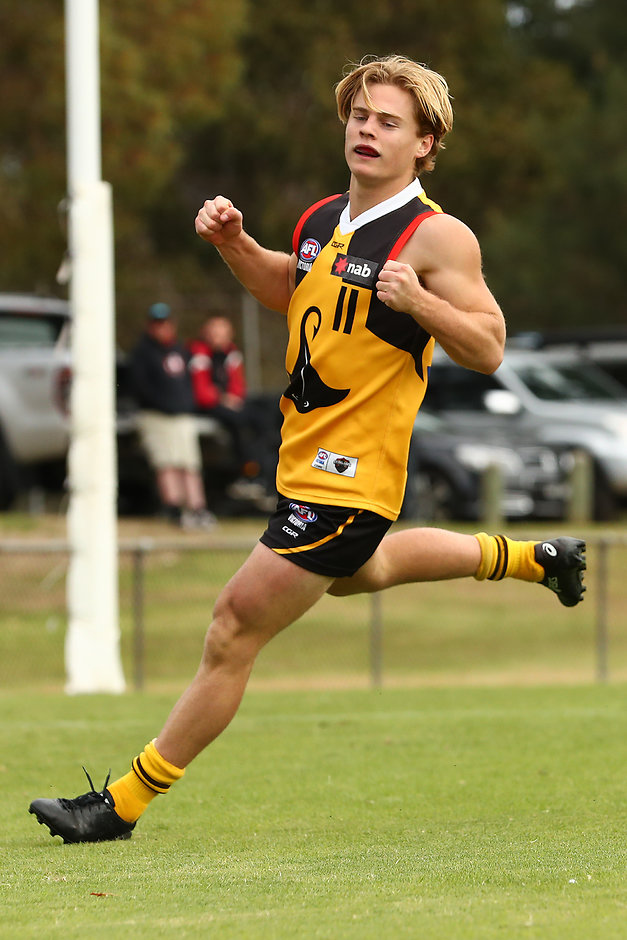 It's helped elevate Cahill to become one of the NAB AFL Draft pool's most attractive and intriguing small forward prospects, alongside his Stingrays teammate and close friend Cody Weightman.
The two are tight, and it's no surprise. Both are energetic and enthusiastic characters, with their blossoming partnership inside both the Dandenong and Vic Country forward lines clear to see.
>> The 2019 NAB AFL Draft runs from November 27-28. Follow all the latest news in the draft hub
"I love a celebration, but I normally plan it with a few other boys … like Cody," Cahill said.
"We've got a little handshake thing that we work on."
PHANTOM FORM GUIDE Cal Twomey's October update
Cahill, a boyhood Sydney fan, has long idolised Swans goalsneak Tom Papley.
Indeed, the manner in which Papley plays is reflected in Cahill's game. He's clever inside 50, while he has the ability to burst through the midfield – averaging 18 disposals per match in the NAB League this season.
But it's not just the way they play their football that is comparable. There are also some similar personality traits.
INDICATIVE DRAFT ORDER Your club's latest picks
"He's a bit crazy on the field as well," Cahill laughed.
"I wouldn't say I get stuck in like that, but if I'm going alright and if they're talking a little bit I don't mind giving a little bit back. I think I'm just up and about as a person."
KEY DATES What's coming up next in the off-season?
Fortunately, Cahill is able to back up that spunk with his work ethic and output on the field.
His top-10 finish in the 2km time trial at the NAB AFL Draft Combine was reflective of his running ability, with Dandenong Stingrays talent manager Darren Flanigan of the belief that his aerobic capacity makes him an even more dangerous prospect in the forward line.
Cahill (centre) during the 2km time trial.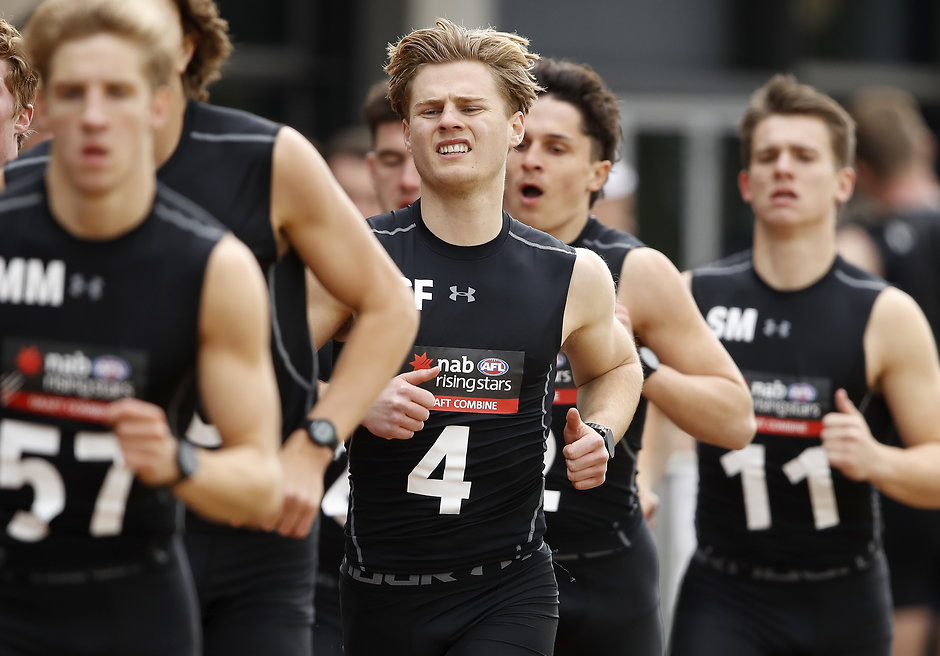 "He works really hard," Flanigan told AFL.com.au.
"He's got a really good 2km time trial, so he works his defender over, plus he's very good at creating turnovers in the front half and he's good finisher.
"He's got a good motor. There's no reason why, with a little bit more craft around stoppages, he couldn't spend a bit more time in the midfield. But he's just so valuable in the front half, especially with his finishing and his pressure."
Despite his stints through the midfield, it's forward where Cahill feels most comfortable and forward where he thinks he'll play his best footy at senior level.
"Last year we had such a strong midfield with the Stingrays, with three or four of them getting drafted, so as a bottom-ager I was never going to be able to get into that midfield group," Cahill said.
"I had to develop my game somewhere else and that was forward. I really enjoyed that. If I had to pick between the two, I think I'd probably prefer to play forward."