ONE OF Sydney's Christmas wishes could be answered in the next month with superstar forward Lance Franklin a chance to be back to full training after two years of injury problems.
Franklin, who returned to Swans training a fortnight ago (two weeks before he was required), looked in immaculate shape as the club's full squad trained together on Monday for the first time in the 2020 pre-season.
The four-time Coleman medallist has played just 29 games over the past two seasons because of soft tissue problems, including 10 this year, but coach John Longmire confirmed Franklin had trimmed down ahead of his 16th season and is on track to have all of his modifications removed from his program before Christmas.
Buddy running with ruckman Callum Sinclair. Picture: Getty Images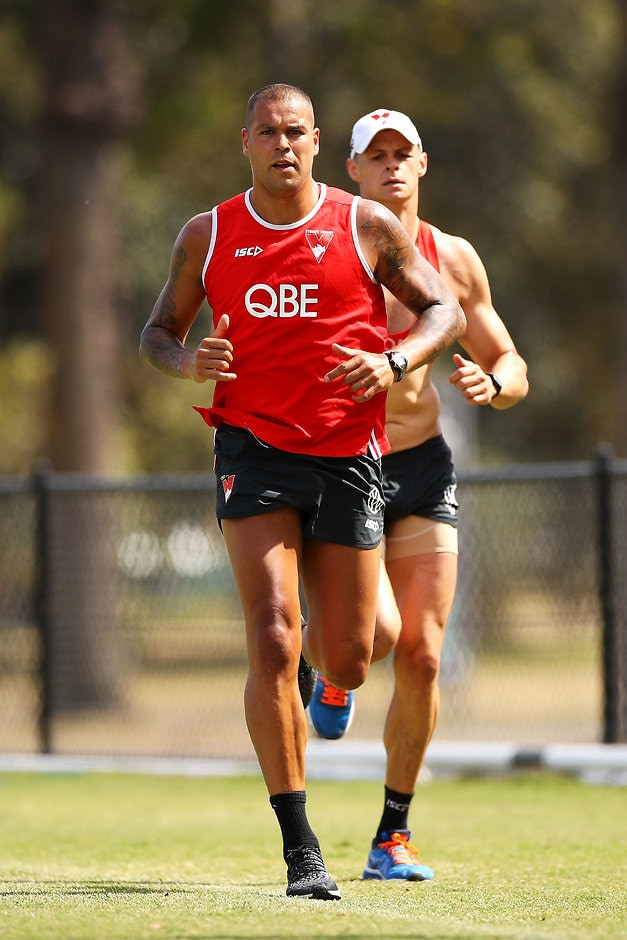 The 32-year-old completed some short skills with the rest of the Swans' squad and looked sharp before he switched his focus to a solid running program with ruckman Callum Sinclair (shoulder).
Longmire said he's rapt to have Franklin on the track in November and, while the Swans would likely have him training at full intensity before the end-of-year break, Franklin would continue to be closely monitored.
A few officially starting their preseason kilometre tally, others adding to it ‍♂️ #ProudlySydney pic.twitter.com/0nKmt8CCrC

— Sydney Swans (@sydneyswans) November 18, 2019
"He told me he feels really strong, but we need to get that balance right between making sure he's fit and not tipping him over before Christmas," he said.
"He's a real competitor and he knows this time of year is really important for him.
"It's good to be able to get a really strong foundation into him and it's only early but it's a good sign for us."
New Swan Lewis Taylor in action at training. Picture: Getty Images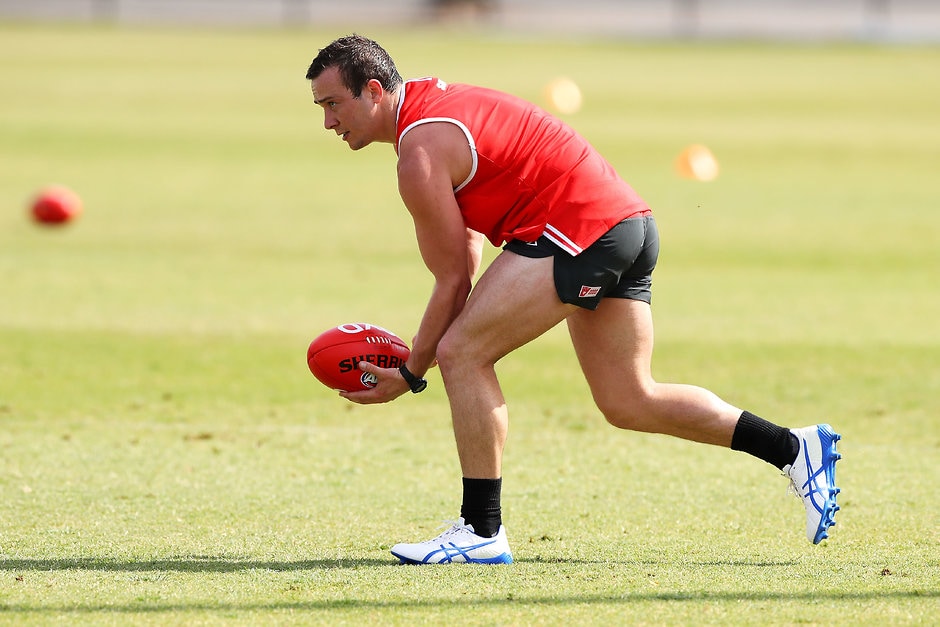 Franklin surprised the Swans when he turned up for day one of the summer to train alongside the club's youngsters two weeks ago.
Longmire said Franklin didn't tell anyone at the club he was coming back early, but he had a fair idea why the 944-goal star was on the track.
"He understands his footy as good as anyone and he understands that we lost a lot of games out the door last season," he said.
Full squad back on deck #ProudlySydney pic.twitter.com/6m6iYPOBe2

— Sydney Swans (@sydneyswans) November 17, 2019
"But he also really enjoys being around the young players and helping them out, so the combination of those things means he took the opportunity to jump back in early.
"He knows himself pretty well and understands what he needs to do to get himself right."
Small forward Tom Papley was also on the track on Monday, just weeks after his move to Carlton via the Telstra AFL Trade Period failed to eventuate.
Tom Papley working hard on Monday. Picture Getty Images

Longmire said although he hadn't discussed the situation with last season's leading goalkicker, he planned to, but was not expecting any lingering issues with Papley ahead of next year.
"I can only go from what I've seen, and he's been terrific," he said.
"He got close to his PB in his run this morning so that's a really good sign.
"He's a really enthusiastic and popular member of our team and he's a professional.
DISASTER FOR BLUES No deals for top two trade targets
"He'll get out there and get into it and that's what he's done and will continue to do, we're confident of that.
"Obviously, with what happened in the off-season, we'll discuss that, and then it's a matter of (moving on) to what his pre-season looks like.
"You very much turn from looking in the rearview mirror to what's happening out the front window.
"That's the caper we're in and we're really confident he'll be a really important player for our team next year."
The Swans expect to have virtually their whole squad ready for full training before the end-of-year break in late December.